Four Challenges Facing K-12 Spaces and How to Solve Them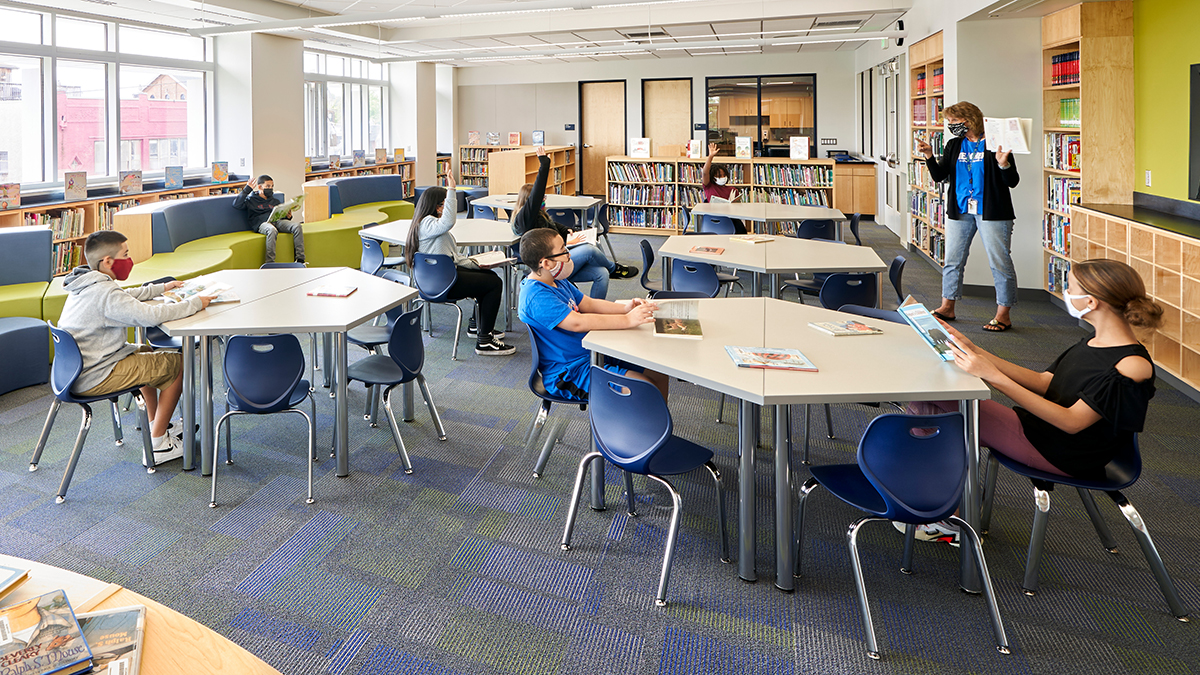 At KI, we have the opportunity to engage with K-12 schools all over the country. We continually hear feedback on what works well—and what just doesn't—for the design of learning environments for elementary, middle and high schools.
Some students learn best when they're seated in individual desks, focusing on their assignments. Others thrive when collaborating around a table with peers.
However, not every classroom layout can accommodate different learning styles. Figuring out how to address students' disparate needs can be daunting for teachers and administrators alike.
But it doesn't have to be. Below, we outline four common classroom challenges facing K-12 schools today – and four practical design solutions for them.


Challenge #1: Classroom furniture is uncomfortable and inflexible.
Solution: Prioritize student preference and movement in the space.
Over the last two years, students in much of the country have experienced a semblance of home-schooling. Many were able to work where and how they wanted – perhaps from their bed or the living room couch.
Rows of desks and chairs may seem less appealing by comparison.
Classroom designs that empower students to take control over how they work and encourage movement can deliver the comfort they crave.
For example, floorplans that integrate flexible classroom furniture such as height-adjustable desks can allow students to shift between sitting and standing as desired or required for various learning scenarios. Similarly, space for different tabletop configurations enables students to move their desks for collaborative work. Large tables can offer spacious worksurfaces that remind students of the dining room table from where they may have worked at home.
To further engage student preference and movement, plan to offer a brief period of unstructured time during the school day where students can pursue educational material on their terms or move around. Research shows that it actually helps students learn.


Challenge #2: Libraries and media centers are too "heads-down."
Solution: Make libraries and media centers the hub of the school.
Traditionally, libraries were quiet spaces. Nowadays, libraries and media centers are expected to serve multiple purposes. Prioritizing comfort, cleanliness, technology and flexibility in the design of these spaces can deliver on that goal.
For example, floorplans can include comfortable classroom furniture such as lounge chairs that respond to individual movement; areas with individual booths for students who like to study quietly in a controlled setting; and reconfigurable lounge furniture with modular shapes for students looking to congregate in groups.
Side rooms with mobile tables off the main space can host meetings for student clubs or group projects. Such collaborative zones help support social-emotional learning but also have the flexibility to provide space for independent work. Movable privacy screens and multi-height bookshelves or storage lockers can help delineate space within an open area.
Through our observational research, we found that students prefer working from comfortable, lounge-style seating – but often do so while hunched over tables that are too small or too short. Freestanding and lightweight personal worksurfaces that are easy to move give students options throughout social and study zones.
Challenge #3: Classrooms lack technology support.
Solution: Integrate power sources within worksurfaces or seating.
Many elementary, middle and high schools strive to equip each student with one laptop or tablet. In fact, offering universal access to technology is important for combating educational inequities.
For students with electronic learning devices, it can be inconvenient or frustrating to relocate mid-lesson to access an outlet when the battery on their computer or tablet is running low. Integrating power sources into classroom tables can solve that problem.
Students also need ample space to accommodate the suite of modern learning tools. That may require larger worksurfaces or flexible classroom furniture that can maximize the use of space. Teacher desks that integrate AV equipment can make instruction easier, too.
Breakout spaces can easily incorporate power within lounge chairs or side tables. Large modular lounge configurations can even offer power from a single source through a daisy-chain connection.
Challenge #4: Small classrooms do not offer enough storage.
Solution: Adopt multipurpose workstations that double as compact storage.
Limited footprints and minimal classroom storage options can hinder teachers' and students' creativity. A teacher may give a lecture instead of assigning a hands-on activity if their room lacks large tables. Students may also be more prone to checking their phones if there isn't storage for backpacks away from desks.
Makerspaces outfitted with large tables can help smaller rooms pack a bigger punch. Such furniture is easily reconfigurable and can play host to interactive STEAM or STEM spaces from a chemistry lab to an art studio. Makerspaces can also facilitate project-based and play-based learning, which can have a lasting positive impact on students.
Sleek and mobile bookcases, cubbies and tote storage units can help complete a makerspace and offer classroom storage with efficiency and function. Adopting compact storage units and maximizing square footage can also ensure high impact with minimum resource expenditure.
Solutions for K-12 Classroom Challenges
Teachers and students face new challenges on a regular basis. With solutions that seamlessly support the needs of certain classroom opportunities, these challenges can be alleviated more easily.
At KI, our team is specially trained to guide you in designing strategic floorplans and selecting smart furniture solutions. Reach out to your dedicated sales specialist or find a rep in your area for a free consultation of your K-12 classrooms and learning spaces.
You can also find inspiration in our K-12 education case studies or create your own floorplan with our interactive Classroom Planner tool.
Subscribe
Stay up to date with the latest trends and more.