Play, Make, Design: The Foundation of Makerspaces in Education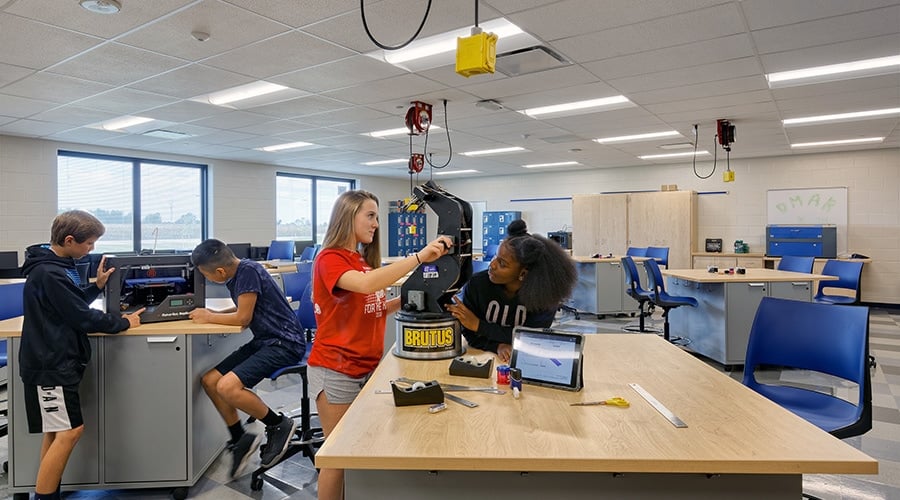 The identity of colleges, universities and K-12 schools nationwide are changing, by way of embracing the concept of play during the school day. In playful learning, students initiate learning on their own and solve problems themselves with light teacher guidance, building a new reputation for school-based learning that better aligns with how a human being actively learns.
A growing body of research shows that playful models of education can improve learning outcomes. Students who play within the context of school have exhibited everything from a larger vocabulary to increased critical thinking and creativity skills.
Ninety-seven percent of teachers using a playful curriculum reported increased student engagement with their lessons. Ninety-two percent felt they increased their effectiveness as educators.
How do educators leverage the act of playing in order to instruct? Play naturally leads to other creative outlets like making and designing.
Play: Students engage in activities because they want to and will have fun, not for any practical purpose.
Make: Students create something -- a robot, a film, a bird house, even a story or play -- by combining parts.
Design: Students create, fashion or construct an idea and execute it according to a plan.
Playful Learning and the Makerspace
As a result of this natural movement toward playful learning, "makerspaces" are booming. According to one analysis from researchers at the University of North Carolina, there are close to 300 active makerspaces at more than 210 higher education institutions nationwide. Elementary schools and high schools are home to hundreds more.
Makerspaces empower students to play -- to share ideas, converse and connect with one another. Through the art of play, students create something. In some cases, that might be intangible -- an idea, an argument or a solution to a problem. In others, they'll produce tangible objects, perhaps with equipment like 3D printers, robots and advanced graphic design or engineering software.
Makerspace Design Tips
Adding a 3D printer may give your makerspace a fun amenity. But in reality, it takes thoughtful planning, design and buy-in from students and staff to create a true makerspace. Furniture serves as the foundation, allowing users to fully engage in their pursuits. In an ideal playful learning environment, the furniture helps students play, make and design. At KI, we recommend a variety of solutions when planning or specifying a makerspace.
Storage: Storage solutions help kids get the supplies and tools they need to make and design their ideas or objects. KI's Ruckus storage is mobile, available in a variety of sizes and is easily accessible, keeping learning tools handy and spaces neat.
Tables and Desks: Cutting-edge machines like robotic carving boards require durable tables with large worksurfaces. Work tables and desks provide ample space for ideation, collaboration, prototyping and design.
Chairs: Seating should be flexible and mobile. KI seating allows users to relate to their space any way they'd like. Students can move and interact with each other effortlessly.
Walls and boards: Students who make or design an object need space to plan out their ideas and watch them grow. Movable walls, or walls with built-in corkboards or whiteboards, can help.
Supporting Maker Culture
KI has been involved in a number of makerspace installations that embody play at all education levels and in a variety of environments.
In Texas, Sam Houston State University renovated and expanded its student center to feature collaborative lounge areas, nooks and even an eight-lane bowling alley. Students outline projects in a cafe lounge space. Markerboard tabletops foster a playful energy throughout the space, with students writing positive messages on the surfaces for others to see.
When designed with playful learning in mind, even solitary spaces like college libraries can encourage collaboration. Illinois-based Harper College renovated its library to include a "Make Shop" for students to design, create, craft or simply learn a new skill. Students work together to parse out ideas on markerboard screens, or visualize them with a large-format printer, vinyl cutters and sewing machines.
At brickLAB, a private makerspace in Tyler, Texas, kids use bricks and electronics to create robots. Ruckus chairs, work tables and KI markerboard surfaces throughout empower kids to sketch their designs, collaborate with one another and bring their ideas to life.
At KI, we believe playful learning is essential to student development. Makerspaces provide places for students to explore, connect and create. We're proud to support maker culture, helping kids play, make, design and ultimately learn.
Subscribe
Stay up to date with the latest trends and more.