Repair & Replacement

Proper care and maintenance can prolong the life of your product. However, our customer service team is here to help you when repair service or replacement parts are needed. Contact us at 800-424-2432 or SalesOps@ki.com.
Repair or Replacement Request
To expedite your request, please prepare the following information:
Locate the product identification label. This is typically located under the seat of your chair, under the surface of your table, on your panel or within storage drawers. Once located, please provide the Order Number, Line Number and Delivery Date. You can also scan the QR code on the product label with a mobile device to quickly find your order number and furniture details. This information will allow us to retrieve the history of your order and support your request more efficiently.

For reference, here are three examples of KI product labels that show the Order Number (1), Line Number (2), Delivery Date (3), and QR Code (4) marked in red.

Take snapshots of the product repair issue. A few angles that highlight the problem area as well as a full unit photo would be very helpful for our team.

Confirm the location of the product (building name, city, state) and age of product. If you are unsure of the product age, please provide the approximate year the product was installed or acquired.
If you are unable to locate your product label or if your product no longer has a label, we can still help! Please provide snapshots and location information as described in steps 2 and 3 above, and we'll gladly support you as best we can.
When you email us the above information, please include your full name, your city and state, phone number and reply-to email address. This information will help us serve you more efficiently. You will receive an auto-confirmation email, and we will promptly respond within 1 business day.
Replacement Keys for Storage Units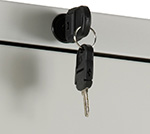 We provide replacement keys at no charge (in limited quantities). Simply send us an email with the following information:
1. Type of KI storage unit
2. Your mailing address and phone number
3. Quantity of keys desired
4. Key/core number (if available) or a close-up image of the lock core
Product Damage During Shipment
Learn more about our standard damaged product process.