C-Table Personal Worksurfaces
Product Overview
Features & Highlights
An intuitive personal worksurface for quick email, meeting or instant collaboration
Lightweight construction for ease of mobility within a space
Cantilever design nests closely to the user
Available in a wide range of top sizes and shapes, base heights and finish options
Construction
Strong steel construction suitable for high-use areas
Tested and proven to support a 300-pound functional load
C-Table has a 27" fixed height with an 18" round top
C-Table Max has two fixed heights or an adjustable-height base and offers nine larger worksurface shapes
15-year warranty
View Approved Fabrics & Finishes
Select a style to view available options
Product Story
C-Tables offer a personal worksurface within non-traditional work or study areas. Designed to complement lounge seating, the table's cantilevered construction and "c" shaped base nest closely to the user. A unique "comfort curve" option situates the worksurface even closer to the torso.
Created with unique functionality and designer choice in mind, C-Table personal worksurfaces are available in a range of top sizes and shapes (including the patented KI OddQuad shape), base heights and finish options. C-Table comes in fixed height with a round worksurface. C-Table Max has a 26" or 29" fixed base or a height-adjustable base with multiple larger worksurface options to accommodate an abundance of personal belongings within arm's reach. The angular surface shapes piece together to form instant collaboration spaces.
C-Table personal worksurfaces are ideal for use with lounge chairs, loveseats, sofas, benches, daybeds, ottomans, guest chairs and more.
Designer Profile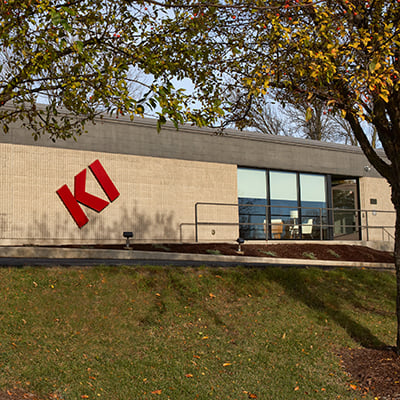 DESIGNER
KI Design Team
C-Table and C-Table Max were designed by KI's award-winning design team.
With a human-centered design approach, we understand that work or study can happen anywhere. These activities are no longer restricted to an employee's desk or a library study carrel. Evolving technology combined with less formal work styles allow people to be productive in the most unlikely locations, such as coffee shops, hotel lobbies, waiting rooms, student unions and airport terminals.
For C-Table, the goal was simple: Create a personal worksurface that can be easily moved wherever you need it, whenever you need it. Unlike tablet arms that are permanently attached to furniture, the C-table provides a worksurface when and where it is needed, adding greater flexibility to a space. With its cantilevered design, C-Table is a convenient personal worksurface to slide over your lap while sitting practically anywhere.