The Evolution of Working & Learning Spaces Through the Pandemic
January 11, 2022
K-12 Education
Higher Education
Workplace
Going into 2021, the future of work and school was all but certain. As the year progressed, we saw a shift in returning to the office, schools and college campuses but with new requirements addressing challenges related to the COVID-19 pandemic.
As we collectively move forward through the pandemic, we understand the need for spaces to evolve and solutions to adapt. Throughout 2021, we observed a progression of interior design trends to support the needs of social distancing, infection control, flexible furniture, integrated technology and more.
These developments now serve as the foundation to the spaces we're seeing designed in 2022. Let's highlight the insights and solutions from last year that shape the current landscape of interior planning and design.
Comfort Away from Home
As our routines shifted from staying at home back to in-person gathering, many spaces had the need for updated lounge furniture to ease the transition and accommodate new and different working styles. Making people feel safe and comfortable was a priority in 2021. This meant opening floor plans to accommodate more home-like comfort with individualized soft seating, while also allowing enough distance for those in the space to feel safe.
The latest extension to our MyPlace lounge furniture line, MyPlace high-back seating provides the opportunity for many open areas to still have sectioned privacy. These lounge pieces can also be specified with power so those enjoying the lounge space can stay connected. Adding new Pillar table shapes that fit perfectly with MyPlace curves and angles has also allowed many office spaces and student libraries to create comfortable seating and worksurface combinations.
As the trend for resimercial furniture continued to take shape throughout 2021, our design team responded with simple yet sophisticated lounge solutions in Gladly and Jubilee. These soft lounge seating options combine contemporary residential design and comfort with the durability and style options of commercial furniture. Clients have also shared appreciation for how easily these pieces can be incorporated virtually anywhere throughout a space.
Dynamically Shifting Surfaces
Along with the want for more cozy, residential-inspired seating, the need for additional surface options to enable working from these seats became more necessary. The addition of C-Table Max to our C-Table line was popular for clients who realized the need for more space to spread out work materials and textbooks while still wanting to remain comfortable.
Since its launch, C-Table Max has received an overwhelming positive response and was recognized with a Best in Show at the 2021 EDspaces Product Innovation Awards. The product judges commented on how the adjustable height option and top shapes offer unique function and configurations. They also appreciated being able to use the lightweight table in multiple settings. Individuals can easily pick up the table and move it to their preferred seating area.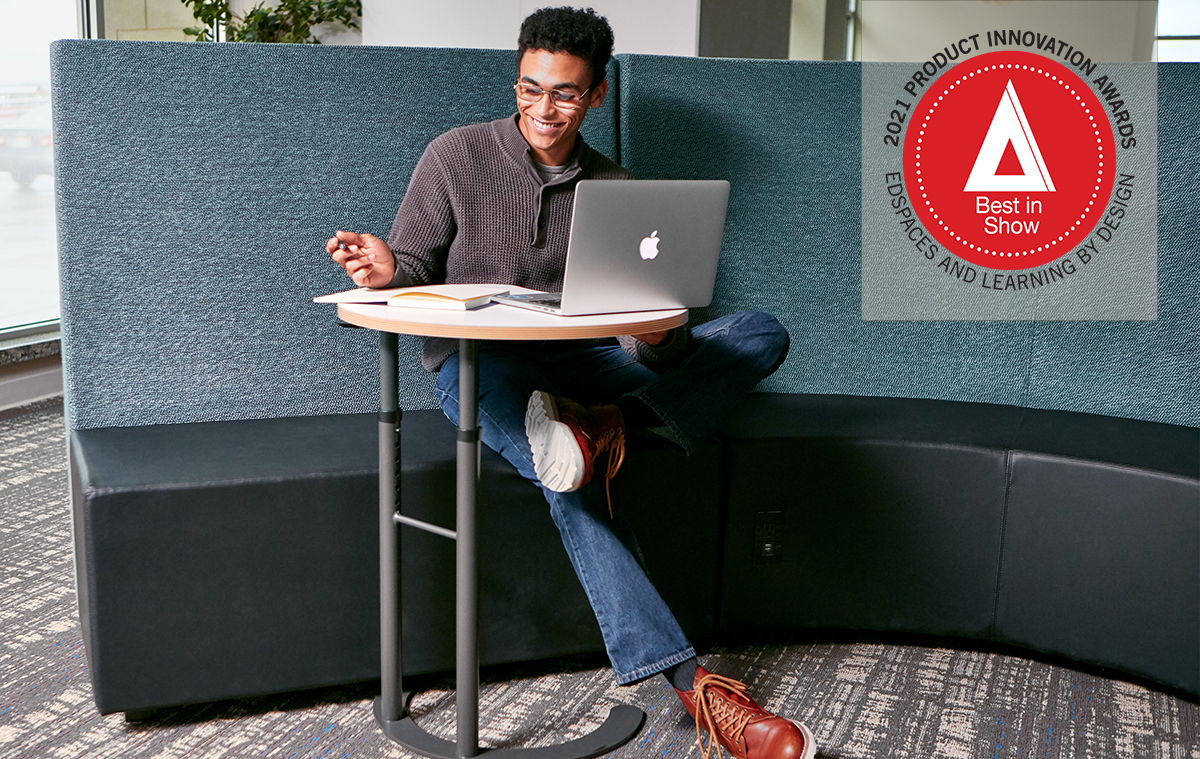 We've also seen a rise in the need for multipurpose spaces, which require furniture solutions that can be easily reconfigured or moved and stored out of the way. For example, cafés, student unions and libraries have become critical hubs for all facets of engagement, beyond simply being areas for eating or studying.
With rounded corners and specific sizes for booth applications, our Athens table line was extended in 2021 to help foster these dynamic and varied interactions. In addition, new options for our Ruckus worktables—including greater sizes, storage, power integration, surface materials and more—also help facilitate hands-on learning within makerspaces, which continued to gain popularity in schools throughout 2021.
Integrations for Hybrid Work Styles
Beyond worktables, the need for tech integration became crucial as facilities adapted hybrid work styles to encourage a gradual and safe return to shared spaces. For a seamless connection with power systems and make end-to-end table configurations more efficient and easier to use, we introduced Pattern electrical system for use with our Pirouette line. Pattern provides multiple tables with electrical capabilities with just one power source. Integrated power is a game changer given the evolved need for digital devices in the learning spaces in 2021 and the limited number of wall or floor outlets allotted in each space.
To further accommodate hybrid work styles and touchdown spaces, we saw an increased need for space-saving, temporary storage. With the launch of Bobbr undermount storage in mid-2021, there was an immediate response to how much clients love the way it mounts to the worksurface instead of the floor so it can be moved with the table. The compact size of the unit and security of the locking feature as well as hang-on accessories met current needs of touchdown spaces.
Touchdown spaces for temporary or unassigned work also require flexibility for design integration. New in 2021, our Likha casegoods meet the need for both open and private workspaces with both modular and freestanding planning options that blend seamlessly throughout assigned or unassigned environments.
WiggleRoom pods also continued to gain popularity as a convenient privacy solution within open plan spaces, offering a quiet area for Zoom meetings or confidential phone calls. For those that desire a respite from the cacophony of the office, WiggleRoom offers a temporary space for personal focus.
In Review
As we look back on 2021, we see a year of growth in flexibility and adaptability, renewed collaboration and reimagined spaces for learning and working. In supporting your efforts to return to school and work, we understand one size does not fit all. Many unique factors—from geographic location to specialization to industry—need to be considered when safely bringing students and employees back together.
As we furnish knowledge for your unique situations, we respond in kind with smart solutions for your spaces. New products from this past year reflect the ever-changing requirements involving COVID-19 and how we must adapt.
We look forward to what's to come in 2022 and the opportunities ahead of all of us for growth and discovery in all spaces.
Resources
Ensure you have our latest insights and resources by downloading the following package of brochures from our Back to School and Back to Work campaigns as well as our new product solutions from 2021.
Subscribe
Stay up to date with the latest trends and more.