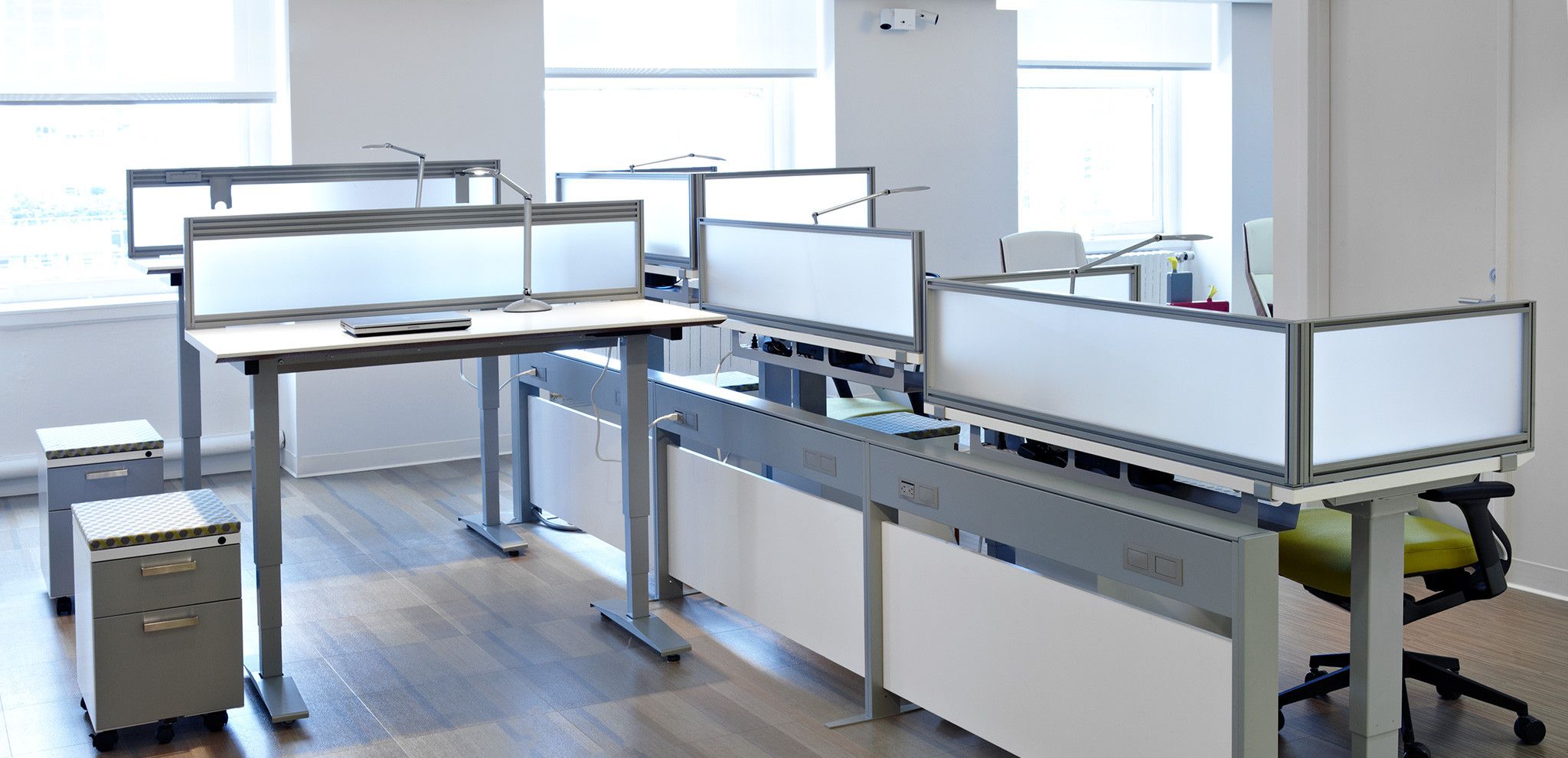 Protecting Personal Proximity
At KI, we understand the importance of keeping you, your staff and your students comfortable, supported and safe – especially now, during the COVID-19 pandemic. To support your needs for space dividing solutions while the coronavirus lingers, we have compiled a portfolio of our best furniture designs—both standard and modified options—to ensure safety and proper social distancing within your work and learning spaces.
These partitions, dividers, screens, panels or walls can be added and adjusted throughout your space. And, we've designed these elements to enhance your space without sacrificing aesthetics.
Freestanding Worksurface Screens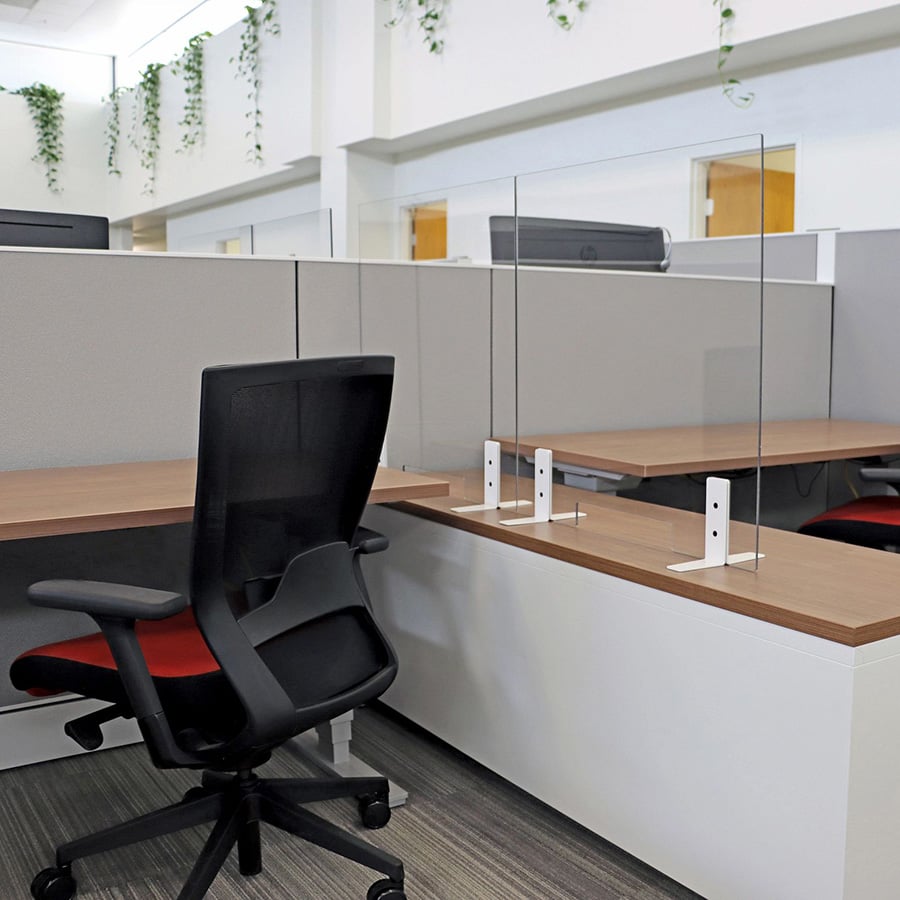 Acrylic Shields
Acrylic (Clear): ¼" nominal thickness
Panel Foot: powdercoated painted steel
Panel Foot Size: 2 x 8.25" (4" ea. side)
Acrylic Shield:

Overall Height: 24"
Widths: 24, 30, 36, 42, 48, 54, 60"

Acrylic Shield with Transaction Slot:

Overall Height: 30"
Width: 30"
Slot: 2 x 12"

Foot Color: KI Standard Paint Colors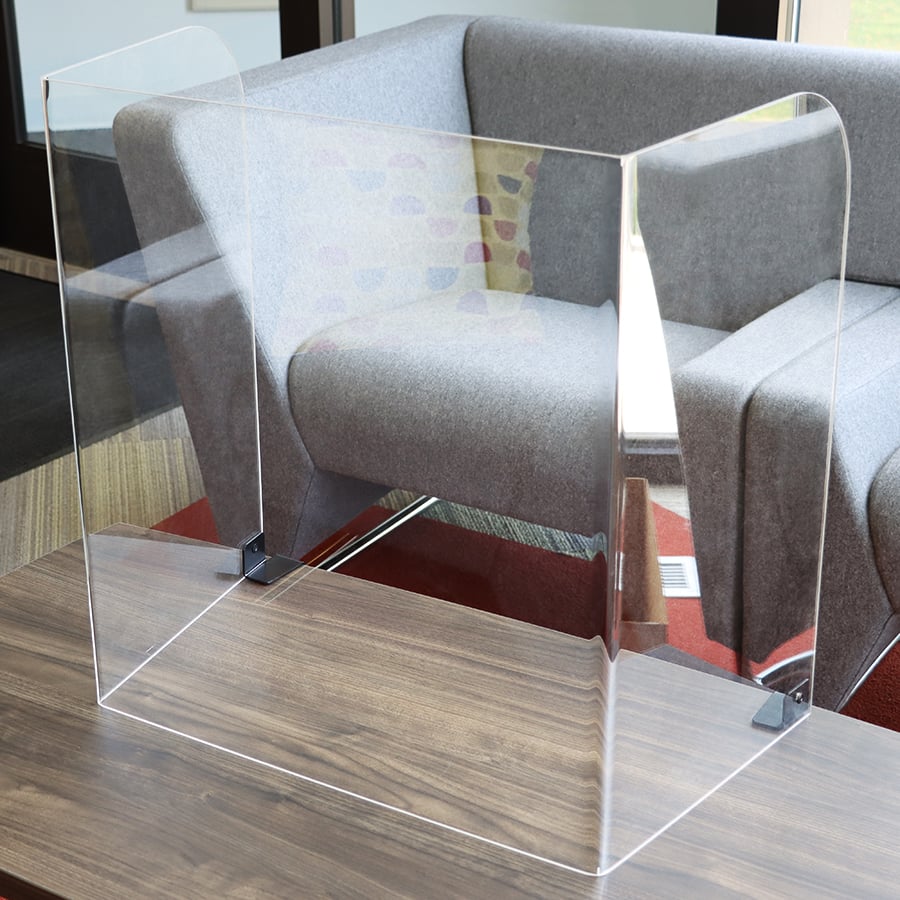 3-Sided Acrylic Screen
¼" clear acrylic 3-sided screen
Thermoformed single piece of acrylic
Overall dimensions: 26W x 14D x 24H
Thumbwheel clamp over edge
Clamp options:

No clamp – freestanding
User edge clamp (shown)
Non-user edge clamp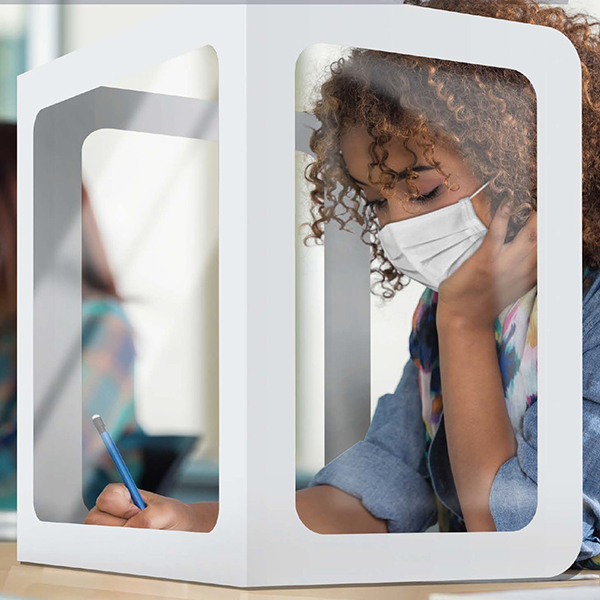 3-Window Folding Barrier
Corrugated plastic barrier with PETG clear plastic windows
Available in three sizes: small (20x20x14); medium (24x20x16); large (24x23x16)
Window dimensions are 4" less than overall panel dimensions
Window "frame" is always white
Worksurface-Mounted Screens
Freestanding Floor Screens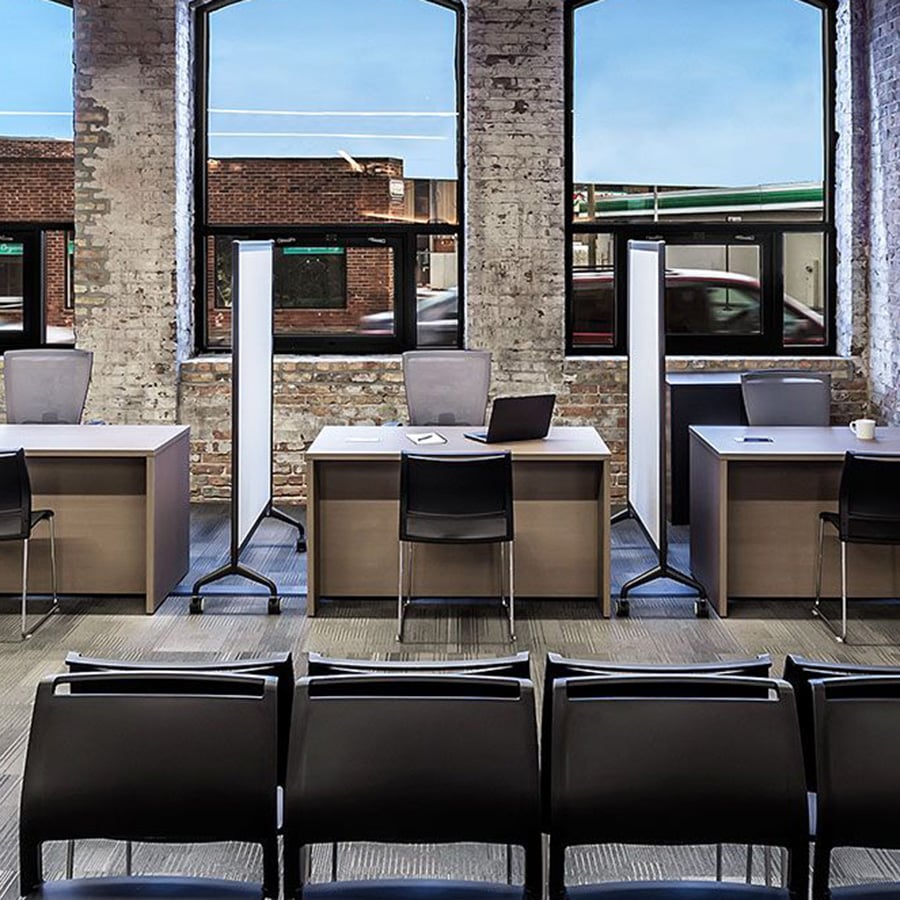 All Terrain Mobile Screens
Aluminum frame with cast aluminum legs
Fluted Plastic, Tackable Fabric or Markerboard cores
Core material same on both sides
4-point or 3-point base styles
Casters, glides or combo casters/glides
54" & 66" heights
24, 30, 36, 42, 48" widths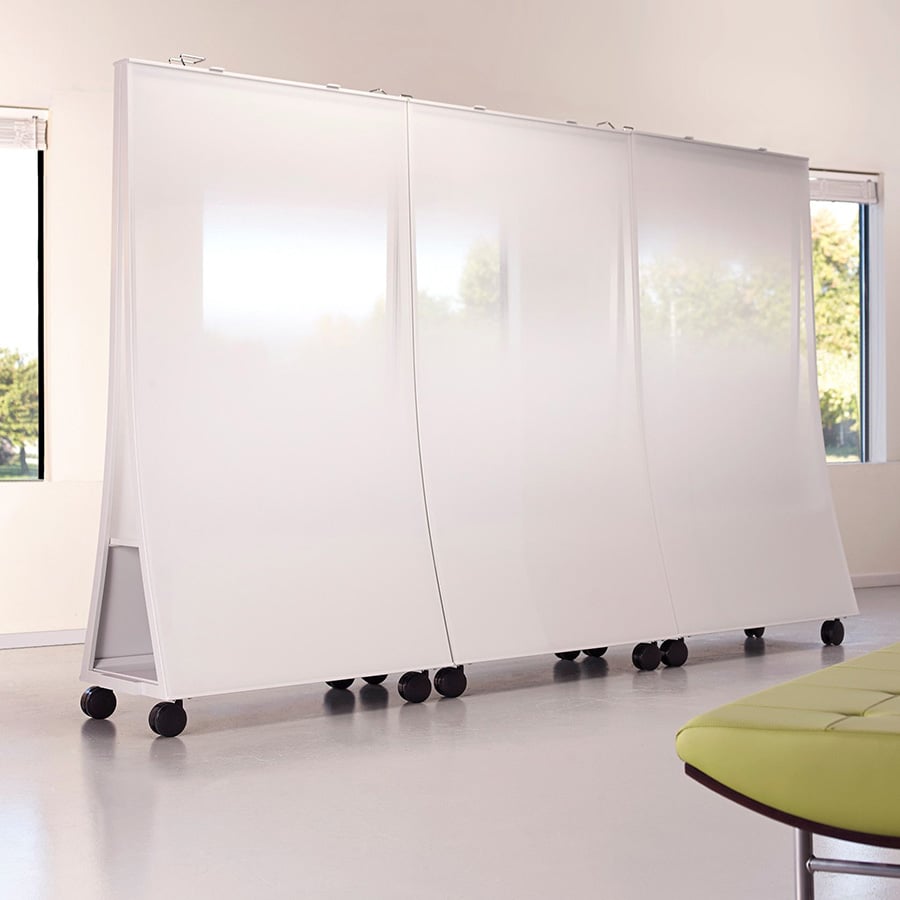 Connection Zone Mobile Screens
Includes storage tray and ganging hardware
3 sizes: 36 x 72 x 22-1/2; 42 x 72 x 22-1/2; 42 x 80 x 22-1/2"
Material options: Acrylic, Steel (magnetic), Fabric (tackable), Combo Steel/Fabric
Solid acrylic available in translucent or solid white
Printed printed available with gradient or grid pattern
Silver or White frame color
Black casters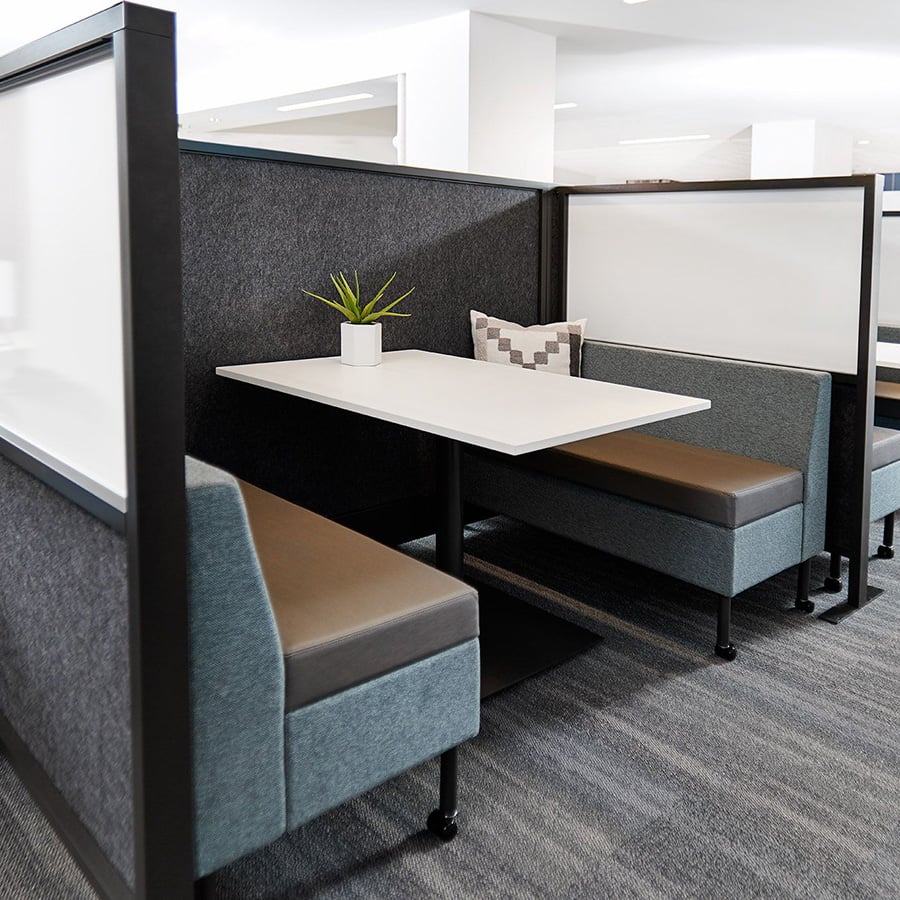 Tattoo Screens
Flex Screens offered in monolithic and segmented styles
Flex Screens are always elevated, never connected and do not carry power
Flex Screens may be specified with either bridge foot/flat foot or adjustable glides Spine Screens are available non-powered OR with inline power distribution
Spine Screens have raised feet with adjustable glides
Flex Screens available monolithic or segmented; Spine Screens monolithic only
Core Materials: Acrylic, Magnetic Dry-Erasable Steel, Tackable Fabric, Laminate, Fluted Poly, Felt
Optional felt inserts (Patterned or Solid) for magnetic steel screens
Screen Accessories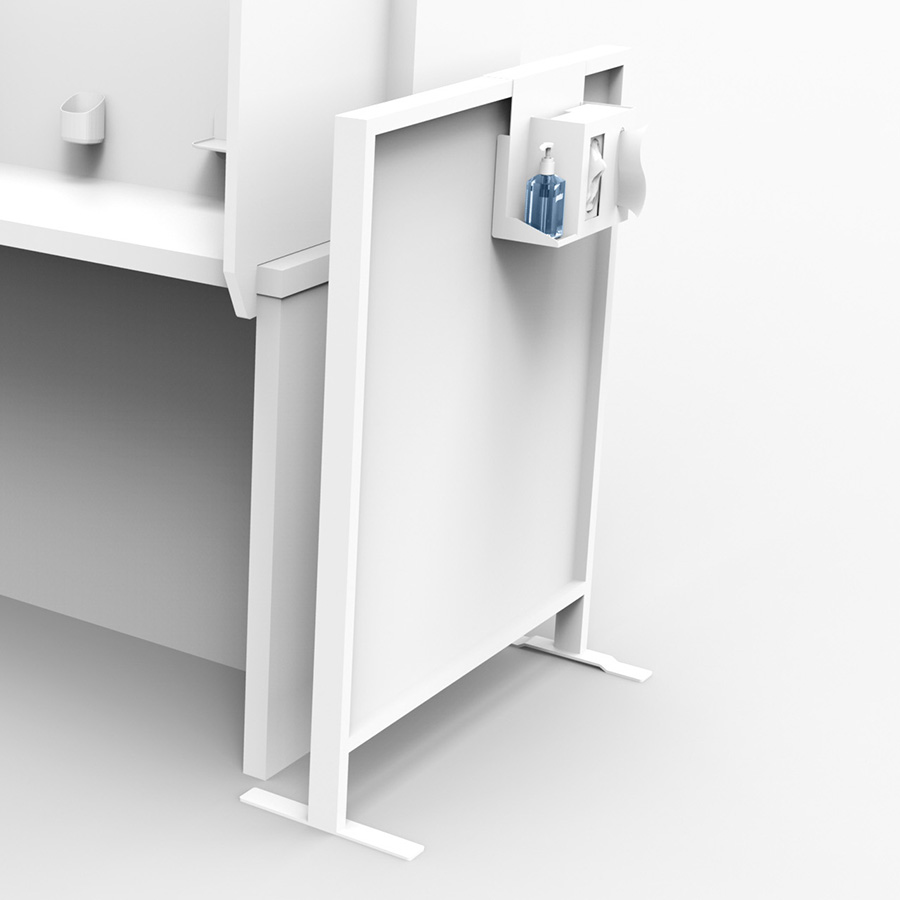 Sanitation Station Panel Accessory
Painted Steel Construction
Overall dimensions: 12.25 W x 12.25" H
Open holder area: 3.2 W x 4.42" D
Enclosed Storage: 9 W x 4.5" D x 9" H (2 openings)
Rectangle opening: 2.5 W x 6.5" H
Minimum Order Quantity: 5
Additional Screen & Panel Accessories
Panels & Walls
Highly effective space dividing solutions may also be configured with KI panel systems and architectural walls. Whether you need temporary or semi-permanent solutions, KI panels and walls can be installed and reconfigured to meet the present and future needs of your space.
Infinity from KI
Many of the solutions featured on this page have been designed as part of our Infinity from KI program. Infinity from KI is a tried-and-true way for the KI team to engage with you to design and build the furniture you want and need -- personalized for your brand, your employees, your space.
contact us
We're In This Together
Take comfort in knowing we are ALL in this situation together. The environment around us may be uncertain, but you are not alone. So whether you are looking for a short-term solution to provide a safer return-to-work or return-to-school environment or searching for a more permanent solution for down the road, we are here to help. Complete the form below to begin our discussion.