×
Overview

Technical Info

Environmental Info

Design Resources
Product Overview
Features & Highlights
Both height-adjustable and fixed screens are available in multiple heights and widths to suit the needs of any environment.
Height-adjustable screens can be raised or lowered to provide flexible levels of privacy throughout the day.
Fixed screens provide a semi-permanent solution for privacy and space division in open planning.
Universal Screens are offered as both privacy screens at the back of a tabletop and as divider screens, mounted to the side.
Standard on KI's Toggle, WorkUp and select Pirouette tables; other surfaces considered upon request.
Available in fabric or polyester felt in a variety of colors.
Construction
Screens are ½" thick, tackable surfaces.
The felt screen is constructed from 100% polyester felt; the fabric screen is constructed from upholstered low-density fiberboard.
Felt screens have a density of 0.5 lb/ft2 and are sound absorbing with an acoustic rating of 0.45-0.90 NRC; fabric screens have a density of 21.84 lb/ft3.
Felt screens are in accordance with ASTM-E84 and achieve a Class A Flame Spread; fabric screens meet FSC Mix Credit Certification (FSC-C081621) for Sustainability.
Adjustable screens are 24" and 31" high by 23", 29", 35", 46", 52", 58", 64", 70" and 82" wide.
Fixed screens are 24" and 31" high, and the fixed screen & modesty panel is 29" high by 23", 29", 35", 46", 52", 58", 64", 70" and 82" wide.
View Approved Fabrics & Finishes
Select a style to view available options
Product Story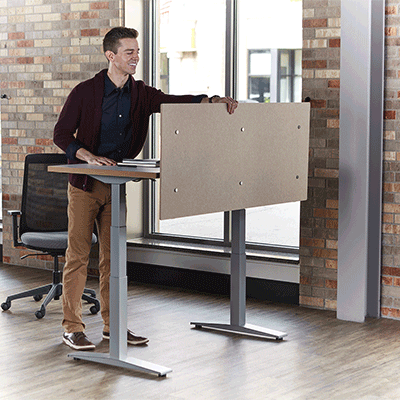 Privacy for Any Application. Options for Any Individual Need.
Universal Screens are designed to provide various levels of privacy in open environments. With fixed and height-adjustable options, Universal Screens provide a solution for any application.
Screens are available in polyester felt or fabric with a range of colors. Brackets can be painted in any standard powdercoat color to further enhance your design. Both felt and fabric are naturally sound dampening and tackable surfaces.
Fixed screens offer varying levels of privacy with multiple heights and widths. When the goal is to provide a semi-permanent solution for privacy in open planning, fixed screens are the perfect solution.
Height-adjustable screens can be raised or lowered to the desired level with a simple push or pull. At its full height, the screen provides distinct privacy. When fully depressed, the screen virtually disappears to create an inviting, collaborative worksurface. The screens adjust seamlessly and quietly.
Designer Profile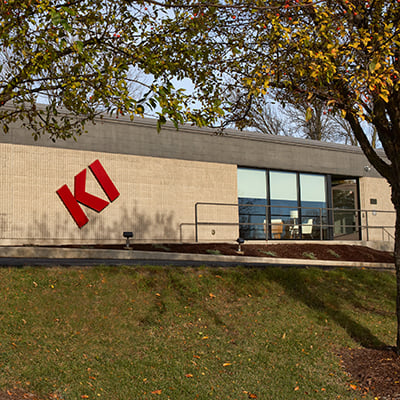 DESIGNER
KI Design Team
The KI design team set out to create a product that allowed users to tailor their environment. In an open planning space, traditional "panels" are absent which can expose the user to a visually distracting environment. Universal Screens can be adjusted to give the user privacy or modesty, depending on their needs at the moment.