That's a Wrap! NeoCon 2023 in Review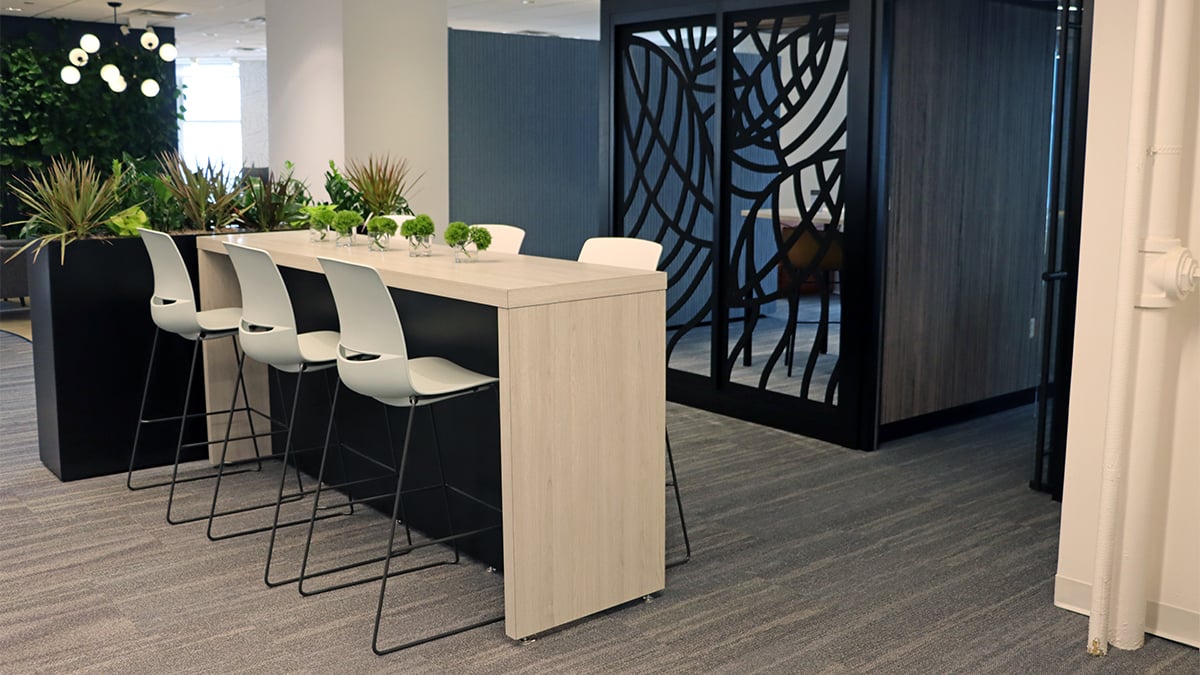 If you couldn't make the trip to Chicago for NeoCon (or made the trip and can't remember which space had which furniture!), here's a recap of the action-packed areas within our showroom.
---

NeoCon 2023 is in the books!
For those who joined us in our Chicago showroom this year, thank you for stopping by. We enjoyed meeting you, catching up on your successes, and hearing about your exciting upcoming projects.
If you weren't able to visit us this year, we've got you covered! Following is an in-depth recap of our newest product highlights and inspiring spaces from NeoCon 2023.
Be sure to read to the end where you can take a virtual tour of our entire showroom and "walk" yourself through the experience of our latest product and design innovations. Also, catch the top 4 design trends spotted around NeoCon from our own interior design team!

New Furniture Innovation: The Products
LimeLite seating, a 2022 Best of NeoCon Silver honoree, is expanding to include a wood-leg guest chair and tandem seating. The guest chair was featured prominently in the café area with an Earthen Clay shell and warm-toned wood legs. The slim profile and contoured shape of this seating line elevate the aesthetics and comfort in any environment and offers design consistency throughout an installation.
We also introduced two new products geared toward the education market: Imaginasium Blocks and Blips and the Intellect Wave rocker accessory. Both could be found in the education area at our secondary entrance.
Imaginasium Blocks and Blips are lightweight foam shapes (I, L, and V-shaped blocks and a circular blip) that support a range of interactive learning and teaching methods—experiential, experimental, play-based, floor-based, tiered seating, cocooning, and more—to comfortably and creatively engage the littlest learners. That said, we also saw quite a few big kids using their imaginations to create some really fun forts!
The unique play area was situated under a freestanding WiggleRoom Super Structure (more on that later) with three open sides. The fourth side offered integrated power for a smart TV. The post-and-beam structure had alternating colored louvers for the ceiling, rounding out the distinctive play space.
The Intellect Wave rocker accessory can be added or removed to any new or existing Intellect Wave cantilever chair with just a screwdriver. The accessory allows teachers to determine which students may benefit from the rocking motion to release energy and maintain focus.

Fresh Interior Inspiration: The Spaces
From learning spaces for education to hybrid workspaces for the modern office, we featured a range of fresh interior design ideas.
Within our education area was a media center featuring MyPlace curved shelving, a recent line extension to the popular MyPlace lounge seating line. The shelving works in conjunction with curved seating elements, providing space planning options beyond linear. In proximity was an e-sports area highlighting the orbital motion of our Sway chairs, which respond well to players' motion, while spectators cheer from MyPlace high-back lounge furniture or Serenade gathering table and Doni stools, the latter of which is a great way to incorporate school or team colors with its unique two-tone shell and unlimited custom colors.
One of the most interesting solutions visitors gravitated toward was a conceptual hybrid workspace based on a similar solution developed for a social media company via the Infinity from KI process. The vignette features two screens – a wraparound screen that mounts to the worksurface and another that is freestanding. Both add visual and acoustical privacy to workstations, especially convenient for video conferencing in open-plan spaces. Visitors could experience the acoustical difference for themselves by sitting at the desk and pulling the freestanding screen around themselves, creating a cocoon of quiet.
Flanking the conceptual hybrid work solution were integrated spaces that offer different work styles, supporting choice-based work. On one side, there is an open work area perfect for a couple of coworkers to review drawings or material samples or for a small group to collaborate. It unexpectedly features a Stout table with a Friston Ash laminate top and black base for a sophisticated, industrial look softened by the refined aesthetic of LimeLite stools. A custom laser-cut PET felt insert in a Genius architectural wall frame adds visual interest and allows daylight to filter through.
Opposite is a regenerative space that can also serve as a team gathering area. Zoetry lounge furniture, designed by David Allen Pesso, is predominately featured.
A Zoetry sofa and loveseat are anchored by a square Zoetry coffee table facing a SMART board. The sofa and loveseat feature the optional fully upholstered wrap-around screens for visual and acoustical privacy, creating a sanctuary from the adjoining open workspace. Should a team wish to leverage the space for a meeting, there is additional seating and worksurfaces with a Serenade gathering table and Calida stools positioned at the back of the loveseat and a Calida high-back chair and C-table personal worksurface within the space. Ruckus whiteboards hanging on a wall track can be used as a markerboard on one side or a tackable surface on the second side, which also adds to the acoustical properties of the space.

Dynamic Space Division: The Architectural Walls
KI architectural walls are brilliantly featured throughout the space, including Evoke, Genius, and Lightline as well as WiggleRoom pods and Super Structures, which show how these freestanding rooms can divide space and provide either a place for an individual to do heads-down work or for a small group to gather. All architectural walls, pods, and post-and-beam solutions offer endless ways to customize your space, including door types and finish materials.
There was dynamic activity in the architectural wall demonstration area as well. In addition to better understanding how KI walls connect to ceiling/floor and address building conditions, visitors witnessed a live demonstration of how easy it is to reconfigure spaces. The area also featured transparent panels that showcase how power and plumbing are handled, the tools needed to install walls, and an interactive touchscreen TV that provides a wealth of additional knowledge. Many different finish types, including glass, digital print, laser cut PET felt inserts, and markerboard along with related accessories were also on display.

Let Us Help Your Ideas Flourish
Want a deeper look? Click below to take a virtual tour of our comprehensive space and explore the showroom at your own pace.
And though NeoCon is over, our physical showroom is always open to you. Contact your dedicated KI sales specialist to schedule an exclusive tour or to learn more about our newest solutions and spaces.
Bonus Highlights
Elevators to Elevated Spaces
Our interior design team shares design highlights and top trends observed around THE MART at NeoCon 2023.
If you missed NeoCon this year, you probably didn't miss the elevator lines. But what you might have missed was the energy of THE MART—attendance approached pre-pandemic numbers!—and some of those "you gotta see it" things. Here are a few that made us sit up and take notice: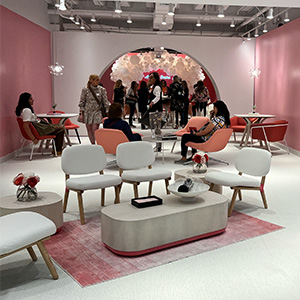 Emerging color palettes. From curated displays at Pallas Textiles featuring earthy, saturated hues to Arcadia channeling the Barbiecore pink trend, we saw a shift toward warm neutrals, rich yet subdued jewel tones, and vintage-inspired hues. The burnt orange and browns of the '70s have evolved into muted corals, terra cottas, and tawny crimsons that were present in almost every showroom, whether as an accent or a focal point.





Embracing vintage. With flip phones making a comeback, it was no surprise to see other nostalgic elements such as the "dial a decade" phone display in the Turf Experience Center, which earned the IIDA Best Large Showroom award. Shaw Contract + Mike Ford recognized the 50th anniversary of Hip Hop by weaving boom boxes and stereo speakers among the rugs and broadloom collection inspired by the genre. We also noted records, turntables, and Polaroid cameras!


Integrating acoustical panels. A moment of silence, please. Designed initially to address sound within space, these panels can also delight our other senses with industry advances in colorways, digital printing, textures, and laser cutting. We appreciated the creative, make-your-own phone stand or desktop plant activities to the graceful, undulating waves of color in the FSorb booth (another IIDA winner!).


Recognizing our impact. We observed so much pride in how our industry impacts the environment around us. It was uplifting to see exhibitors placing an emphasis on sustainability efforts, recognizing craftsmanship, and providing a platform for those seeking a future in the design world.
What was your favorite trend or unique "Easter egg" you spotted this year? Give us a shout on Twitter (@KItweets) and share what you discovered! We can't wait to see.
Subscribe
Stay up to date with the latest trends and more.