When Designing a Workplace, Give Your Employees a Choice -- Not Confusion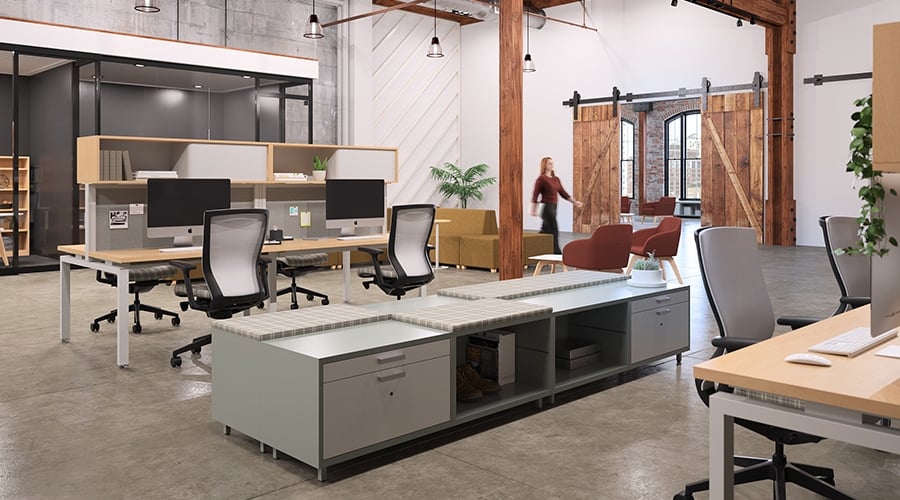 One in four companies now has some type of unassigned seating in the office, according to real estate firm CBRE. That number is expected to double in the next three years.
There's little doubt that some free seating is appealing. After all, who enjoys sitting at the same desk for eight hours straight? Moving around -- whether by meeting with colleagues in a conference room, working on a laptop in a lounge or taking a coffee break at the company café -- can keep us more engaged with our jobs.
But a wholesale switch to unassigned seating could prompt push back from employees. People may find it more difficult to locate a place to work or track down their coworkers. They may dislike cleaning up a desk that someone else left dirty. And while Gen Zers -- the generation now entering the workforce -- crave open work areas and spaces to collaborate, the number-one thing they want in the workplace is a workstation they can call their own.
Choice vs. Activity
We set out to learn how prevalent unassigned seating, or "activity-based work," really is. More than three in four workplace strategists we interviewed said that fewer than half their clients were using unassigned seating. One respondent told us his clients were actually apprehensive of migrating to an unassigned environment.
Many employers believe their company culture inhibits such drastic change. They're beholden to the idea that each employee needs an individual desk and computer.
Not to mention that activity-based work can be costly. One workplace technology company found that U.S. office workers waste $27.5 billion a year in company time looking for an available desk or conference room.
Still, three in four workplace strategists believe the unassigned environment will become more prevalent in the coming years, whether to respond to rising real estate costs, create more flexible workplaces or accommodate the rise of co-working spaces.
That doesn't mean employers have to jump into activity-based work headfirst. Consider choice-based design, where:
Each full-time employee has an individual workstation for private, focused work.
Employees have access to spaces that encourage a variety of work styles, including spaces for interaction, ideation and regeneration. These workspaces are integrated into the overall workplace environment. KI's Tattoo Collection supports unique work styles. Elements are easy to arrange and rearrange as roles and responsibilities evolve. Outside of major change, team members have exceptional flexibility to configure their workspace any way they want.
Choice-based design is a more realistic workplace strategy that combines the flexibility of the activity-based model without the anxiety or time wasted that comes with searching for an available place to work. It's the perfect compromise.
Benefits of Choice-Based Design
Choice-based design allows employees to take control over how they spend their workdays. An employee might find he works best by spending the morning at his personal workstation for focused work. For ideation, he might migrate to the company café in the afternoon to brainstorm with colleagues.
A manager at the same company may spend most of her day interacting with and serving as a resource for coworkers in different conference rooms. She might take periodic breaks in a regenerative space, like a lounge area, to grab a snack and catch up on emails.
Choice-based design can keep employees happy and productive. According to Gallup research, employees who can move to different spaces at work are 1.3 times more likely to be engaged than other workers.
In the next few years, we expect to see more employers designing workspaces that give employees maximum choice in where and how they work -- without the confusion.
Subscribe
Stay up to date with the latest trends and more.