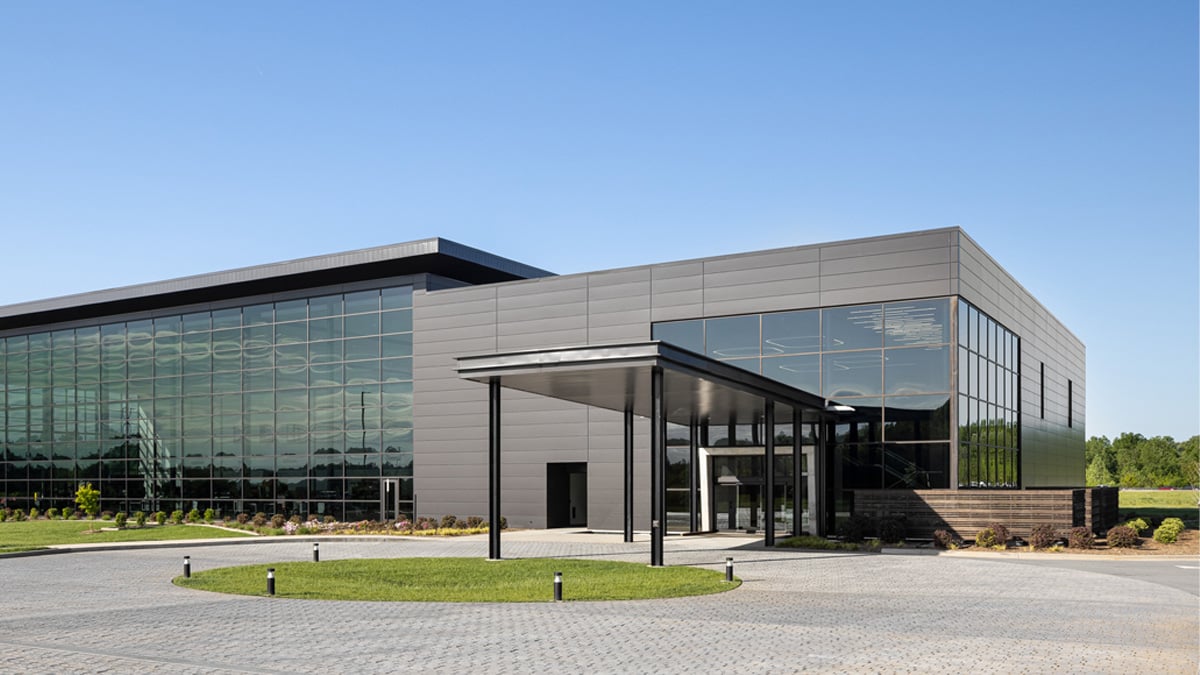 Sophistication Meets Function at
Carolina Technical Center
Amada America, Inc. is committed to customer satisfaction and success. The company is a global leader in the production, servicing, and sales of sheet metal fabricating equipment for the auto and appliance markets. Amada America built a state-of-the-art technical center to reflect its new manufacturing facility, both located in High Point, North Carolina.
"Amada facilities around the world make a statement about Amada's commitment to high performance and reliability," said Jeff Otten, executive general manager of Amada America, Inc. "Our new facilities in High Point are no exception. We want our partners to know and feel that we are committed to their success."
The two-story 62,000-square-foot Carolina Technical Center on the Amada America High Point campus provides live automation demonstrations, hands-on equipment training for customers, and working space for Amada's application engineers and manufacturing experts.
The center, like other Amada facilities throughout the world, demonstrates the company's commitment to equipping customers with the manufacturing knowledge and ability to effectively operate their equipment.
"The primary function of the building is to demonstrate the equipment," said Matthew Adkison, executive general manager, Amada America, Inc. "Our philosophy is about creating an experience for those who visit."
The open office areas at the technical center showcase the Unite panel system with added worksurfaces, 700 series storage, Grazie stack chairs, Pirouette tables, and comfortable Oath task chairs for Amada employees.
Cornice-height Genius architectural walls integrate well with the Unite panel system and provide additional meeting spaces.
The facility also has a full dining area that features Barron tables and Katera chairs with custom finishes.
A lobby showroom and event space and several show-stopping conference rooms, training rooms, and seating areas are designed to promote a first-class customer experience.
Oath task chairs provide a comfortable seat for employees in the control room that overlooks the Technical Center theater.
One of the conference rooms features a large boat-shaped Pirouette conference table, inviting Altus conference chairs, and a sophisticated Aristotle credenza in a maple finish.
Flexible and versatile training spaces were needed for a variety of equipment training for the Amada School and Amada Bending Academy.
One room features a dividing wall with Pirouette nesting tables and Grazie task chairs that can be easily rearranged, stored or nested depending on needs.
Another makerspace with Pirouette tables and Strive nesting chairs is located right next to the equipment and is designed to provide convenient space for guests to experience direct hands-on learning opportunities.
"Here, learners are as close to the machines as we are while the instructor is teaching," said Adkison.
The space supports the high level of training and education Amada strives to provide for its customers and employees.
A lot of the furniture in these spaces is mobile, providing convenient and easy reconfiguration opportunities.
Our philosophy is about creating an experience for those who visit.
Matthew Adkison, executive general manager
Amada wanted the technical center to be comfortable and low pressure.
Like in Amada America's manufacturing facility, soft seating areas were created throughout the center and provide relaxing touch points for visitors and employees. These spaces feature comfortable Lyra lounge seating and Kurv benches.
"The entirety of the facility is dedicated to customers, making them feel welcome, making them feel comfortable, and letting them know that Amada is a high-class organization," says Adkison. "A true Zen environment, we want people to de-stress, clear their minds, and really be able to focus on the purpose of why they are there."
Case Study Newsletter
Sign up to receive the latest updates from KI with inspiring spaces and solutions.