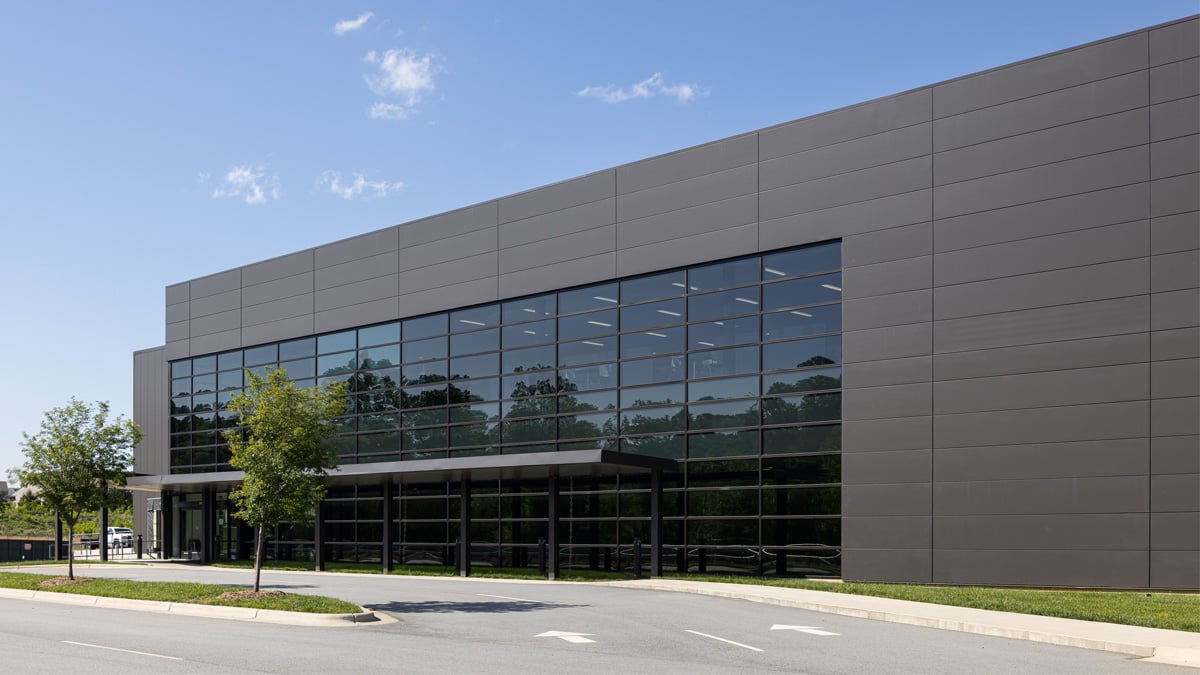 Bringing Sophistication to an Industrial Space
When California-based Amada America, Inc. was looking to expand U.S. operations to better serve its east coast clients, KI set out to help them take the industrial feel out of their facility by providing sophisticated yet functional furniture solutions.
Executives wanted the new facility to showcase elegance and sophistication for customers, address the changing needs of a younger workforce, and easily transform between different workday and event situations.
The 180,000-square-foot climate-controlled manufacturing plant features 40-foot ceilings, crane equipment, logistics, machining, paint, and welding departments and approximately 70 employees.
To address the needs of the changing workforce, Amada America was interested in specifically incorporating some collaborative areas where ideas can be freely discussed and shared. They also wanted the space to address some of the noise level issues they've experienced in their existing locations.
"It doesn't look like your normal factory," said Matthew Adkison, executive general manager, Amada America. "It's much more accommodating for our employees and our guests. It's a place where, I think, everyone likes to come to work because it's clean, it's bright, and the furniture is nice."
We want to separate ourselves from our competition with these facilities.
Matthew Adkison, executive general manager
The open office spaces feature the Unite panel system with added worksurfaces and comfortable Oath task chairs. Private offices contain sophisticated Aristotle casegoods.
A conference room features comfortable Altus conference chairs paired with a rectangular-shaped Serenade conference table with a drum base that easily conceals technology and provides a clean, sophisticated look.
KI worked with the Amada team to ensure the furniture in the manufacturing space met their durability standards. Where necessary, the Infinity From KI™ team provided modifications to the 700 series pedestal storage to provide a heavier capacity and 18-gauge double-walled drawer fronts for stability.
"We were very appreciative of their understanding and ability to come up with workable, and affordable, solutions," said Jeff Otten, executive general manager of Amada America, Inc. "It was also very helpful to be able to go to the KI factory in the High Point area to see the quality that went into the production of the furniture. Although KI was not the lowest bid, [they] made us feel as if we were priority one, and we felt that. The value of the KI products offset any cost concerns we might have had."
Soft seating areas were created throughout the manufacturing facility and provide relaxing touch points for visitors and employees. These spaces feature comfortable Affina lounge furniture and Flex occasional tables.
"We want to separate ourselves from our competition with these facilities," Adkison said.
It's important for Amada to have comfortable workspaces in the employee office and plant area. However, the rest of the campus, including the Carolina Technical Center, is dedicated to customers.
"Our goal is always to make [customers] feel welcome, make them feel comfortable, and to remind them that Amada is a high-class organization they can be proud to partner with," said Otten.
The furniture selections from KI represent what Amada stands for and the reputation of the company worldwide.
Case Study Newsletter
Sign up to receive the latest updates from KI with inspiring spaces and solutions.