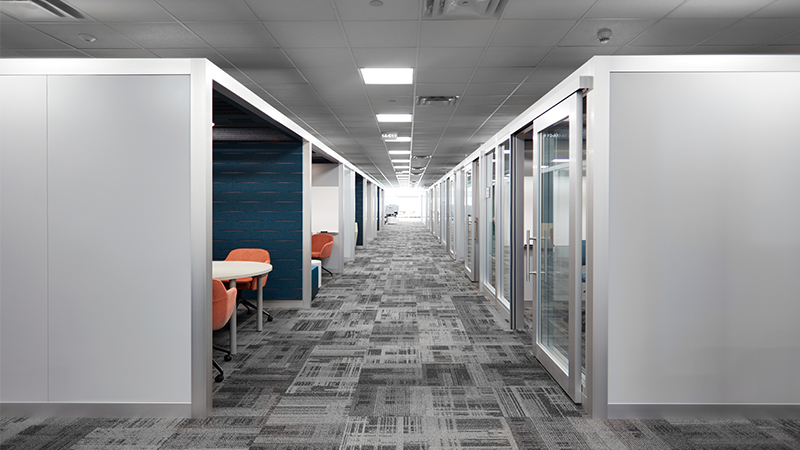 Manufacturer Creates Bustling "Main Street" for a Warm Return to the Office
When the technology team at one of the world's largest construction equipment manufacturers realized that their employees sought a more collaborative space as they returned to work, the company remodeled with a two-fold mission.
First, leadership saw the renovation as an opportunity to bring people back together after years of remote work. Second, they wanted to ensure that upon return, employees would be coming back to a workplace that catered more specifically to their needs.
With help from KI, the technology team fundamentally transformed the center of its office into a buzzing, energetic corridor the company proudly calls "Main Street." Characterized by more than a dozen open and closed social and meeting spaces, Main Street is where employees go for informal coffee chats, team discussions, individual work and more.
An employee-informed design, the Main Street creates the perfect complement to the existing open plan workstations referred to as "neighborhoods."
A New Design for Shared Spaces
The Main Street thoroughfare employed both WiggleRoom pods and Super Structures to address employees' desires. The distinct spaces allow employees to gather or get away as needed.
The design was a welcome change to the technology department's previous floor plan concept. Five years prior, leadership revamped the office's 1980s-era cubicles to help recruit top engineers and developers. The company opted to transform the space into a totally open layout, or a "Google wing," as staff nicknamed it.
However, voices and noise carried throughout the space, which proved unpopular among workers. After the shift to remote work, leadership began to consider how to bring people back to the office and decided to conduct an employee survey.
Employees cited the lack of privacy and quiet as the biggest deterrents of the previous workspace with some noting that it negatively impacted productivity. When asked what would incentivize them to return to the office, employees pointed to designated areas for gathering and collaboration sans the noise of pure open plan spaces.
The company set out to bring employees' vision to life by establishing a central hub designated for collaboration and private meeting spaces. KI's WiggleRoom Super Structure, a post-and-beam system that creates freestanding group spaces within open environments, worked perfectly.
The technology team found Super Structure to be an ideal solution in part because it helped minimize project management and budgetary obstacles. Super Structures rest directly on the floor to meet ADA accessibility requirements and minimize disruption during construction. By selecting semi-open louvered ceilings with built-in lighting and ventilation fans, the company also didn't need to rework sprinkler, lighting or HVAC systems. In addition, company leadership enjoyed the ease of installation, which was completed within a tight one-week timeframe without a hitch.
The company created the bustling Main Street design by placing a variety of open and closed Super Structures in two rows capped off at one end with two individual WiggleRoom Pods. The pods offer privacy for employees wishing to work independently. In total, the area offers work or meeting spaces for nearly 50 employees.
Employees head to Main Street through four entryways equipped with sliding felt dividers that minimize noise pollution and provide visual separation. To reduce echo, Super Structures feature floor-to-ceiling felt panels in blue with the same pattern as the gray dividers. Fully enclosed Super Structures feature a soft-close sliding glass door with a neoprene sound seal gasket, enhancing privacy within populated spaces.
Main Street Supports Hybrid Employees
The company sought to create meeting areas that were distinct, embodied a sense of fun and supported technology to ensure a consistent experience for in-person and remote employees.
To create a cohesive aesthetic throughout the diverse spaces, the color palette incorporates vibrant blues and oranges, which balance the gray and white of the Super Structures. Lounge furniture, ottomans and seating upholstered in a variety of Pallas Textiles offer a visual connection between the spaces while complementing the crosshatched carpet.
Several open and closed Super Structures provide a spontaneous, social aesthetic. Comfortable Sway lounge chairs swivel in all directions and are paired with lightweight C-Table Max personal worksurfaces. All together, it creates the perfect atmosphere for employees to have casual, on-demand meetings. Other spaces offer a variety of MyPlace lounge seating, occasional tables and ottomans to accommodate larger groups.
Additional Super Structures present a sophisticated setting for more intensive work. Elegant Calida lounge chairs are paired with Pillar tables in open rooms, while upholstered Doni task chairs surround Athens tables in enclosed rooms, which also feature large monitors for presentations or video conferencing.
Technology features in these spaces are intentional and user-friendly. Power modules are integrated into the base of MyPlace lounge seating and under the surface of Athens and Pillar tables so employees can conveniently charge their devices.
Outlets are located at varying heights in the walls of each Super Structure for seamless power integration with technology that is meant to be stationary, whether monitors are situated on tables or mounted to the walls themselves. The company equipped monitors with wide-angle webcams and built-in speakers and microphones, so that a group of employees in the office can easily host a video call with remote team members without crowding around a single laptop. The Super Structure's power integration, combined with state-of-the-art webcams, ensure that unsightly bundles of wires remain out of sight.
Throughout the various collaborative spaces, Super Structures feature markerboards and magnetic panels where employees can generate ideas, jot down their thoughts or hang fun notes.
Sought-After Workspaces
The technology wing's leadership noted that the collaboration-based remodel was a shot in the dark. The company culture has long been characterized as results-oriented, encouraging employees to work from anywhere so long as they deliver on their tasks. While the survey captured what employees desired in a workplace, the real-life response was yet to be determined. The company was "betting" on collaboration.
The employee response to the renovation was overwhelmingly positive and quelled any lingering doubts. The socially cohesive atmosphere transformed Main Street into a huge draw for the employees in the technology wing as well as those from other departments within the company.
The new space leveraged its existing workstations and created a hub for collaborative work and meetings of all kinds by incorporating WiggleRoom Super Structures. This direction allowed the company to seamlessly adapt to hybrid work while supporting a variety of work styles.
Now, the popular Main Street is always in use and employees often enjoy gathering in the lounge spaces rather than at their desks. From impromptu discussions to planned meetings, employees are happy to be back in the office. For returning workers, it is a warm reunion—and a new beginning.
Case Study Newsletter
Sign up to receive the latest updates from KI with inspiring spaces and solutions.