×
Overview

Technical Info

Environmental Info

Design Resources
Product Overview
Features & Highlights
Ruckus post-leg desks deliver configurability and mobility to enable diverse teaching and learning styles.
Numerous sizes available in five dynamic shapes: OddQuad (patented KI desk shape), E-Triangle, R-Triangle, Trapezoid, Rectangle.
Fixed height (29") or set-screw adjustable height (20-33" or 29-42").
Base options include glides, casters or both glides and casters.
Optional undersurface accessories include removable tote storage, book basket and small or large book box.
Available in dozens of frame colors, laminate top colors, poly edge colors.
Construction
Tops come in two thicknesses: 1-¼" with 74P edge or ¾" with 73P edge (note: overall table heights are ½" shorter when ¾" top is specified).
Surface is high-pressure laminate.
Frames are 1-¾" O.D. 14-gauge steel tube in bright nickel-chrome or powdercoat finishes.
Height-adjustable tables adjust in 1" increments.
Same-height glides and casters can be changed in the field while maintaining surface height.
View Approved Fabrics & Finishes
Select a style to view available options
Product Story
Configure Ruckus post-leg desks to bring people together for group work or re-configure them to accommodate focused and individual work. Easily move and arrange desks to support interactive learning and traditional learning space layouts. Five engaging desk shapes— OddQuad, E-Triangle, R-Triangle, Trapezoid, Rectangle—are available in a variety of dimensions.
Ruckus post-leg desks deliver flexibility and mobility to enable diverse teaching and learning styles. Choose your desired level of mobility with three base options: glides, casters or both casters and glides to allow wheelbarrow motion. If your mobility needs change, so can Ruckus desks. An innovative leg design offers interchangeable, same-height casters and glides, which can be swapped in the field with no change in surface height.
Tables are available in fixed height (29") or two height-adjustable options with 13" ranges (20-33" or 29-42"), which are set-screw adjustable in 1" increments. Adjustable height options accommodate users of all sizes, allow tiered seating for better sightlines and support standing height applications.
Optional undersurface storage keeps learning tools handy. Add a book basket or book box (large or small) or removable tote storage.
This simple, clean post-leg desk transitions from space to space as part of the award-winning Ruckus Collection. Explore design freedom with a diverse range of colors and materials.
Designer Profile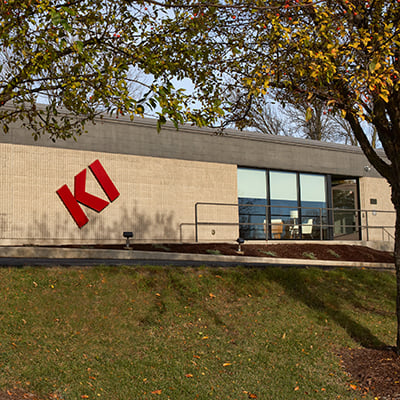 DESIGNER
KI Design Team
KI's award-winning design team created the Ruckus Collection to foster student engagement, enable a wide range of teaching styles, and adapt to a variety of users and uses. Ruckus promotes movement and activity, which increases learning retention and comfort. It's not just a furniture solution, it is a tool for changing the learning process. Users quickly and easily scale from focused to collaborative work. Innovative seating is non-directional and perch-able with integrated arms that also function as a work ledge. The collection includes seating (stack, 4-leg, stools and task), desks (cantilever and post-leg), activity tables, lectern and storage.