How to Create One-of-a-Kind College Spaces Through Infinity From KI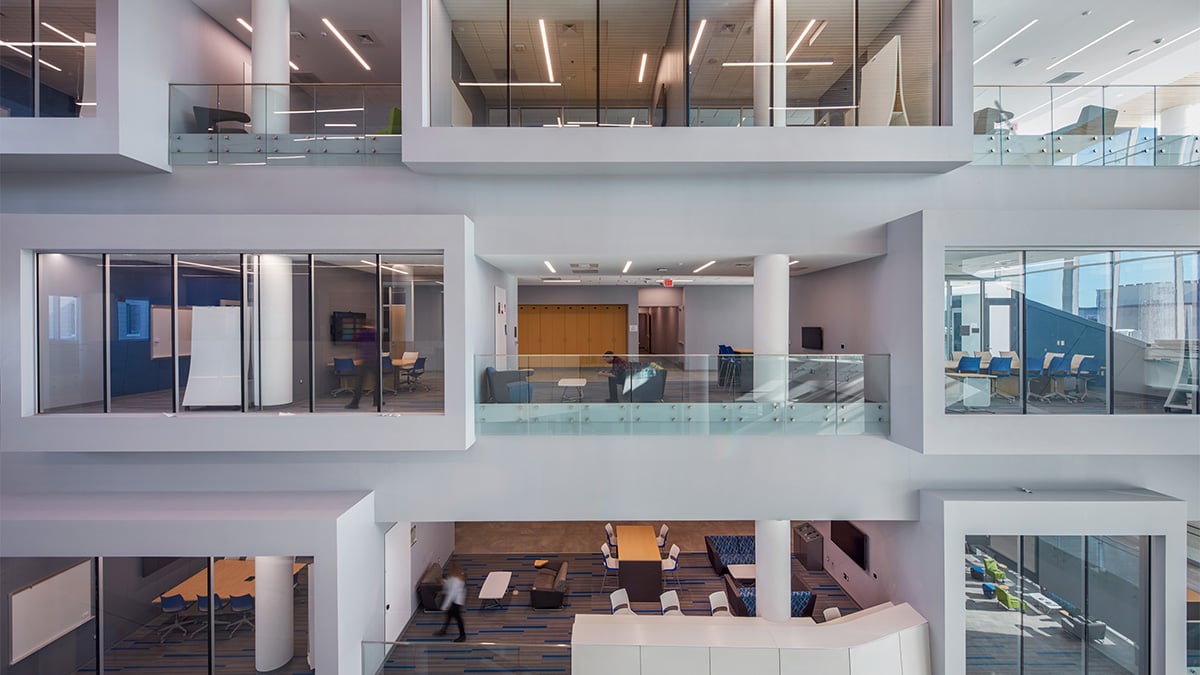 Explore these four examples of one-of-a-kind college spaces made possible through Infinity From KI and discover how to satisfy unique design needs in higher education spaces.
Research has long shown that the physical workplace has a serious impact on individuals' success and well-being. Most people think about this impact when it comes to their 9-to-5 work environment, but colleges and universities are no exception.
Many college students study, work, eat, relax, socialize, and live on one campus for months at a time. Higher education institutions are tasked with accommodating a variety of student needs while making sure their campuses are designed to foster a sense of community, belonging, and purpose. Students are there to study and learn, but they are also there to have fun, build lasting friendships, and figure out who they are as individuals.
We understand that this is a vast and challenging undertaking. In the insights below, we share a few examples of one-of-a-kind college spaces made possible through Infinity From KI and how you too can satisfy unique needs in your higher education spaces.


Shape a Warm and Welcoming Atmosphere
When faculty and staff leave their office for the day, they get to return to the comfort of their homes. Similarly, colleges should give students cozy, inviting spaces on campus where they can easily talk with friends, work on a problem set or term paper, and ultimately relax in a space that feels like a home away from home.
Consider this example of how to do that. Recently, Guilford Technical Community College (GTCC) in North Carolina undertook a massive renovation of its Medlin Campus Center. At the heart of campus, the building is home to the student union and a variety of student services.
College administrators wanted the renovated center to serve as a refuge for students. The GTCC team loved the residential warmth of our Calida lounge chairs and were interested in MyPlace lounge furniture but wanted a softer look.
Enter Infinity From KI. This proprietary process allows our clients to create an all-new product reality – a never-before-seen design that's truly unique and entirely customized to specific requirements.
To ultimately satisfy their design goals, GTCC engaged Infinity From KI and our dream team to customize our modular MyPlace lounge seating. The final furniture design featured a rounder profile that complemented the soft lines and gentle curves of the Calida chairs, which resulted in a more cohesive aesthetic throughout the comfortable, welcoming environment.

Engage Environmental Stewardship
When creating personalized college spaces, pay special attention to the overall design intent while encompassing the institution's culture and values, such as environmental stewardship.
For example, when Clemson University in South Carolina broke ground on a new facility for its college of business, the school's team was dedicated to practicing sustainability in the design process. This commitment is part of their Sustainability Action Plan that outlines their goal to be carbon neutral by 2030.
In addition to planting nearly double the number of trees taken down during construction, Clemson leveraged our Infinity From KI process to create one-of-a-kind café tables by modifying our Athens and Pirouette tables with surfaces made of reclaimed wood from the trees that had to be removed during construction.
Engaging with the Infinity From KI process helped Clemson use the wood from their own land in the building for students, staff, faculty, and alumni to use and see as a literal representation of the university's sustainability efforts.


Build A Strong Brand Identity
To create a cohesive look across campus and foster a sense of identity and community for your students, look to incorporate school colors or branding into campus design.
Trinity College in Connecticut is a fantastic example of this. Keeping in line with the school's mission to foster bold, dynamic thinkers, Trinity opened an Innovation Center to expand opportunities for students with entrepreneurial ambitions. This center gives students the opportunity to "experiment, collaborate, and design the future" with the space needed to reflect these requirements.
The center, which hosts a variety of programs and allows students to interact with their peers as well as local technology companies, has a vibrant design that reflects its innovative mission.
The Trinity team incorporated the school colors, bright yellow and royal blue, in an eye-catching triangular grid on the ceiling. They also connected the innovation center to the local community with floor-to-ceiling wall art of the Hartford skyline.
Based on our robust standard color offering and unlimited custom color match program, the space was able to integrate its school colors identifiably with Doni café stools, Doni stack chairs, and Lyra lounge seating throughout the space.


Bring Collegiate Design into the 21st Century
Traditional classrooms have long been filled with stationary desks. But times have changed!
Classrooms of today assist students in their learning and support the growing use of technology through functional yet flexible spaces and personalized design solutions.
Take a look at Bradley University in Illinois. They set out to create the functional yet flexible design solutions their students needed when opening a new facility to specifically foster collaboration between the engineering and business departments.
The team at Bradley University leveraged our Infinity From KI process to design a tech-friendly, flexible table. Based on their unique requirements, we designed a triangular power tower tailored to Bradley's technology needs. The three-sided tower allows three "scale up"-shaped Pirouette tables to nest perfectly around the tower. Students can roll the tables into different configurations around the room and integrate power and media sharing as desired.


Personalized Solutions for Custom College Furniture
Colleges and universities are charged with supporting students through every aspect of their daily life, while simultaneously meeting the needs of their staff, faculty, and alumni.
By shaping a welcoming atmosphere, engaging environmental stewardship, building a strong brand identity, and bringing collegiate design into the 21st century, you can create one-of-a-kind college spaces that draw students to enroll, persist, and enjoy the time they spend on campus.
Through our comprehensive range of design solutions perfectly suited for higher education—as well as the unlimited potential through Infinity From KI—we can help you meet even the tallest of orders.
Contact your dedicated KI sales specialist to learn more about our custom design process or explore the link below.
Subscribe
Stay up to date with the latest trends and more.