'Think KI' with Solutions for These 4 Furniture Challenges Facing Colleges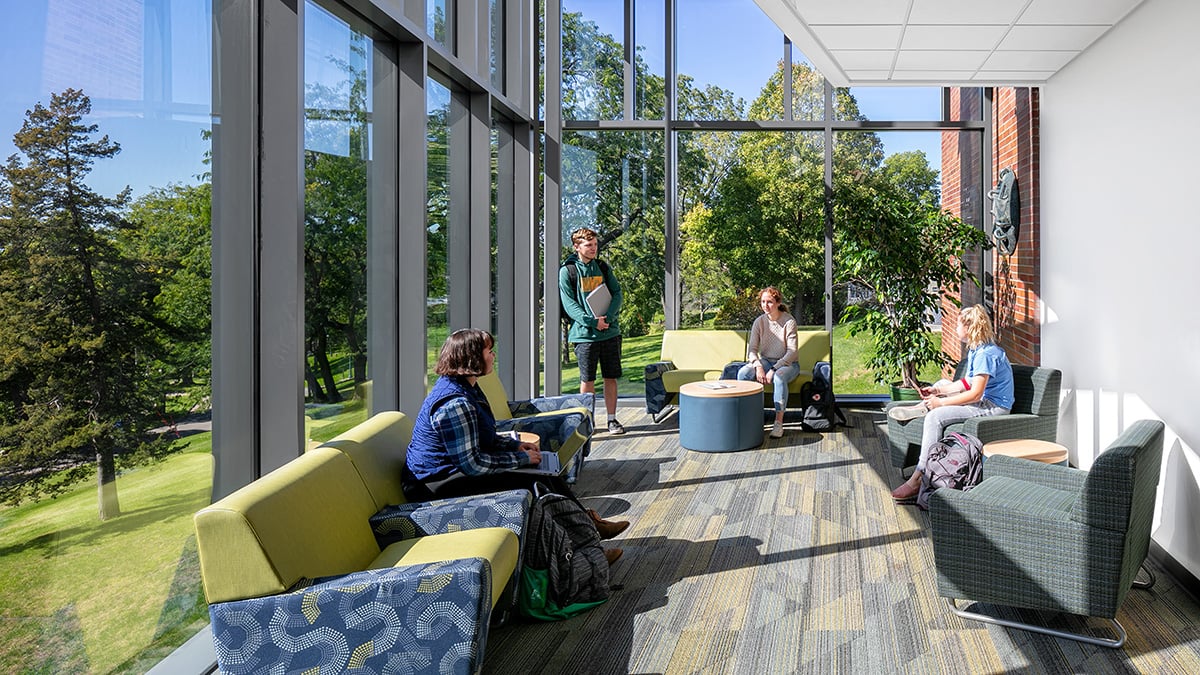 Typical college students spend nearly all of their time on campus. Throughout the day, they need places to study, socialize, sleep, snack and everything in between.
It can be challenging for university staff and administrators to accommodate these varying needs when designing a new classroom, dorm or library.
Fortunately, our design team is here to help. Just 'Think KI.' Let's take a look at some of the most common campus design problems and explore how to solve them.
Problem #1: Versatility in a 180-Square-Foot Dorm Room
Solution: Space-saving, reconfigurable loft furniture
Even though dorm rooms are 180 square feet on average, these small spaces are where students study for exams, watch movies with friends, get ready for a night out and catch up on sleep. Depending on a school's Covid-19 policies, students may find themselves spending more time than ever in their dorm rooms. So, it's important that students feel they have control over the one space that is theirs.
A lot of pressure is put on those designing these smaller spaces. Indeed, many colleges want to create inviting, inspiring dorm rooms but find themselves limited to the same wooden furniture that has dominated the market for half a century.
Think KI. We offer a bold alternative for dorm room furniture. With a sleek, modern aesthetic, RoomScape Residence Hall Furniture encompasses a variety of options for facilities managers to choose from, including single, loft and bunk beds; dressers; wardrobes; desk surfaces; tackboards and more. Students can easily personalize their space on-demand with uniquely customizable elements, like add-on shelving and overhang storage.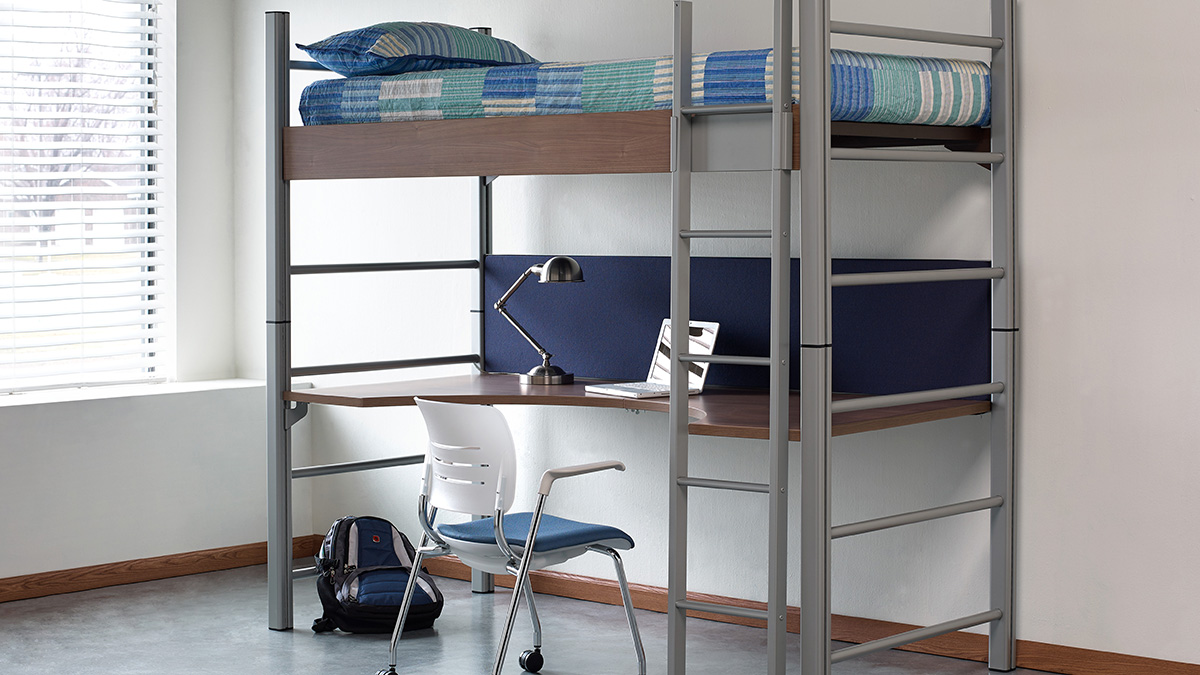 Problem #2: Classroom Furniture That Doesn't Last
Solution: Industry-leading durability and quality as well as warranty support
The college classroom is where students come up with new ideas, form relationships with their peers and learn from their professors and mentors. Each desk may seat up to a dozen students daily. Furniture might be constantly reshuffled to meet the needs of different classes.
All that movement naturally leads to a lot of wear and tear. It makes sense that university officials identify durability as one of their biggest concerns regarding college classroom design. They want to create inspiring spaces that will last for decades.
Think KI. We offer solutions for college classrooms with industry-leading quality and warranties, designed to fit any budget. From Doni stack chairs with ChangeUp tablet arms to Learn2 classroom seating with Strive chairs, universities can create classrooms that support professor and student engagement with the promise that the furniture will hold up through it all.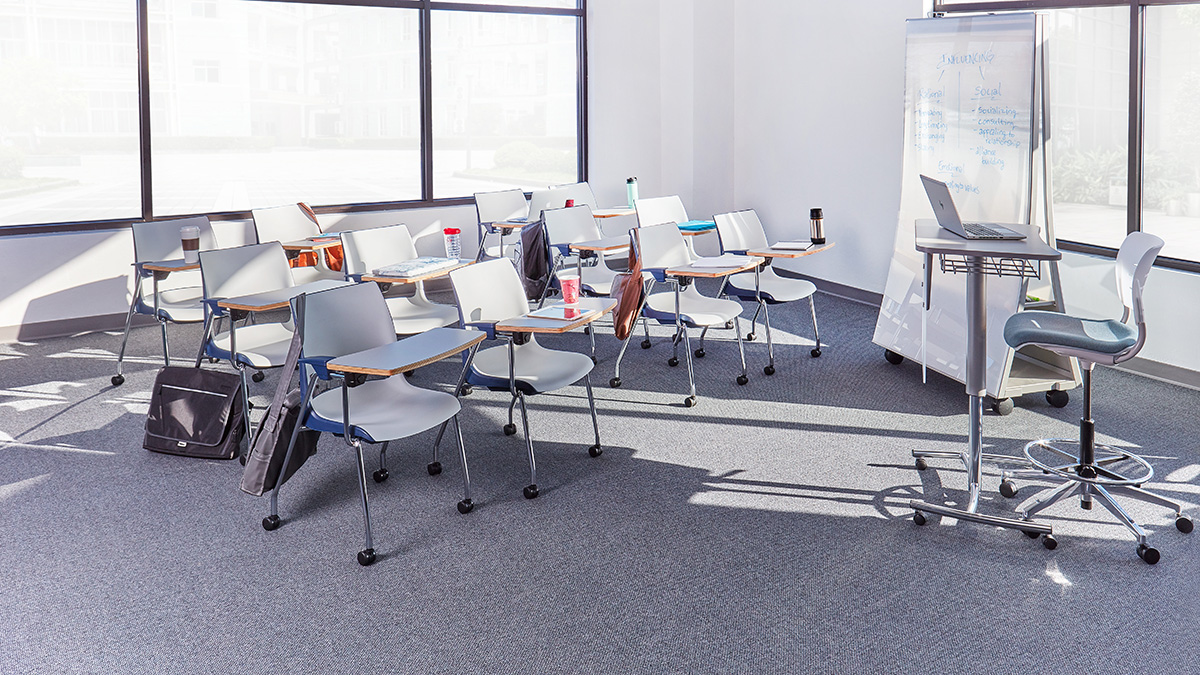 Problem #3: Uncomfortable or Impractical Libraries
Solution: Seating and worksurfaces that balance comfort and function
When faced with a massive project or cumulative exam, students will spend hours, if not days, in their campus library. University staff recognize that it's crucial for library spaces to prioritize both function and comfort.
Think KI. Our soft lounge chairs and sofas -- like Sela or MyWay or Gladly -- provide a cozy place to get lost in a book or practice flashcards. Pair them with complementary worksurfaces, such as C-Table Max, and students have the best of both worlds: comfort and efficiency.
For most students, it's essential to find a study spot near a power outlet. MyWay and Gladly as well as Tattoo slim seating all offer integrated power options that let students charge up their laptops. Pirouette tables and Connection Zone benching offer larger surfaces to spread out textbooks and project work while integrating power solutions that help students tackle whatever their week has thrown at them.
Problem #4: Architectural Anomalies and Historical Buildings
Solution: Modified or custom-created products for a specific need
Many colleges and universities continue to use historic buildings on campus, including some that are centuries old. Schools may not have the budget for new construction, or they may want to maintain older buildings for nostalgic reasons.
Think KI. Our trusted team can help schools achieve this goal. We understand how to design around support beams, alcoves and other challenging architectural elements. Through our Infinity from KI program, we can modify or co-create products to meet the needs of unique spaces. We also offer standard furniture solutions that include an incredible range of sizes, shapes and colors.
A Partnership in Creating a Home Away From Home
Whether you're trying to make sure students feel comfortable leaving home for the first time or inspire them to pursue their dreams, designing the right university space is no small feat.
Our team is here to help, so Think KI! We have years of experience working with colleges and universities to assess and solve various design challenges to meet specific needs. Just take a look at some of our higher education case studies.
What about you? Are you facing a campus design challenge? Reach out to your local KI rep or shoot me an email at bryan.ballegeer@ki.com. We look forward to hearing from you.
Subscribe
Stay up to date with the latest trends and more.