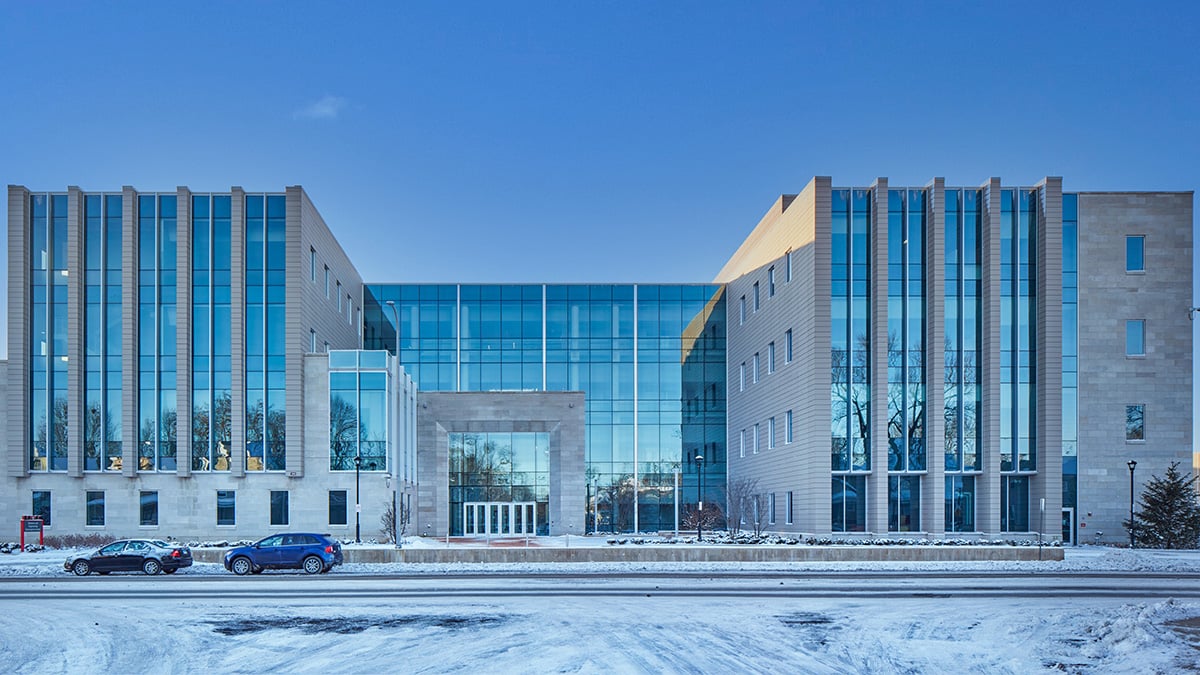 At Bradley University, Technology and Collaboration Go Hand in Hand
Leadership at Bradley University in Peoria, Illinois, decided it was time to reenvision its business and engineering buildings and merge the two disciplines into one comprehensive space.
Originally two separate facilities, the Foster College of Business and Caterpillar College of Engineering had been situated side-by-side for years. The university's team saw the rebuild as an opportunity for greater collaboration between the two disciplines. Thus, the idea for the Convergence Center was born.
"This project was monumental for the university's very strong, but independent, colleges," said Kim Green, planning supervisor and sustainability coordinator at Bradley University. "More and more, we found that our graduates benefitted from an understanding of both engineering and business. Before we even built the new center, our intent was to better support the curriculum for integration and convergence."
To kick off the $100 million project, Bradley University called on Dewberry Architects and KI who had worked together on several previous projects for the university. "I get to be involved with a lot of people who are experts in their field," Green said. "I rely very heavily on them; they really help support. And that's huge when you talk about KI and the incredible support they have provided."
Completed in December, the comprehensive 240,000-square-foot center is now home to both schools. It boasts more than 70 classrooms, specialized labs and collaborative spaces. Designed for the creative minds of the next generation, the Convergence Center is where students can come together, take advantage of the latest technology and learn from one another. Glass-clad interior spaces allow students to see the hustle and bustle of peers, faculty, guest lecturers and prospective students milling about the building. Floor-to-ceiling exterior windows open the space up to the community with Peoria Main Street running alongside the center's north entrance.
Collaborative, Cross-Discipline Spaces
Bradley University surpassed the initial goal to blend business and engineering, and the Convergence Center now entices students from other disciplines to journey across campus to use collaboration rooms and enjoy the new building.
The theme of flexible collaboration characterizes every space in the Convergence Center. Classrooms with Backbone media platforms provide spacious worksurfaces for students to gather around. Glass-front engineering labs integrate Intellect Wave task stools on casters, encouraging movement so students can easily scoot around for hands-on work with their peers.
We really got away from the traditional classrooms. This gave us an opportunity to develop an efficient floor plan that would help cross-pollination grow between departments.
- Kim Green, planning supervisor and sustainability coordinator at Bradley University
Beyond designated learning spaces, in nooks and open spaces throughout the hallways, students find comfortable MyWay lounge seating to relax or study between classes. Café-style areas with Serenade gathering tables and vibrantly colored Doni café stools welcome group discussion or informal social gatherings. Collaboration rooms and hallways are peppered with Connection Zone mobile screens and MyWay occasional tables with markerboard surfaces, giving students places to sketch equations and promote interactive learning outside the classroom.
Tailor-Made Solutions
For engineering and business students alike, technology plays a critical role in almost everything they do. Green and her team wanted to give students agency over the use of technology, from taking control of the classroom monitor with the push of a button to plug-and-play collaboration rooms where they can project their laptops to a large screen.
At first, that seemed easier said than done. "We needed the right-sized tables and the means to integrate cabling and push buttons," Green said. "We didn't have a prototype of any kind. We were simply working from an idea: 'We want it to function this way.'"
KI brought that vision to life through the Infinity from KI design process. Green visited KI headquarters in Green Bay, Wisconsin, to meet the team, see available resources and develop a plan of action around the needs of the school. The KI team custom-built a series of tables for the classrooms, each equipped with a panel leg for cable access and worksurface cutouts fitted to the precise sizes of Bradley University's technology.
They also designed custom tables to meet the aesthetic and layout needs of different collaboration rooms, pulling from elements of Backbone, Serenade and Connection Zone tables. These modified tables house technology in a panel base on one end, while the other end adds warmth to the space with natural wood legs.
These modified products are a long-term investment for Bradley University, designed to outlive the devices they house. "Technology is changing quite rapidly," Green recognized. "The tables have removable panels, so facilities can change our cabling and support other types of technology."
Technology and Students in Motion
Although technology was certainly a priority for the Convergence Center, flexibility was equally important. Green and her team did not want students and faculty to feel stuck or like they had to plan their movements around wires and cables.
Through Infinity from KI, the team designed a custom solution to meet this express purpose. At first glance, it looks like a triangular table with tabletop power. In reality, a three-sided pedestal tower contains the technology, while three trapezoidal Pirouette tables nest under the top of the tower. Students can roll the tables out and move them about the room in different configurations.
"Something that was very important with this space was that there was not a front or a back in terms of the layout. The instructor would be walking through the space and interacting with each of the students," Green adds. "With the arrangement of these tables, the students can see 360 degrees around them."
Empowering the Next Generation
For Green, the design of the Convergence Center was a show of teamwork and commitment. "KI really does step up to the plate in terms of supporting us," she said.
But the biggest marker of success emerged when she saw Bradley University students immersed in the center for the first time.
It's almost as though you can see the wheels turning as you pass by. Students are motivated and using these spaces, not because they're assigned to them, but because they're engaged in them. That's what this facility is all about.
- Kim Green, planning supervisor and sustainability coordinator at Bradley University
Case Study Newsletter
Sign up to receive the latest updates from KI with inspiring spaces and solutions.