The Evolution of Classroom Design Post-Pandemic
June 28, 2020
K-12 Education
Higher Education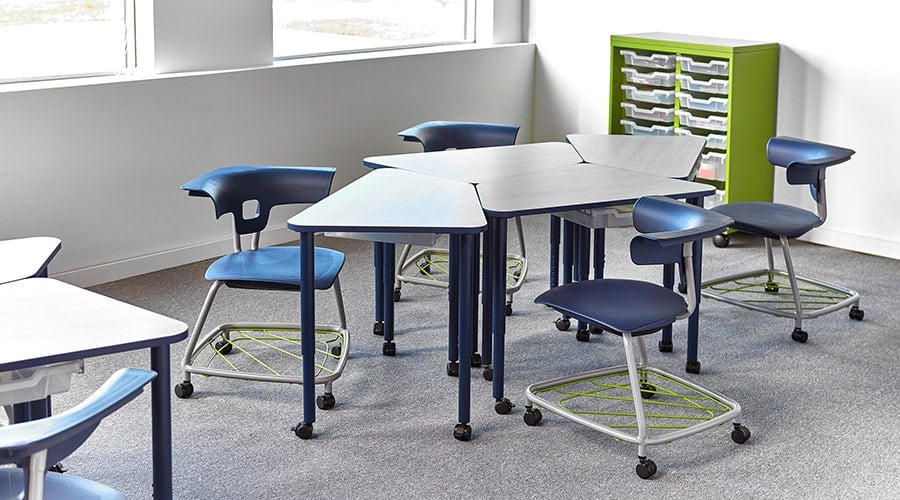 The last few months of the school year left students and faculty frazzled.
"Being thrown into distance-based teaching and learning caught everyone off guard," a first-grade teacher told us about the transition to distance learning. "We've found a rhythm, but in teaching, planning is key. We had none this year."
As summer marches on, instructors and administrators are starting to plot out what teaching will look like when schools re-open. Some may wonder if their only option will be to seat students in individual desks, six feet apart.
At KI, we know how important movement and collaboration are to learning. So, we're championing flexible layouts that can support social distancing in the short term and adapt for whatever the future holds.
Careful Student Collaboration
Social distancing doesn't necessarily mean the end of group work. In the immediate future, instructors can conduct collaborative lessons at a safe distance by thoughtfully positioning desks.
Instead of pushing them together in small groups, teachers can arrange desks and chairs, like those in our Intellect Wave Collection and Ruckus Collection, in spread-out groups of four that allow students to face one another at an appropriate distance.
Once it's safe enough for students to work in closer proximity, instructors can reconfigure these chairs and desks. Our Intellect Wave Desks and Ruckus Post-Leg Desks are available in tripod, trapezoid, OddQuad and other shapes that easily join to form larger work surfaces, lending themselves to group work.
For Multiple Activities, Go Mobile
For multi-purpose classrooms, educators may prefer desks and chairs equipped with casters. To administer pop quizzes, teachers can arrange mobile Learn2 Seating with attached worksurfaces in socially-distant rows. As the number of students permitted in a classroom increases, teachers can rearrange their Learn2s to accommodate larger groups for testing or to facilitate discussion.
With mobile whiteboards and storage carts, faculty don't have to work from a stationary desk or spend time pushing heavy furniture around to maintain social distancing. And when they're able to resume one-on-one instruction in closer quarters, instructors can use KI solutions like Ruckus Lecterns, All-Terrain Screens and Instruct Teacher Desks to freely move around a classroom.
Safe Shared Spaces
Students of all ages gravitate toward shared spaces like lounges and libraries. To ensure these common areas are safe for congregating in the near term, administrators may want to focus on distance and dividers.
For instance, students can work in separate nooks or carrels created by pairing slim seating and tables from our Tattoo Collection with Tattoo flex screens to delineate one-on-one work areas. Administrators looking for taller dividers might opt for Hub Modular Seating, equipped with 53-inch privacy screens.
For custom-built dividers and privacy screens, school administrators can work with our Infinity from KI specialists to create modified or completely original solutions tailored to their requirements. For example, school staff can use clamp-on desktop dividers to increase student privacy at existing tabletops.
In the long run, administrators may choose to deploy privacy screens in libraries, study spaces or exam rooms or repurpose ideation whiteboards for brainstorming sessions. Booths, tables and other elements within classrooms and lounges that worked before the pandemic can be reconfigured for immediate and long-term layouts.
For many school administrators, it won't be feasible or sensible to upend their budgets when returning to campus. Instead, they can adapt current classroom furniture to immediate layout changes but with an eye towards a longer-term "new normal."
Focus on Adaptability
"Going from full in-class [instruction] for eight of the 15 weeks, and then making a hard pivot [to distance-learning] was really hard," one college student we interviewed told us.
It's hard to predict what the transition back to school this fall will look like. But it's our hope that these design tips will help faculty and students adapt their learning environments to whatever we face in the months -- and years -- to come.
Click to learn more about KI's education solutions for returning to school.
Subscribe
Stay up to date with the latest trends and more.