Four Workplace Trends to Watch in 2023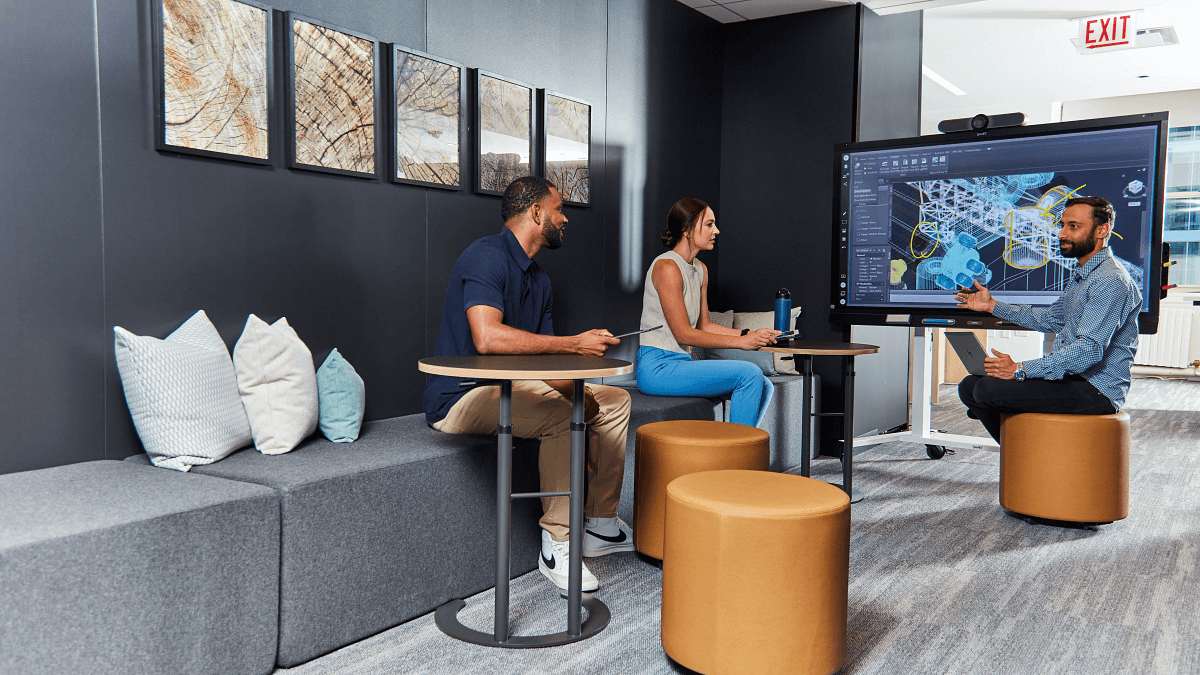 From the economy and hybrid work to employee well-being and Gen Z, these four areas will dynamically shape the future of workplace design.
In 2022, the year started with relative uncertainty in how organizations would approach the post-pandemic return to the office. Many organizations transitioned to hybrid work, while others chose to incentivize their employees to return to the office full-time with purposeful perks. Some organizations even abandoned their offices entirely, in favor of full-time remote work.
But now, we're starting to see another critical shift.
In fact, we expect the dynamic of workplace design to change significantly in 2023. Specifically, we believe the economy, hybrid work, cultural shifts and younger generations will provide the greatest impact to the workplace in the coming year.
Read on to discover how these four trends will shape the future of workplace design in 2023.


1. An Economic Downturn Will Accelerate the Return to the Office
In recent years, employees have had the edge in the job market. The Great Resignation signified a workforce that had the luxury of being choosier about their employment. This summer, the unemployment rate fell to its lowest level in the past 50 years. Many employers accommodated remote and hybrid work schedules to appease their teams.
But the economy is shifting, which means the power is poised to flip back to the employers in 2023. For years, the technology industry has acted as a harbinger for the rest of the labor force. Recently, Amazon, Meta, Twitter and several other tech companies announced layoffs. As the country braces for a recession in 2023, other industries can't be far behind.
Amid the poor economic climate, executives will remember that their primary responsibility is to increase value for shareholders. Expect that companies will run leaner. Organizations that believe remote work impacts productivity will require their employees to return to the office.
2. Employers Will Emphasize What Differentiates the Workplace from the Home Office
An economic downturn will cause employers to double down on employing tactics to keep their workforce engaged.
Employers recognize that employees appreciate the flexibility and agency provided by working from home, and they will look to translate those elements to the office environment. They'll also look to capitalize on what the workplace offers that home offices do not—emphasizing social time with coworkers, for instance.
In some cases, that will mean redesigning the office, literally and figuratively. Employers may create a diverse variety of workspaces to mirror the productivity found in moving from room to room in one's own home for different tasks or times of day or to give employees the chance to routinely interact with their colleagues. Encouraging choice-based work and socializing with peers will help employees feel connected to their organization and revive the sense of community.
3. A Holistic Approach to Well-Being Will Attract and Retain Talent
Per a recent Monster report, more than half of employees value their well-being over a salary increase. Companies are taking note. Our research shows that employers' understanding of workplace wellness has shifted from just supporting physical health to addressing overall well-being, including mental and emotional health as well as the need to belong and have a purpose.
As employers make tough choices amid economic changes, sacrificing a focus on well-being likely won't be one of them. Integrating well-being into workplace culture helps prevent employee burnout and turnover, making for a happier, healthier and more productive workforce.
By engaging our seven core principles of workplace well-being, companies can better support employees with strategic workplace design and corporate policies, from prioritizing employee choice and providing opportunities for connection to creating dynamic office spaces that accommodate individual work styles.
4. Younger Workers Will Look to Employers to Grow the Best Versions of Themselves
Generation Z is graduating college and joining the workforce. They're looking for more than physical amenities and office perks. When deciding whether to stay with an employer, research shows younger workers look at opportunities for advancement and upskilling opportunities.
This generation may, in fact, value being physically in the workplace more than any other group. They are trying to develop professional relationships and grow their personal brands. Being in the office in front of their peers is the best way to do that.
To retain the best and brightest of the younger generation, employers will seek to foster a workplace characterized by self-development and growth opportunities. That might include tactics from leadership or mentorship programming within the company to amenities like employer-subsidized cooking courses or volunteering opportunities outside of work.
How Will Your Workplace Adapt in 2023?
Last year, we predicted hybrid work would be here to stay. While the economy is going to shake things up, it's safe to say that hybrid work won't disappear completely. The lights at the office are going to turn back on at a much slower rate than when they turned off.
How do you anticipate your workplace will evolve next year? What workplace design trends are you seeing in your industry or with your clients? Share your thoughts and tell me if you agree or disagree with these predictions by sending me a note via the button below!
Subscribe
Stay up to date with the latest trends and more.