Torsion Air Nesting Chair
×
Overview

Technical Info

Environmental Info

Design Resources
Product Overview
Features & Highlights
Mobile Torsion Air nesting chairs combine versatility with a lighter visual impression and exceptional comfort
Patented torsion flex mechanism delivers flex back comfort, encourages movement, relaxation and enhanced circulation
Flip-up seats enable convenient nesting for storage or transport
Arms, armless or tablet arm (standard or Piretti)
Breathable mesh back with upholstered seat
Construction
Seat is two-piece construction with molded poly liner and shroud in a textured finish
Backrest is molded glass-reinforced nylon with 100% polyester mesh in black or grey
Torsion mechanism creates gradually increasing resistance over the full 12 degrees of back flex
Frames are 1", 13-gauge high-strength low alloy steel tubing
Frames are finished in either baked-on electrostatically-applied 45-sheen powder-coat paint or bright nickel-chrome plating
Carpet or hard floor caster or 2" bell glide.
Product Story
Designed by Giancarlo Piretti  Discover the essence of clean, modern, conforming comfort. This fresh interpretation of classic Torsion® combines a lighter visual impression, breathability, and exceptional comfort.
Designer Profile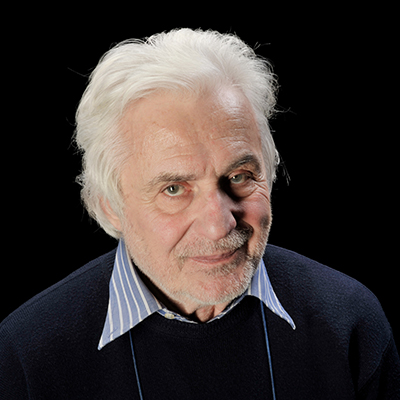 DESIGNER
Giancarlo Piretti
Giancarlo Piretti (Bologna, Italy, 1940) is an Industrial Designer. Among his successful designs are Plia folding chair, his best-seller exhibited at Moma NY, Platone folding desk, and DSC (106-AXIS) seating system. For Vertebra chairs he obtained the Compasso d'Oro (Italy) as well as for his largest project, Piretti Collection office & institutional seating system. Other designs include Xylon wooden chairs, Torsion collection of institutional chairs; Engage & Impulse office chair lines featured by a synchro tilt mechanism Piretti developed; #18000 nesting & stacking chairs; and the Strive chair collection. The Pirouette nesting table and Grazie and Doni chairs for KI U.S. are G. Piretti's latest designs.