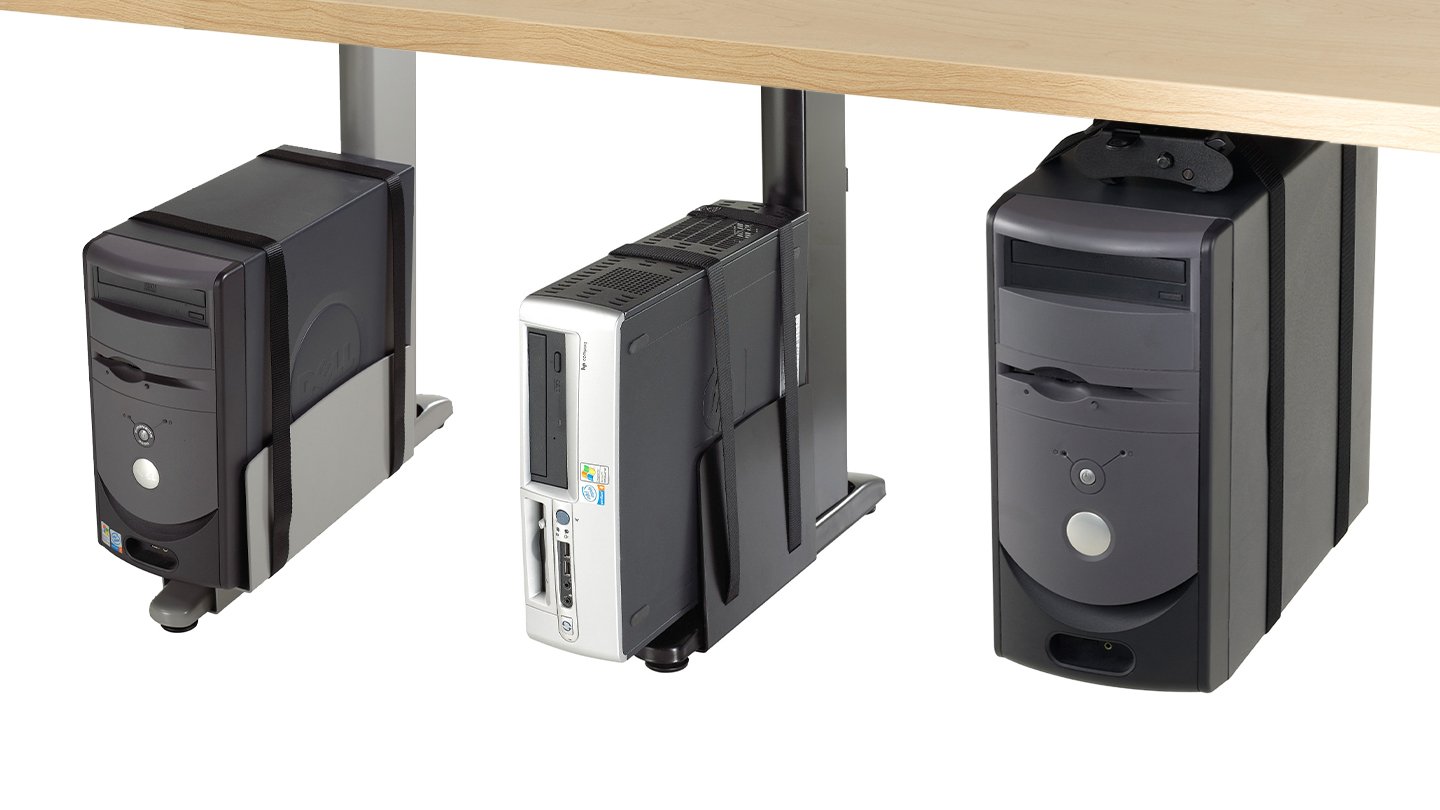 Enhanced CPU Accessibility
KI presents an array of options for CPU holders, encompassing versatile CPU slings, leg-mounted CPU holders in both standard and compact sizes, and table-mounted CPU holders available in both single and double configurations. These solutions ensure convenient and accessible usage.
Features
Provide attractive, functional solutions for technology-integrated space management
Accommodates single or double CPU
Available in large or small clip version
Efficiently reduces undersurface clutter
Offerings include CPU Sling, CPU Holder (without a lock), CPU Holder with Lock, Compact CPU Holder and Mini CPU Holder
Available in black only
CPU Sling vertically supports and stores CPU below the worksurface
Compact CPU Holder vertically or horizontally supports and stores CPU below the worksurface
Mini CPU Holder mounts under the worksurface with an adjustable height and width
Construction
CPU Sling
Straps have positive locking clamps
Provides 5-1/2" of travel and 359° swivel
Maximum weight capacity is 75 lbs
Recommended for 30" deep worksurfaces
Accommodates CPU with maximum circuference of 65"
CPU Holder
Slide mechanism 17" forward slide
Vertical 13-1/2" to 22-1/2"
Horizontal (side-to-side) 3-1/2" to 9"
No more than 85 lbs
CPU Holder with lock has integrated lock within the handle
Compact CPU Holder
Holder in the vertical position accommodates CPUs 5.5-9.8" wide and 15.5-20" tall
Holder in the horizontal position accommodates CPUs 13.8-18.8" wide and 7.3-11.3" tall
Can hold up to 70-80lbs in the vertical position, and up to 30lbs in the horizontal position
Mounting plate overall dimensions are 5.38" x 3.95"
Mini CPU Holder
Vertical 7.2-16"
Horizontal (side-to-side) 1.2-6"
List Price Starts At
$100 – $475
Request a Quote
To request a quote for this product, submit the form below and a KI representative will contact you shortly.