Tips for Creating Hybrid Workplaces for All Personality Types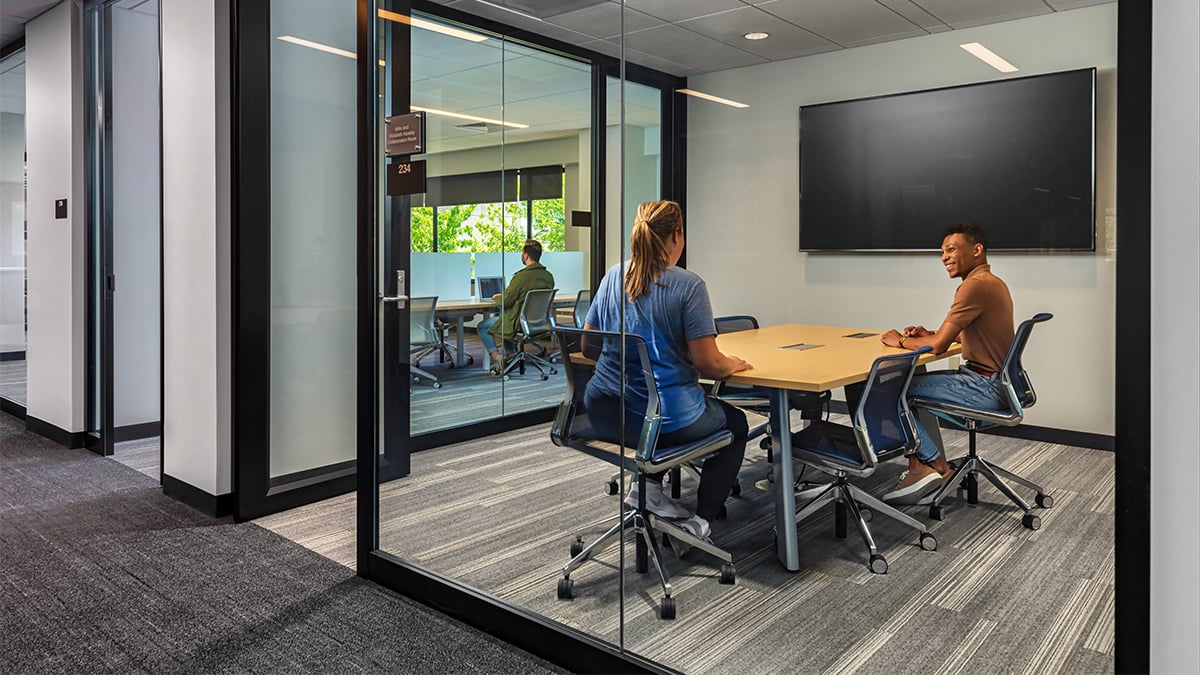 Explore potential hybrid work policies for

your

company as well as furniture solutions that can turn your office into a hybrid hub.
---

Previously, we explained how employees' personality types translate to workplace preferences using the gold-standard Myers-Briggs Type Indicator (MBTI) assessment.
We gathered this information by surveying more than 440 people to determine their individual preferences across the four spectrums within the MBTI assessment—extroversion or introversion, intuition or sensing, thinking or feeling, and judging or perceiving—and how these profiles connect to specific concepts for workplace design.
The research revealed key insights directly related to workplace policies for remote, hybrid, and in-office work. To support employee engagement and help your company navigate this new era of workplace design, consider these tips for implementing hybrid work policies and interior design solutions with spaces that work for all.

Practices & Policies for Hybrid Work
Employers that apply the MBTI assessment will see quite a few variations in personalities and preferences across their workforce. To best support all employees, employers should offer diverse solutions toward hybrid work so those with distinct personality preferences can find a way to make company policies work for them.
Moreover, adopting a more flexible work policy may improve employee recruitment and retention. Policies that employers might consider include:
Fixed vs. flexible: Let's say employees are allotted two remote days per week but are then expected to work in the office for three days per week. With fixed schedules, employees are expected to maintain an in-office presence on the same days from week to week. This could mean all employees come to the office every Monday, Tuesday, and Thursday and work from home every Wednesday and Friday. On the other hand, flexible schedules allow employees to choose their schedule each week or select which days they come to the office on the fly.


Company-wide fixed: To ensure consistency for in-office attendance and make it easier to conduct in-person meetings with an entire team, some companies have all employees on the same fixed schedule. The entire team is in the office on certain days and works remotely on other days during the week.


Flexibility with seniority: Some companies allow employees a certain number of remote days that increase with their tenure or flex based on their title or job role. This approach may assuage concerns from leadership about remote work impacting productivity.


Flex-time: With flex-time, employees can shift their hours based on personal preferences. Instead of working from 9 a.m. to 5 p.m., an employee might work from 8 a.m. to 4 p.m. to avoid rush hour or from 10 a.m. to 6 p.m. to accommodate a favorite morning workout. While different from policies that allot specific days to work remotely, flex-time still gives employees autonomy over their work day.

Hybrid-Friendly Spaces Within Reach
There are many ways to optimize your workspace to suit various personalities and workstyles, and accommodating these preferences will look different in every office.
For example, more than half of the office-based and hybrid respondents to our survey noted they work in open-plan offices. And yet, 75% of them would prefer to work in a less open space, with more private areas for individual focus work.
That said, here are workplace design ideas for each of the four spectrums within the MBTI assessment:
Extroverted/Introverted
Both extroverted and introverted employees enjoy working from home. To provide a more home-like feel in the office, workplaces should include relaxing touch-down spaces where employees can feel comfortable while connecting with themselves and their colleagues.
Intuitive/Sensing
For "intuitive" employees who value privacy in their work environments, create a specified quiet area by adding privacy pods or single-user booths, which can offer both visual and acoustical privacy.
For "sensing" employees who are more likely to prefer working in the office where they can interact with colleagues, dot an open space with multiple freestanding meeting rooms that can host conference calls or collaborative sessions with small groups.
Thinking/Feeling
"Feeling" employees are more likely to be dissatisfied with their home working environment than their "thinking" counterparts. Use storage cabinets to divide desks, provide space for personal items, and reduce clutter on worksurfaces to provide employees with a space that supports both business and personal needs.
Judging/Perceiving
"Perceiving" employees show more concern than "judging" employees for the amount of flexibility provided in the office. Offer third-space solutions to give the feeling of smaller environments and create the perfect solution for informal check-ins with colleagues or additional space to complete other tasks during the work day.
We recently worked with a heavy-machinery manufacturer with a commitment to deliver on the work preferences of all their employees. The final design solution allowed them to transform an open-plan office into a modern-day hybrid hub with a balance of collaborative and private spaces.
The company created a bustling corridor, where all work styles and personality types can thrive, which they now proudly call "Main Street." Main Street has many different "neighborhoods" to visit, depending on the occasion or task at hand.
They also deployed two rows of both collaborative and individual meeting rooms, which likely fulfill the needs of "intuitive" and "sensing" employees. These areas reduce noise pollution in the open-plan office areas while offering designated spaces for both open gatherings and private, focused work. With the help of colorful, inviting fabrics and comfortable lounge furniture, this space creates a welcoming environment for all personality types.

Trusted Expertise in Hybrid Workplace Design
Adapting to the seemingly ever-changing workplace environment is no small task, especially for those leading an organization. Taking the time to understand the unique personalities and workplace preferences of those working at your company can help you make informed decisions that best fit their needs – and yours.
For more information on how personality types can influence successful hybrid workplace strategies, download our insights brochure below or visit our hybrid workplace design webpage. Then, reach out to your dedicated trusted expert from KI to develop a design strategy for your own workplace.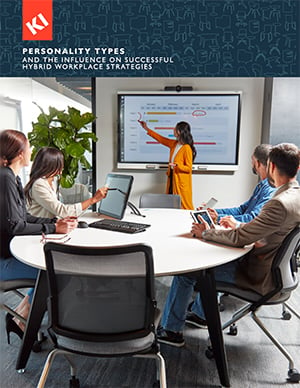 ---
Subscribe
Stay up to date with the latest trends and more.