The Building Block of a Better Tomorrow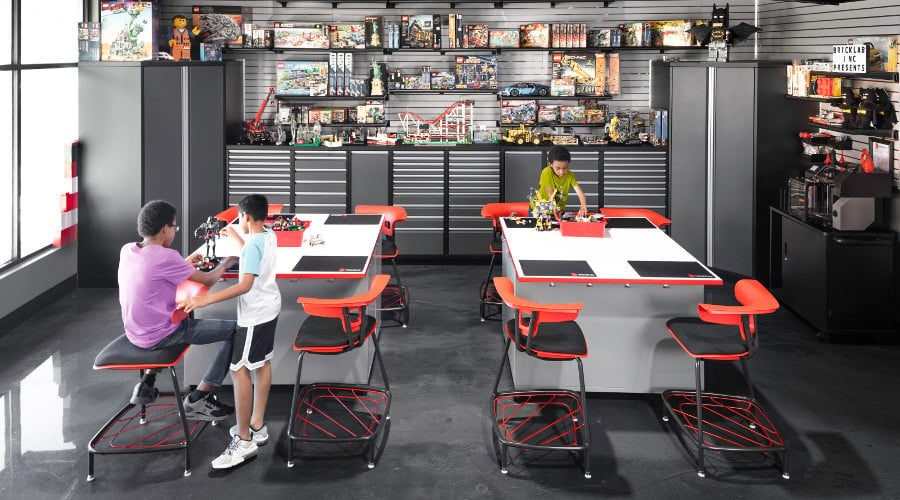 Mike Jensen believed his business would be a great place for kids and fans of interlocking building bricks. What he didn't expect was the fundamental impact brickLAB, Inc. would have on some of his customers and their families.
The store was created with an understanding bricks could help develop cognitive and spatial abilities in children and adults, but it was still surprising when parents told him about an overly active child who sleeps better after nightly sessions. Another related how the grades of a student with dyslexia improved after regular visits.
Located in Frisco, Texas, brickLAB, Inc. is a makerspace promoting individual creativity and ingenuity in a unique setting. It combines education and entertainment under the tagline "Build Tomorrow Today."
The lab-like environment offers construction areas, educational classes and camps. They also buy, sell and trade bricks. Professional personnel and equipment assist builders with robotics, stop-motion brickfilms and My Own Creations (MOC) - projects conceived and created from scratch.
A hands-on and interactive environment, the store offers a break from excessive time with personal electronics, which can be detrimental to both children and adults.
Designed with builders and learners in mind, customers are welcomed into the heart of the facility – a bright, open, space – by intricate creations and hundreds of thousands of yet-to-be-built projects neatly sorted into 13 categories housed in custom-made metal cabinets.
With gray and black as the primary colors, brickLAB, Inc. was drawn to the brilliant poppy red offered in KI's Ruckus Collection. The team liked the color so much that door frames, air ducts and accents around the store were painted and powder coated a matching shade of red.
A makerspace like brickLAB, Inc. is optimized for Ruckus. Designed around mobility, flexibility and storage, the chairs, stools and work tables let users easily transition between individual and group work.
With clear sightlines and easy access, the Work Table provides a communal setting encouraging collaboration and interaction. The table and stools allow users to sit or stand while building and the height of the table brings subject matter closer to eye level for increased hands-on engagement. Ruckus Work Tables can be moved and combined with other tables to create an expanded area for large-scale projects.
The writable whiteboard table top provides a secondary educational tool where users and employees can sketch designs or solve mathematical equations. The storage areas under the work table provides another area to keep tools, projects, educational material and personal belongings.
WorkUp height-adjustable tables help brickLab serve customers with special needs, while a pair of Connection Zone Privacy booths offer an oasis for customers preferring to work alone. Additional Ruckus chairs and stools are paired with red-trimmed Pirouette tables in private rooms set aside for parties and corporate team building.
Jensen is pleased with the launch of brickLAB, Inc. and the positive impact on customers. With initial success, the business is eyeing future opportunities. True to its motto, brickLAB, Inc. is where you can "Build Tomorrow Today".
Click to view all of the options available in the innovative Ruckus Collection.
Subscribe
Stay up to date with the latest trends and more.