How to Support Employee Work Styles After We Return to Work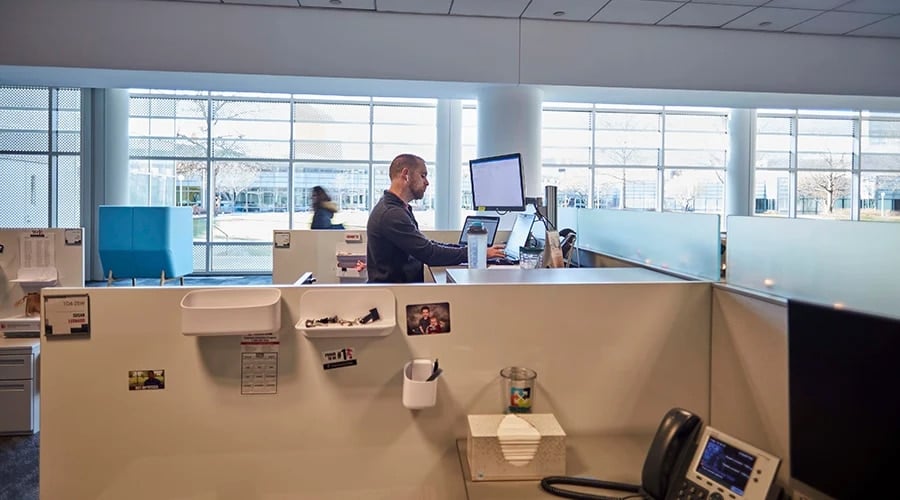 Many of us enjoy the flexibility of working from home. During the pandemic, it's been a necessity.

But while it can be nice to throw in a load of laundry or let the dog out during the day, the makeshift home office doesn't always meet our needs. Young kids crowd around the kitchen table. Barking dogs disrupt a Zoom call. Quiet breaks are long gone when alternating calls with roommates or spouses.

Throughout the day, we move from individual work to collaborative work to a restful break and then back again. At KI, we've conducted research that's found that employees are much more productive and satisfied when their employers allow them to engage with a variety of work styles.

There's no doubt that some work zones, like collaborative spaces, will have to evolve when employees return to work. Below, we share some design tips for recreating and reinventing work environments that support four different work styles: focus, interaction, regeneration and ideation.
Focus
Everyone needs a space to buckle down and focus. Employers may find these workspaces easier to adapt for the return to work because their defining qualities -- privacy and personal space -- align with the social distancing norms we've adopted during the pandemic.

We recommend the following design approaches for heads-down, earbuds-in work:
Create enclosed spaces: Architectural walls and privacy pods like WiggleRoom block out noise and distractions. Employees can use these private spaces to make important calls or complete their latest project.


Adapt open workstations: Storage towers and privacy screens space people out for focused work. Privacy screens like Universal Height-Adjustable Screens provide a physical barrier that can give peace of mind to particularly health-conscious employees.
Interaction
Interactive workspaces can provide employees privacy within a shared environment, balancing individual work and spontaneous conversation as needed.

Creating a safe interactive workspace during the pandemic requires care. Employers can use mobile screens to create an appropriate amount of distance between employees. For example, people can easily move lightweight Tattoo Flex Screens to expand and contract their workstations when they're ready to call an impromptu meeting or chat with nearby colleagues.
Regeneration
Regenerative spaces help employees clear their heads so they can return to work with renewed focus. With new safety protocols, employees can still take a quick recess in the lounge or grab coffee from the office café.
A check-in station at the entrance to a shared space can offer several benefits.
Designated entry point: Check-in stations direct foot traffic and ensure employees respect the number of people allowed in a given space.


Sanitation supplies: Tattoo Screens can be outfitted with a sanitation station, which can hold hand sanitizer, thermometers and cleaning supplies for use upon entering a space.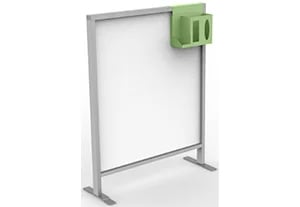 Safe storage: A bank of lockers serves as a divider while giving employees a specific place to store their personal belongings.
Lounge furniture with an oversized scale, like Sela Lounge Seating, encourages employees take breaks together only at a safe distance.
Ideation
Many of us look forward to having our brainstorming meetings back in person, rather than via video chat. Spaces for ideation at the office are designed to support the free flow of ideas as coworkers brainstorm and collaborate.

Amid the pandemic, employers must ensure these spaces don't also support the free flow of germs. To allow sufficient distance between employees, they may consider large-scale worksurfaces like Serenade Gathering Tables, which are available in widths of 120 and 144 inches. Employees can roll mobile Connection Zone Screens to a safe distance from colleagues before using their markerboard surfaces for a brainstorming session.
Freedom Among Security
Our homes aren't built to accommodate the four work styles. But our offices are. Thankfully, there are ways to modify our workspaces to allow for full engagement with a variety of work styles -- with appropriate social distancing.
Learn more about KI's solutions and design tips for safely returning to the office.
Subscribe
Stay up to date with the latest trends and more.