Four Benefits of Privacy Pods at Colleges and Universities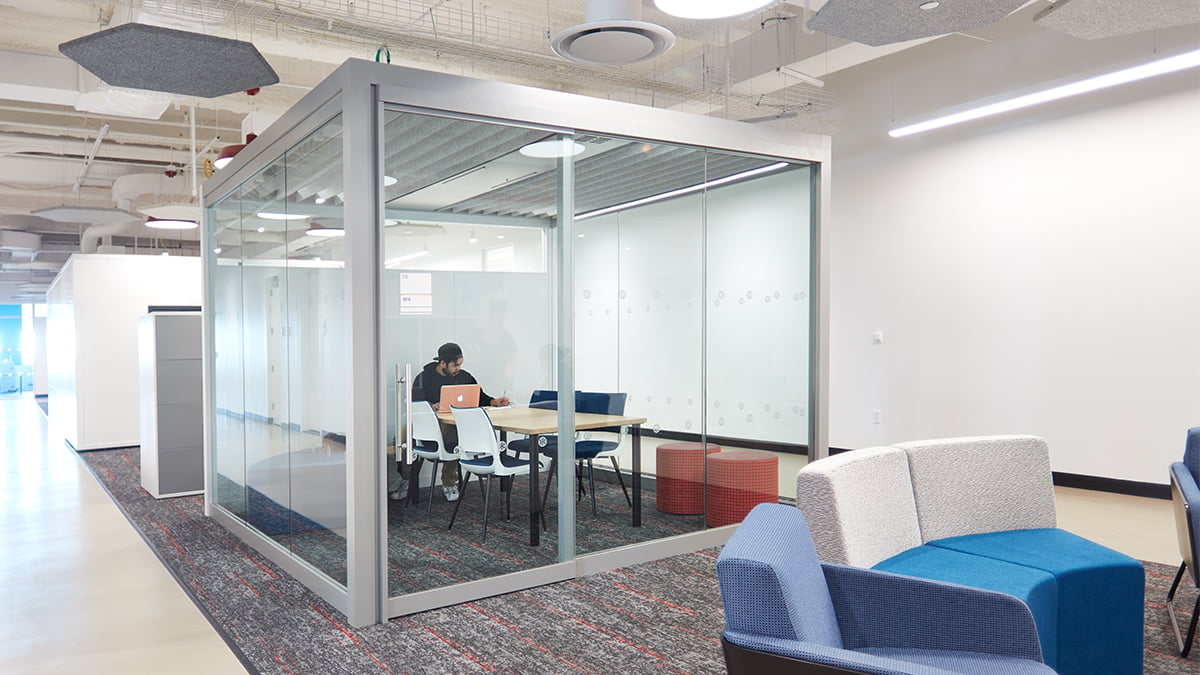 From supporting hybrid learning to improving mental health and well-being, discover how privacy pods fulfill modern higher education needs.
---
The design of campus study spaces has completely transformed in recent years.
Where private study spots once reigned supreme—with heads-down desks between stacks of books or individual study carrels and closed-off rooms—we're now seeing more collaborative spaces in support of dynamic teaching and learning styles. Media centers are evolving to feature large booths for group work, and individual students and groups are working at tables and lounge areas that mirror open-plan workspaces.
Today, students actually want the best of both worlds. They crave social interaction but also value private and quiet spaces they can access on demand.
To support that happy medium, colleges and universities can easily place freestanding privacy pods in otherwise open spaces. In the insights that follow, we explore four ways that privacy pods can help higher education facilities meet the needs of today's students.

1. Privacy Pods Support Hybrid Learning
College students might start their morning at their in-person chemistry lab and then log on to their virtual English lecture in the afternoon. Nearly half of U.S. college students prefer a mix of in-person and remote classes. Survey findings from a University of Michigan professor show that many students who appreciate the flexibility of hybrid learning enjoy being on campus simultaneously.
Individual privacy pods like WiggleRoom allow students to join online classes from libraries, media centers, student commons, and other spaces on college campuses. Since WiggleRoom pods are fully enclosed, students can log onto virtual instruction without worrying about background noise. When class is over, they can head to their next in-person class, work-study job, or the dining hall.
Watch the story of how St. Francis College used a variety of privacy pods to support students with on-demand spaces to gather, study, reconnect, and collaborate.

2. Privacy Pods Balance Personal & Collaborative Study
Since colleges and universities continue to vacillate between focusing on private and collaborative study spaces over time, it's important to design for flexibility. Pods can be easily assembled in their final location, so schools can meet their changing needs without reworking an entire floor plan or making significant renovations. Pods can also make alternative or underutilized spaces more convenient.
Privacy is in demand for group spaces, too. When we originally debuted WiggleRoom, one of the most common refrains we heard from clients in higher education was, "Can you make this for two people? Or four? Or six?" In response, we launched WiggleRoom Super Structure, which enables the same privacy in an open setting but with an expanded footprint.
Available in a range of sizes from six-by-six to ten-by-ten feet, Super Structure offers open, closed, or louvered ceilings, compared to the exclusively solid ceilings of our single-user pod.
3. Privacy Pods Help Navigate a Shifting Landscape
According to an Indeed survey, 82% of employers started using virtual interviews to meet potential candidates because of the pandemic. More than 90% plan to continue using them. This means an increasing number of Career Service offices as well as students are looking for virtual interview spaces on campus that simply don't exist.
Privacy pods support the changing nature of the post-graduate job search by giving students a place to comfortably take their interviews around school premises. They can don their blazer, step in a pod, and be ready to go with a clean backdrop. They can schedule interviews in between classes or other meetings because they don't have to trek back to their dorm room just to find some privacy.
Faculty, too, can use them to interview everyone from potential new associate professors to program directors who may join the university. With sound-absorbing panels, WiggleRoom minimizes noise and eliminates echoing for virtual meetings.
4. Privacy Pods Support Mental Health & Well-Being
The number of college students seeking mental health services for anxiety, stress, and depression has steadily increased over the last decade. Telehealth continues to grow increasingly popular as an alternative to in-person therapy.
Schools can empower students to put their well-being and mental health first by having a therapy session at any time of the day in the privacy of a pod. This alleviates the need to trek down to the counseling center or coordinate with roommates to ensure privacy for a session.
Pods can also give students a quiet space to simply take a break and take a deep breath. With options for solid side walls and vinyl film for the glass door, WiggleRoom pods offer appropriate visual privacy in open spaces.
Making Room for Privacy in Higher Ed Spaces
The evolving design of campus spaces reflects the changing preferences of today's college students. As collaborative and virtual learning becomes more prevalent, the need for private, quiet spaces remains crucial.
Privacy pods offer a solution that blends these contrasting requirements, providing students with the flexibility to engage in hybrid learning, balance personal and collaborative study, conduct virtual interviews, and prioritize their mental well-being.
By integrating privacy pods into open-plan environments, colleges and universities can effectively address the diverse needs of modern students.
Explore the possibilities of how WiggleRoom individual pods and Super Structures support a range of education spaces by downloading our exclusive brochure below. You'll see how our solutions can engage and evolve with your higher education community in the years to come.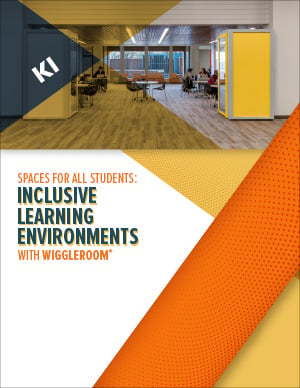 ---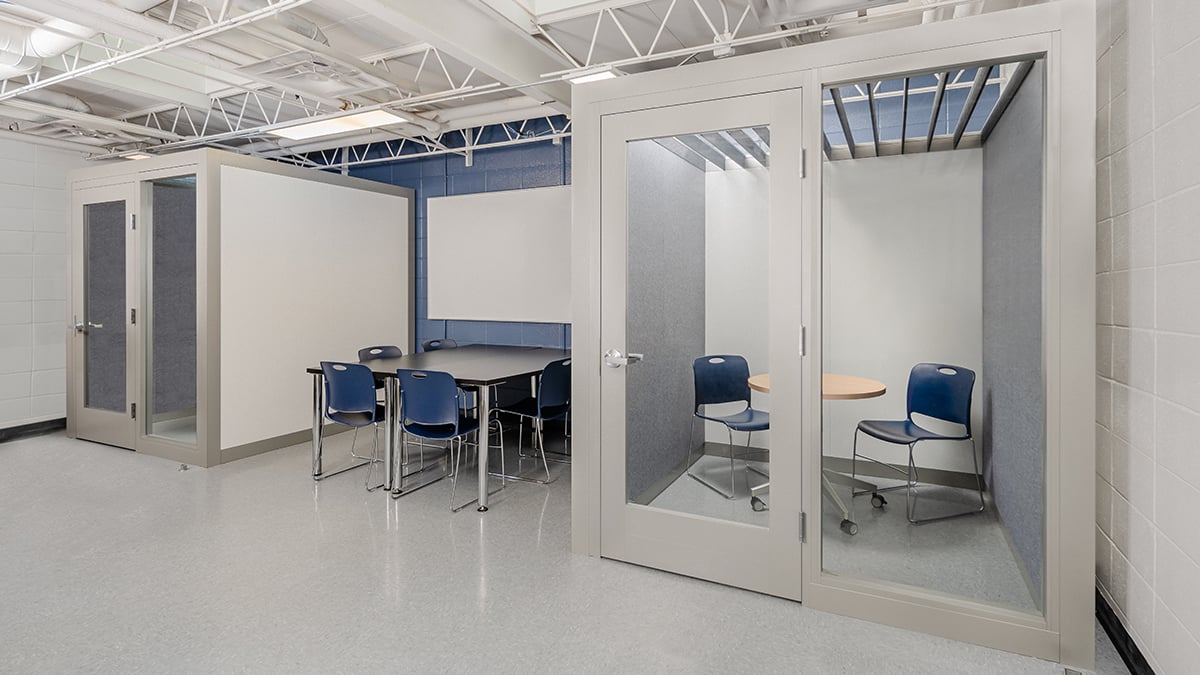 Blog
August 17, 2023
Four Ways Privacy Pods Can Transform K-12 Learning
In K-12 education, a student's learning experience is profoundly influenced by their environment. Discover how privacy pods can effectively cater to their unique needs.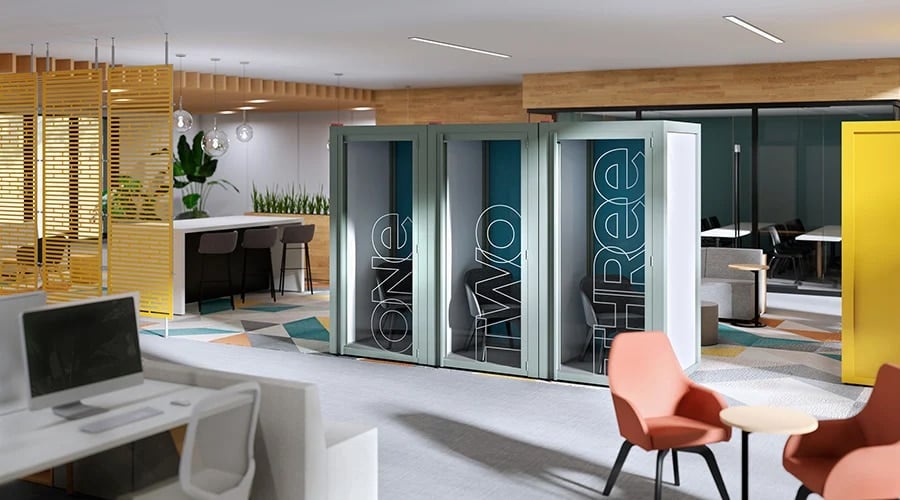 Blog
July 24, 2020
WiggleRoom: Privacy and Safety in Public Space
WiggleRoom can offer employers and schools alike an innovative way to enable focused work safely in open, public space.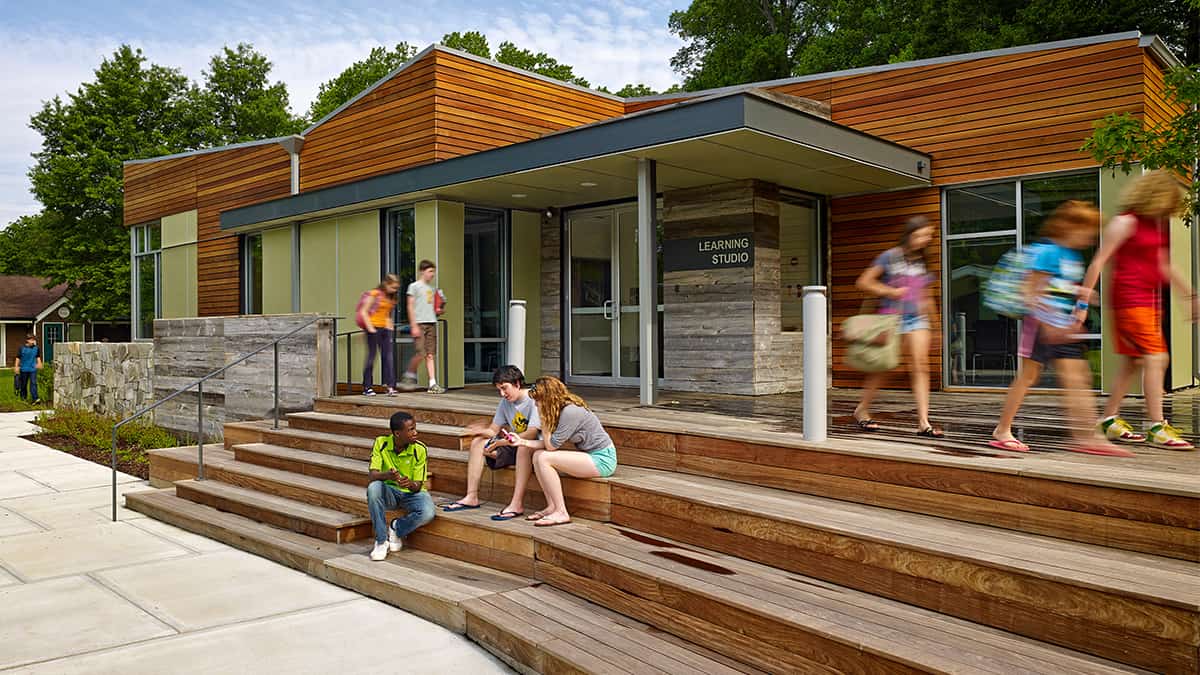 Blog
May 31, 2021
Supporting Mental Health in Education
Now more than ever, it's important to create learning spaces that alleviate stress and are sensitive to mental health needs.
Subscribe
Stay up to date with the latest trends and more.