WiggleRoom: Privacy and Safety in Public Space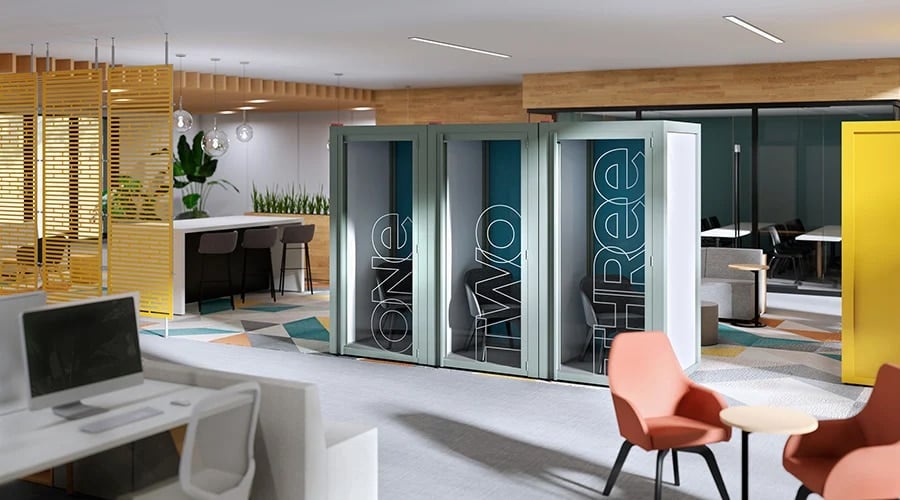 Employers and school administrators across the country are wrestling with how they can re-open safely in the wake of the coronavirus pandemic.
At KI, we think creative design solutions can help. We recently debuted WiggleRoom, a privacy pod designed to create a distraction-free environment in the middle of open-concept spaces. From the office to the school library, WiggleRoom provides a space for people to focus and follow social distancing guidelines at the same time.
Stay Well with WiggleRoom
As workplaces reopen, employees who once enjoyed the social interactions facilitated by open offices may now worry that such layouts put them at risk of getting sick. Students may feel the same way about studying in libraries, student unions and other shared spaces.
WiggleRoom offers several features to keep people comfortable in public spaces:
Magnetically-sealed doors keep things quiet and mitigate the spread of germs.
Motion-activated ceiling fan refreshes air within the pod every 60 seconds.
Occupancy light indicates whether a pod is in-use, reducing the risk of unintended interactions.
Easy-to-clean hard surfaces stand up to most cleaning agents. View KI's cleaning guidelines.
Enclosed walls and ceilings allow for innate social distancing for a single person.
Physical size permits WiggleRoom to create corridors and direct traffic flow within a space.
Focused and Safe in the Open Office
In addition to supporting space division, WiggleRoom offers a private space for employees to focus within an open office. The pod's sound-absorbing fabric panels and magnetically-sealed glass door reduce the volume inside by up to 30 decibels.
WiggleRoom is equipped with several features that prioritize comfort within compact space, including a dimmer switch and a coat hook that gives employees a place to stow personal belongings, rather than leaving them unattended at their workstation.
WiggleRoom is also flexible enough to suit multiple work environments. Pods are available with 14-inch worksurfaces or 5-inch accessory ledges, mounted at heights of 29 inches or 42 inches. Employers can maintain an open feel by selecting glass panels for the pods' doors and back walls. Or, they can choose steel panels for every side except the door so employees can block out surrounding distractions.
Creative Separation on Campus
On campus, WiggleRoom can allow college and university administrators to keep the common areas that function as social hubs for students open. The single-occupancy pods offer students a safe, socially-distanced place to study, everywhere from school libraries and student centers to dorm lounges and media labs.
WiggleRoom is available with power modules, including Qi wireless charging capabilities, so students don't have to worry about their laptop or phone running out of battery just before a project deadline. Optional markerboards encourage students to brainstorm, write out a to-do list or leave a note for their peers.
Administrators can also strategically place WiggleRoom to create natural passageways between rows of pods and thereby ensure that students move safely through shared spaces.
Adaptable in the Face of Change
WiggleRoom is versatile in aesthetics and functionality. Organizations can specify WiggleRoom panels, worksurfaces and accessories in a variety of materials and finishes. No matter the project, architects and designers can make a statement with bold color and upholstery choices or seamlessly match the pods' aesthetic to existing décor.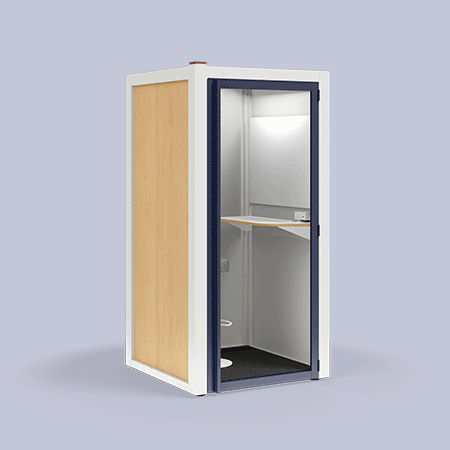 Every organization's plan for reopening will be different. WiggleRoom can offer employers and schools alike an innovative way to enable focused work safely.
Subscribe
Stay up to date with the latest trends and more.