Designing for the New Industrial Revolution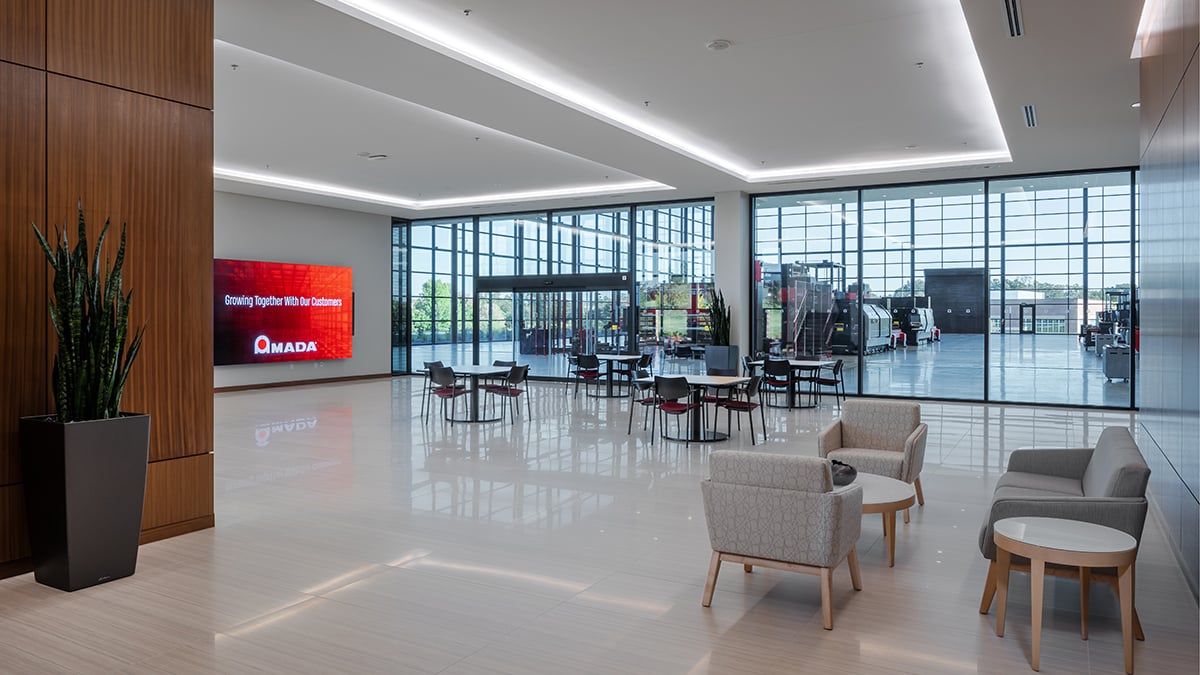 Discover insights from KI's business development manager, Linda James, on how industrial companies are reshaping their manufacturing environments amid the new industrial revolution.
---
A new industrial revolution is taking place across the country. As e-commerce grows increasingly popular and companies seek to bring manufacturing back to U.S. shores amid supply chain challenges, the industrial sector is reaching new heights.
Recently, I sat down for a conversation with Linda James, KI's business development manager located in Texas, to learn more about the state of the industrial market. We discussed design trends in industrial spaces, how manufacturers are attracting and retaining talent amid growing competition, and a few project profiles from Linda that are sure to inspire your next industrial space renovation.
I'm excited to share her insights on the industry below.
This conversation has been lightly edited for clarity.
Jonathan Webb: What are the biggest design trends in industrial spaces right now?
Linda James: Durability is especially important for industrial spaces. These can be tough environments! Big break rooms may need to accommodate 100 employees who work with heavy machinery, carry tools, and wear hefty boots. These spaces require chairs with strong welds and seats that can be easily cleaned while providing comfort to accommodate people of all sizes.
On the office side of things, manufacturers are creating a lot more collaborative spaces, which was unheard of in the past. The old industrial mindset was "put your head down, get your work done, and leave." But that's not the case anymore.
Companies are revamping office layouts by introducing numerous touchdown spaces and smaller breakout rooms to enhance connection and collaboration. Instead of relying solely on a large conference room, industrial offices now integrate dispersed smaller breakout areas throughout the space. Lounge-style furniture is often incorporated along the walls of hallways to create an inviting feel for employees to connect or charge their devices. Breakroom areas utilize tables and seating at various heights to give the look and feel of a casual restaurant.
In a nutshell, I call it the "Starbucks mentality" of meeting, where collaboration is encouraged in a more casual setting as opposed to having meetings take place in formal spaces. When it comes to specific products for these areas, I find Zoetry, MyPlace, and Calida lounge seating are popular solutions.
Webb: What are some of the challenges facing industrial companies?
James: We know that attracting talent is very difficult. Many executives are asking themselves how their company can compete with giants like Amazon. Another element is that manufacturers can't implement flexible work-from-home policies. You can't work on an assembly line from your couch, so employers are focused on creating an environment that gets employees excited to come to work every day. It's about the workplace being a magnet, rather than a mandate.
Webb: How are companies working to successfully attract and retain employees, or otherwise become a 'magnet', as you said?
James: Amenities play a huge role in that process. For example, a leading apparel manufacturer has a complete soccer field and basketball court on their premises. But even for companies that aren't as large, we're seeing more and more provide amenities for their employees including gaming centers, recreational areas, wellness and mothers' rooms, and more.
Companies are also really trying to create a home-like feeling at their facilities. This can come in the form of physical amenities like making sure employees have ample space for storing personal belongings, providing outdoor seating for a breath of fresh air during breaks, or creating quiet spaces to make private phone calls. It can also be more abstract by way of artwork on the walls, photos of employees throughout the space, or strategically displayed company awards.
I'm also seeing more and more industrial companies refer to large break rooms as "town halls" instead. That really captures the spirit of what they're trying to accomplish, from both a design and cultural perspective. These are multipurpose spaces where employees can relax, socialize, or upskill. They could also be a place to address the entire company.
Another important factor is location. For many companies, trying to be closer to urban centers where there is a larger talent pool is a big focus. But other companies are taking another approach. For example, a large technology company is moving to a fairly remote part of Texas, which in and of itself could be a huge draw for younger prospective employees hoping to start a family or own a home. These locations offer a lower cost of living, steering clear of traffic and lengthy commutes. This translates to more time spent at home and less money expended on gas, vehicle repairs, and tolls.
It ultimately boils down to crafting environments that attract people to work, foster social interaction, and cultivate a company culture where employees not only embrace their roles but also feel valued for their contributions. This, in turn, leaves a positive impression on incoming visitors and potential talents in the workforce.
Webb: Are there any needs or design trends that strike you as unique to industrial spaces?
James: It can get loud on the factory floor and employees often work independently of each other. Quieter indoor spaces where employees can take breaks, socialize, and build that sense of community are perhaps even more important for manufacturing companies than they are for other industries. It's critical that employees have a place to meet and recharge.
Dedicated outdoor spaces are also growing in popularity. In Texas, aside from the summer heat, the other nine or ten months out of the year are pretty nice. So, nature trails, patios, and open-air spaces allow employees to take a break from the hustle and bustle when they're at work.
Webb: Speaking of Texas, the installation for your recent project with a beauty supply manufacturer is scheduled for October. Can you tell us a bit about this project?
James: This company formulates and bottles lotions, cosmetics, haircare, and other personal care products. Their team acquired an existing industrial building in the Fort Worth area to address the growth of their organization. What started as a good, old-fashioned cold call really evolved into a collaborative effort. We delved into the needs of their workforce, addressed the challenges they faced, and developed furniture solutions tailored specifically to meet those needs.
This manufacturer wanted their facility to look different from other manufacturing offices. When they fell in love with our Sway lounge chairs—or, as they called them, "egg chairs"—we knew we were on the right track.
The KI design team combined different product lines to help deliver a unique look across their private offices, small breakout rooms, a large conference room, common areas, openwork stations, and labs.
They wanted their offices to reflect the clean and organic feel you desire when you think of personal care products – but the furniture also had to be durable. We specified a lot of white 700 Series drawers and cabinets for storage to create that modern, sleek look while providing ample and secure storage. Through the use of MyPlace lounge seating, Strive seating, and many other KI product solutions, we incorporated dark greens and greys to match their company colors and reflect an inspired organic look.
The goal was to convert the facility into a workspace embodying the Texas glam befitting a beauty and personal care product manufacturer, all while ensuring comfort and offering choices that foster employee satisfaction and enthusiasm for coming to work.
Webb: We'd love to hear about some other companies in this space. Could you walk us through your recent project with a high-end park home manufacturer?
James: This company manufactures modular homes that you might find on a golf resort or at a luxury camping site. Last year, the company built a state-of-the-art facility at a site in Arizona, to bring their home assembly indoors and away from the summer heat. We worked alongside the designer who furnishes some of their model homes to design a workspace that's true to both their company culture and Arizonan culture.
The final solution didn't have the hierarchical design approach you might see at a law firm, where one executive's office might have a lot more space and higher-quality furniture than an associate's workspace. This design concept communicates their company values, emphasizing the equal importance of every employee's role. Ensuring a consistent design throughout their facility was crucial to implementing a well-thought-out plan.
Ruckus stools in their state-of-the-art design center offered customers and designers a uniquely functional and comfortable space to sit for extended periods. These stools support various seating positions to alleviate fatigue, which is important while their users select every finish detail for their custom park homes.
The break room was designed to feel like a restaurant to welcome employees off the factory line. But it's more than just a place to eat lunch or socialize. They also use the space for training, company-wide announcements, and holiday parties. We installed standard-height and café-height tables and seating to foster a restaurant-like environment and accommodate the multipurpose nature of the space.
The color scheme was really unique as well. Many companies look to have their environment emulate their brand colors, but this project required taking inspiration from their location, incorporating turquoise hues as a nod to the state's gemstone and bright yellow to reflect a distinctly Arizonan culture.
Webb: Any other thoughts or comments you'd like to share?
James: Employees are your most valuable investment. It's crucial to prioritize their well-being to foster a long-term commitment to your organization and its culture.
To sum it up, industrial companies are bringing manufacturing back to America or otherwise expanding their domestic production as we see growing demand in the industrial sector. Call it what you will: the industrial revolution, the Texas revolution, or the Amazon revolution. I don't see this trend slowing down anytime soon.
A New Industrial Revolution = A New Approach to Work
Business is booming in the industrial sector, and companies are finding new ways to attract and retain top talent by getting them excited to come to work, whether on the factory floor or in the corporate office.
For more conversations on the evolution of the industrial sector, check out our conversations with Scott Jensen at engineering company Wavetronix.
Also, be sure to check out our comprehensive webpage featuring insights and resources about design for manufacturing and industrial spaces.
View Design for Manufacturing Offices
---
Subscribe
Stay up to date with the latest trends and more.