As Employees Return to Work, Give Them 100 Percent Control with Tattoo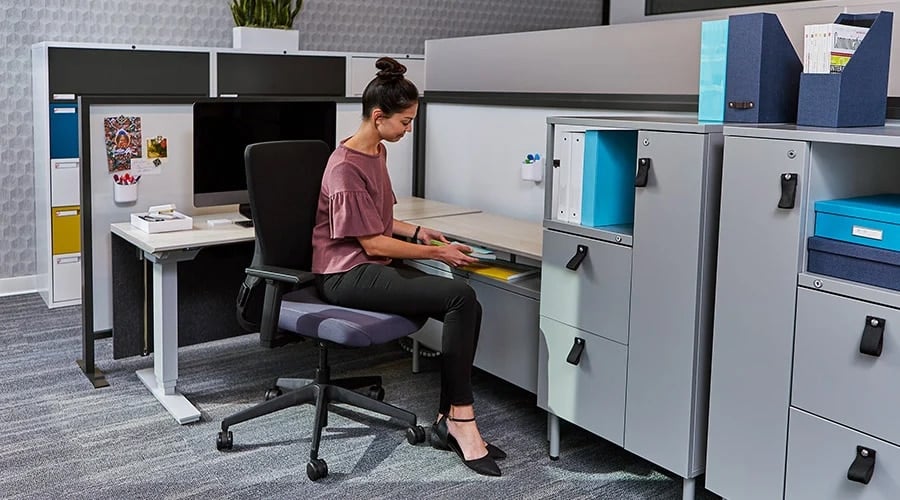 As states and municipalities begin to lift stay-at-home restrictions on office workers, millions of Americans could soon return to their desks.

Employees and employers will undoubtedly have to experiment with new office layouts to enable safe working conditions and appropriate social distancing. Flexibility has long been prized by organizations; now it's effectively a requirement.

KI's Tattoo Collection equips employers to create flexible workplaces tailored to their specific needs. Tattoo empowers employees to reconfigure their space independently and encourages each one to create their ideal, socially-distanced layout.
Socially-Distanced Workstations
Tattoo seating, storage, screens and tables are designed with complementary dimensions. So it's easy for employees to rearrange their workspaces within the same footprint.

For instance, two employees can nestle work tables between Tattoo flex screens and storage elements to create workstations that face opposite directions and are six feet apart. As more employees return to the office, they can rearrange elements of the Tattoo Collection to continue working safely. By bookending three Flex screens together and placing two more perpendicular to the end screens, employers can delineate four separate, socially-distanced workstations.
In some cases, organizations will have to move entire workstations to new locations to adhere to social distancing protocols. What would otherwise be a daunting renovation is simple with Tattoo, thanks to the collection's modular design. Employers can create temporary workstations in the short term and easily reshuffle the layout later on when, say, a company welcomes back all its employees.
Privacy and Protection on Demand
Tattoo also gives individual employees an unprecedented level of control over their workspaces. Unlike a stationary panel system, employers need not schedule installations, order new parts or call Facilities for help reconfiguring a workstation. Employees can adjust the workspace themselves -- maximizing their sense of health and well-being in the process.

Tattoo's mobility aids in that process. Slim seating and storage are available with casters, while tables and screens are available with glides. Tattoo Flex screens are lightweight, so a single employee can move them around on his or her own.
For extra height and privacy, 12-inch optional toppers can easily be added to Tattoo screens. Toppers are available in easy-to-clean acrylic or noise-absorbing polyester felt.
Keeping the Workplace Clean
In addition to reimagining their office layouts for social distancing, managers are sure to focus intently on sanitizing their workplaces to keep their colleagues healthy.

The Tattoo Collection offers cleanable finishes for every element of the workplace. Slim seating is available in cleanable polyurethane or vinyl. Tables and storage elements are constructed with powder-coated steel and are available in laminate. Flex screens offer a variety of cleanable inserts, including translucent fluted plastic to open up the line of sight and a magnetic dry-erase board for easy note-taking.

Screens with magnetic inserts offer another benefit. They support temporary shelves to hold cleaning supplies. When an employee needs some hand sanitizer, they can simply access the shelf within their personal workstation.
Tattoo and the New Normal
The Tattoo Collection originated when we designed a solution for one customer who wanted to give their employees complete control over their workstations. That kind of control is in high demand, especially in uncertain times like these, when each person may have a different perception of what makes for adequate social distancing or what level of interaction is safe.

As you prepare to return to the office, consider giving your employees the freedom to create workspaces that give them the power to maximize their individual level of productivity and sense of safety.

LEARN MORE ABOUT THE ENTIRE TATTOO COLLECTION.
Subscribe
Stay up to date with the latest trends and more.