Build a Model Number
Step 1
Determine which product(s) you would like to order.
Step 2
Locate each item within the corresponding KI Price List. Follow the "How to Build a Model Number" instructions located within the price list. See (2A) below.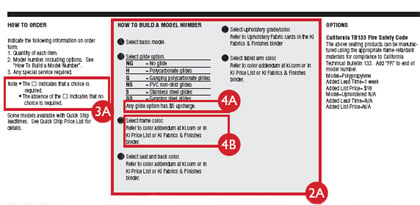 Step 3
Using the price list as a guide, build a complete model number. The 0 indicates a choice is required. The absence of the 0 indicates no choice is required. See (3A) above.
Step 4
Using the price list as a guide, determine the list price.
If any options will increase the price, the upcharges will be noted.

See (4A) above.

To determine the available finish options by product, refer to the "Product Color Options" section within each price list. To view samples of color options, refer to the KI Products & Surface Materials binder.

See (4B) above.

If any additional options are available, they will be listed to the right of the shaded grey box. Read the information carefully as it will tell you how to add the option to your model number and whether additional charges or leadtime will be required.

See (4C) below.

Example of complete model number with description and unit list price.

See (4D) below.



Description: Maestro, Polypropylene stack chair, No Glide, Cool Grey Frame Color, Poppy Red Seat and Back
*You will need to transfer your complete model number including descriptions and list price to your purchase order.
NOTE: Freight charges may apply. If the pricing is listed as delivered, basic freight is included. If the list pricing is noted as freight excluded, an additional freight charge will apply. Contact KI Customer Service for a freight quote at 800-454-9796.