Purchase Order Requirements
To ensure your Purchase Order (PO) is processed quickly and efficiently, please adhere to the following requirements:
1. All purchase orders must be issued to KI or KI c/o the dealer with this address: KI, 1330 Bellevue Street, Green Bay, WI 54302 (1A)

2. The following items must be included on all purchase orders: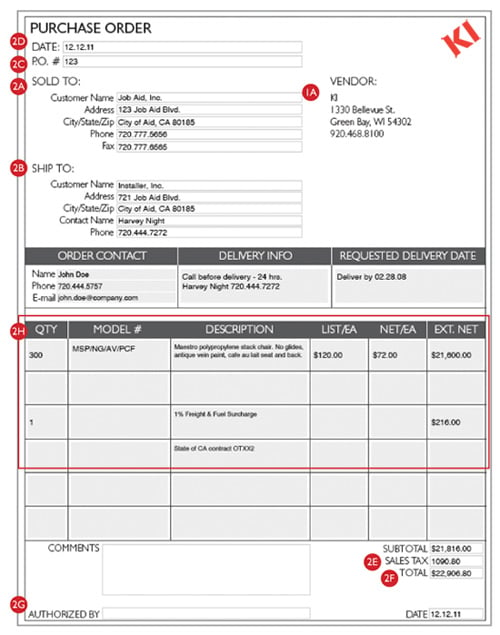 Sold To/Bill To Information: complete legal name, address, telephone number and fax number

(2A)

Ship To Information: complete legal name, address, contact name, contact phone number

(2B)

Purchase Order Number: a customer-specific identifier, typically a sequential purchase order number or requisition number

(2C)

Issue Date: date the purchase order was issued

(2D)

Sales Tax: applicable sales tax will be added upon KI invoicing. If tax exempt, customer must provide or have the tax exempt certificate on file at KI

(2E)

Purchase Order Total: total of all items and services included on the purchase order

(2F)

Authorization: signature of authorized purchasing agent or buying entity

(2G)

Order Details: reference a fully optioned KI quote (ex: 11KGH-85432) or include all the information listed below

(2H)

Quantity of each item
Complete model number, including all finish and option information (by line item)
Net purchase price (by line item)
Extended net purchase price (all line items)
Any additional applicable charges (i.e., installation and/or delivery charges)
Contract name and/or number if pricing is based on a contract reference
3. Signatures on a quote or a worksheet cannot be accepted as a purchase order.
4. In the event that you do not have a formal Purchase Order process, please contact your KI Sales Representative or call 1-800-424-2432, and we will assist you with creating a PO.

Purchase Orders that do not meet these requirements will be placed on hold until complete information is received by KI. Purchase orders on hold are not released to manufacturing or assigned a delivery date. KI order lead times begin once the order is released to manufacturing.

Order contact and delivery information can be found on your PO or PO cover page.

Please review KI Terms & Conditions.
If your order contains C.O.M. (customer's own material) please see KI Terms & Conditions and KI's C.O.M. Shipping Location guide.