Dealer Representative Program
Since the Dealer Representative Program was established by KI in May 1996, KI has continued to add independent Dealer Representative (DR) partners to territories throughout the United States. Due to the tremendous success in these territories, KI is actively looking to partner with additional entrepreneurial individuals and/or existing nonaligned office furniture dealers with an interest in selling KI products as their lead and primary line.
Program Overview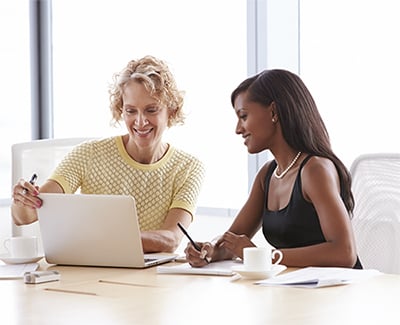 A Dealer Representative (DR) is an individual or independent business entity that works through and with our sales force to sell KI products to new and existing customers. The DR educates current and prospective customers on the broad offering of KI products and focuses on selling within a defined geographic territory, in various specified markets and to targeted accounts.
Within that territory, those markets and those accounts, the DR is the primary and preferred dealer distribution channel for KI. The DR receives the deepest available standard product discount from KI.
The DR then earns income on the sale of KI products to customers at an increased price. KI puts no limitations or caps on DR earnings at standard discounts. KI consider deeper discounts on a project-by-project basis if market or competitive conditions warrant.
Each DR partners with a local KI Sales Specialist teammate/mentor, working directly with them to maximize the sales and profitability within the DR's assigned territory, specified markets and targeted accounts.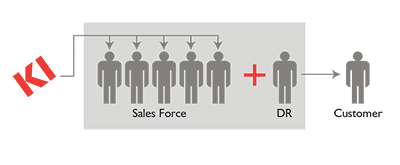 Program Highlights
KI will provide initial and ongoing training and development:
The DR will receive online and onsite training at KI Corporate. Online access is provided at no charge and KI will cover the air transportation, lodging and some meals for the DR to attend a 3-1/2 day training session at KI Corporate in Green Bay, Wisconsin.
Online Training
The DR is provided with access to KI's online training center (LMS) and is expected to complete all pre-work courses and assignments prior to coming to KI Corporate for new Rep/DR Training.
Onsite Training
The DR is invited to attend a 3-1/2 day training session at KI Corporate along with other new DRs. KI provides this training to maximize our Sales Team's sales performance by providing high quality training that aligns with KI's goals and objective of providing our customers with creative and innovative solutions.
Training Agenda Outline
CEO Welcome
Go-to-Market Review
Corporate Marketing/Communications Overview
Digital Selling Exercises
Presentation Skills
KI Product Training

Education Products
Tables & Storage
Stack & Task Seating
Lobby & Lounge
Systems
Wall

Pallas Textiles
Sales Ops & Inside Sales Meet & Greet
KI Department Overviews
Green Bay Plant Tour
Access to KI's Sales Automation Software
The DR will receive on-line access to the following sales automation software via their own laptops or computers:
LMS Access
KI Sales Portal/DataHub
E:Spec Web (quoting/pricing)
Order Status (order tracking)
KI Checklists
Optional: Salesforce Partner Community Access and 202 Giza access
Bill Direct Option
With this option, KI bills a DR customer directly at no cost to the DR and at the price quoted by the DR. KI accrues the DR profit and pays 100% to the DR when the customer pays the KI invoice. Billing a DR customer directly eliminates or reduces the financial risk, and invoicing or billing costs as well as the time spent collecting payments directly from customers.
DR-Only Additional Discount Program
All DRs are eligible to receive an additional pre-approved discount on several of KI's most popular products, including Unite, 700 Series, Barron, Portico, Pirouette, Trek, Rapture, Strive, Grazie, Versa, Matrix and Maestro.
DR Growth Bonus, Promotions and SPIFs
All DRs are eligible to participate in KI's DR Growth Bonus Program. Each year, KI pays a growth bonus on net KI product shipments exceeding an assigned baseline. On occasion, KI announces DR participation in various other promotions and SPIFs.
Literature and Product Samples
The DR can order literature (in reasonable quantities) online at no cost. In addition, the DR has access to any KI product samples available at the district office. KI negotiates a generous discount directly with the DR for purchase of mock-up or specific product samples, or purchase of furniture for the DR's personal or business needs.
KI Sales Operations and Corporate Services Support
Any service KI provides to Reps, (CAD, space planning, customer service, project management, etc.) it also provides to each DR at no cost. In addition, the DR can obtain quotes for installation services directly from KI's Corporate Services Department.
FREQUENTLY ASKED QUESTIONS
How much does it cost to become a Dealer Representative (DR) and have the right to sell KI products within a defined territory to specified markets and targeted accounts?
There are no costs or commission splits.
How do DRs get paid or earn their income?
DRs sell KI products to their customers by quoting a price above their cost. DRs may establish an open line of credit with KI and issue their own purchase orders (POs) or they can have their customers issue POs directly to KI (Bill Direct orders).
When KI bills DR customers directly, when does the DR get paid their markup on the KI products ordered?
KI pays the DR markup after the customer pays the KI invoice(s) in full.
What can be done if the DR's customer is ordering both KI and non-KI products and wants to issue only one Purchase Order?
When at least 75% of the purchase order amount is for KI products, KI will invoice the customer for non-KI products included on the PO. DR has the option of having KI order the non-KI product or DR may purchase independently and KI's only role is to invoice the customer.
Will KI restrict or limit what markup the DR can earn on KI products?
KI does not limit or restrict a DR's earnings when their markup is based on the standard DR discount of 50/10 or 55 off. If an additional discount is requested and approved by KI, the DR's markup is negotiated with KI on an order-by-order basis.
Does KI provide sales and product training to new DRs?
Yes, DRs are invited to attend a 4-day sales training session at KI headquarters in Green Bay, Wis. KI covers the airline ticket, lodging and most meals for the DR to attend this training session.
Can a DR carry other furniture lines that don't compete directly with KI (i.e. wood casegoods, etc.)?
Yes. As long as the DR is committed to selling KI products as their lead and primary furniture line, many DRs will represent other furniture lines that don't compete directly with KI products. As a rule of thumb, approximately 70% of a DR's annual sales should be KI products.
Within the defined territory and specified markets of the DR, can KI Sales Reps sell products directly or through other distribution channels?
If another dealer presents an opportunity to a KI sales rep that is not being pursued by the DR, the KI sales rep can, at their discretion, provide pricing and accept an order from that dealer without compensation to DR.
Will KI do CAD drawings and space planning for the DR?
Yes. KI corporate or a district office will provide CAD drawings and space planning to the DR upon completion and receipt of the required drawing request form and any other information requested by KI. There is no charge for this service. In addition, KI will provide its in-house Encompass™ software at no charge to all DRs who own their own AutoCAD license.
KI is currently transitioning systems and loose products from AutoCAD to CET. As of January 2022, more than 65 KI product lines have been added. KI will continue to add products every 30–60 days until all are added. DRs are responsible for all CET software, licensing and extension costs.
Does the DR pay for KI literature or samples?
No. KI provides all literature (in reasonable quantities) to the DR at no cost. In addition, each KI district leader has product samples available for use by the KI sales reps and DRs. If a sample does not exist or a specific sample is required, the DR may purchase from KI at a specially negotiated sample discount.
Does a DR have access to health insurance coverage, 401K plan and/or other employee benefits offered by KI?
No. The DR is not a KI employee; they are independent contractors. Any insurance coverage and/or pension plan participation are the responsibility of the DR.
Are there any income tax advantages of becoming a DR?
The income tax rates applicable to DRs may provide benefits to an individual depending on personal circumstances. You should discuss with your accountant how the rates would impact or apply to you.
How do I inquire about a potential DR opportunity in my area?
Any entrepreneurial individual or existing dealer interested in becoming a DR should contact:
Pat Kawula
DR Program Manager
800-454-9796 x2550
Patrick.Kawula@ki.com