Thinking KI on Campus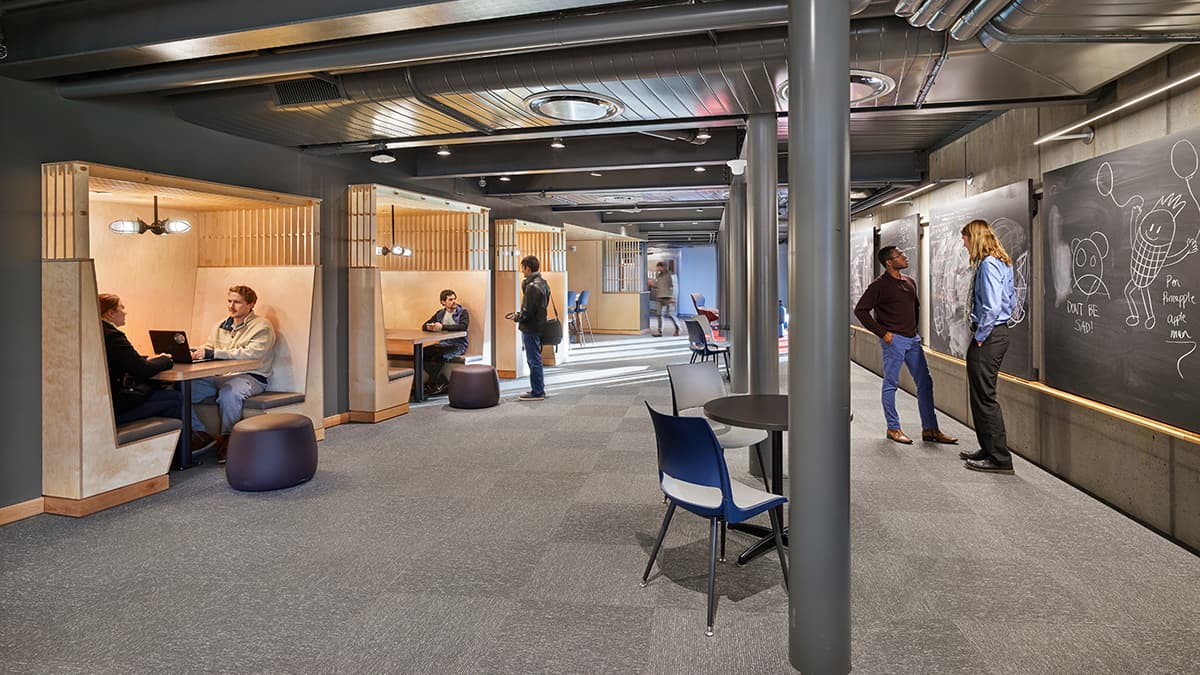 We were eager to learn.
That's the reason why we recently asked Hanover Research to conduct a survey exploring brand awareness in higher education. We wanted to know: What are the "go-to" higher education furniture brands? What are brands delivering on? Where is the industry coming up short?
The research identified three themes that customers valued the most: inspiration, innovation and inclusion. We were humbled to see that school administrators, designers and dealers often "Think KI," ranking us highly within each of these themes.
In the supplemental insights that follow, we look at how these themes manifest on campus -- and how intentional design can support them.
Knowledge + Inspiration
The Hanover Research respondents believe KI has the most knowledgeable sales team in the industry. And three out of four respondents think KI is the smartest choice for higher education furniture.
Perhaps that's because we're forward-thinking. We can tell our customers what's on the horizon in higher education design, whether it's a gaming lab, an e-sports center or a campus innovation hub. We help them support those spaces with the right furniture solutions.
For instance, innovation centers benefit from focused and regenerative spaces. Our WiggleRoom privacy pods offer students a haven within an otherwise bustling incubator. Just as importantly, our MyPlace lounge furniture offers a valuable space for students to rest or catch up with friends between passion projects.
Or perhaps that's because we believe students learn best at their own pace with a curriculum and environment tailored to their needs. At KI, we strive to help educators meet those needs by prioritizing adaptive design solutions that empower students to move around and collaborate.
For instance, our Jury Base fixed seating offers 360-degree rotation that transforms a lecture hall into a place for energizing brainstorming sessions. Our Pirouette tables can be reconfigured to allow for custom floorplans that enable collaborative and individual spaces to suit students' learning styles.
Knowledge + Innovation
College students have the potential to devise solutions for the world's toughest problems. At KI, we aim to support their efforts. That sentiment resonated with the respondents to Hanover's survey, who identified KI as the brand considered the most innovative and "in the know."
We innovate alongside our customers through Infinity from KI, where our team of specialists will modify existing products or create new ones to meet a specific campus need. For example, we've manufactured Doni chairs in custom school colors. We've also modified our architectural walls to feature custom branding of school logos in lobbies and mascots within athletic rooms. For lecture halls, we've incorporated user-centered technology into our design for fixed seating.
Of course, not every challenge is as straightforward as incorporating school-specific graphics. We've helped customers work around tricky architectural elements. In one instance, we modified tables to wrap around building columns and maximized square footage in the process. We've devised one-of-a-kind drafting tables for design students at another university.
Knowledge + Inclusion
Higher education presents students the opportunity to create a community on their own, often for the first time. A significant part of that process occurs when students discover their passions and form connections with those who share them.
Schools can encourage that growth by giving students spaces to learn hands-on or explore their interests outside the classroom.
These spaces often support ideating, prototyping, testing and collaborating. Our Pillar tables offer 14 different shapes to gather around and build, draw or experiment upon. Mobile Learn2 seating supports active makerspaces and lively campus incubators. For digital and tech-driven studio spaces, Connection Zone benching offers a sleek surface for collaborative activities or individual focus with optional privacy screens.
Inclusive campus design recognizes that learning and connecting happens outside of the classroom. Our versatile Strive seating family is an ideal fit for lounges, cafés and other spaces where students touch down, interact and collaborate.
At KI, we believe that students and educators in all areas should have the same opportunity for makerspaces, computer labs and incubators. We strive to ensure that campuses of all sizes and budgets can afford learning spaces that meet their needs. According to Hanover Research, more than 80 percent of school representatives, designers and dealers believe KI offers unique products at competitive prices.
Meeting Any Need
We were humbled to see that the majority of architects and designers surveyed by Hanover Research identified KI as their preferred brand for higher education furniture.
We believe that's due to our focus on providing inspiration, innovation and inclusion for our customers through a collaborative approach. By empathizing with the students and educators who spend countless hours in these learning spaces, we can support their vision as a true partner.
We'd love to hear from you. Why do you "Think KI" for your higher education spaces? Let me know at bryan.ballegeer@ki.com.
Subscribe
Stay up to date with the latest trends and more.