More Than Meets the Eye: The Added Value by KI
Uncover how we protect our customers' investments by building long-lasting products and personal relationships that offer ongoing support, service, and value.
---

When it comes to planning for the success of your interior design project, partnering with the right furniture provider is a critical decision.
We understand that product function, aesthetics, and budgets are often top of mind when making furniture selections. However, we also understand that other manufacturers may offer you the features, looks, and pricing you need. What sets KI apart?
Simply put: It's the intangibles.
With benefits far beyond the product itself, our team excels at partnering with you for a level of trusted expertise you'll find essential for a successful project. From integrated design support to skilled installation experts, we offer much more in partnership with you than the face value of KI products.
Continue reading to learn all about the added value and benefits you receive when partnering with KI.
Return on Investment: Total Cost of Ownership
As discussed at length in last week's blog, our products are designed and tested for exceptional durability, allowing us to offer industry-leading warranties. That comes with a proven history of honoring this commitment. And while most of our products are backed by 10-year, 15-year, or lifetime warranties, our customers and partners know that KI furniture will never be relegated to your furniture graveyard.
Our in-house customer care team is committed to exceptional support by protecting your investment through any means necessary. When you contact customer service, a coordinator will promptly and completely honor your product service request.
Altogether, when you consider our warranties, product lifecycle service, and general ease of ownership, our value proposition is quite substantial:
For example, if you purchase a chair from us at a price of $150 with a 15-year warranty, that comes to $10 per year for that chair with a guaranteed life of 15 years.
On the other hand, if you purchase a chair from Brand X at a price of $100 with a 5-year warranty, that comes to $20 per year for that chair with an expected life of 5 years.
While we understand KI may not always be the lowest-cost furniture option, we believe our total cost of ownership is second to none. It's one of the many reasons our customers keep returning.
Project Success: Communication from Cradle to Grave
As your furniture manufacturer, we believe we're in a unique position to ensure proper execution of your interior design project from initial planning and budgeting through final installation and ownership. If there are deviations from the plan, we take accountability and help find resolutions, communicating with you well in advance to avoid last-minute surprises. And if any delivery gets off track, we course correct through discussion and action. This is our promise backed by a culture of empowering excellence among our customer care coordinators and extended team members responsible for your order.
Last year, for instance, one of our education clients ordered a shipment of tables that wasn't going to arrive in time for the start of the school year. Our team took prompt action to devise a solution for the customer. We quickly shipped temporary bases from our manufacturing center to our partner's warehouse and paired them with tops we had in inventory to provide loaner tables for the school until their actual order of tables arrived. In this case, we were pleased to cover all costs involved and worked after hours to accommodate our customer's desired schedule.
Another way in which we ensure ease of ownership and service with our furniture is through our custom product label. Nearly every KI product is labeled with a specific QR code that can be scanned whenever service needs to be requested or order information needs to be retrieved. When you scan this QR code, you'll be directed to a customized webpage where you can view the warranty, cleaning and maintenance information, line number from your original order, and other important data for that product. This provides a simple and incredibly efficient way for you to expedite your service and leverage the value of your furniture.

Dedicated Care: Personalized Support from Real People
As part of our commitment to excellence, which we'll share more about next week, we make sure customer service has a human touch. We never route you to machine recordings or play the game of "Press 1 for more information…" Instead, we connect you immediately to one of our available representatives and, from start to finish, you'll have one designated point of contact at KI. Your customer care coordinator will give you their direct line and email. If they are not available, your request will be directed to another coordinator who has access to the history behind your account and will assist you promptly.
From your first inquiry through furniture ownership, we stay connected with you. Once your order is received, we send you an order acknowledgment which can be referenced for all ownership questions. After that, a dedicated point of contact is established and communicated to you and your project team. We also organize your furniture order to deliver per the planned timelines, in coordination with the installation crew, contractor's schedules, and stakeholders' expectations. Our order status microsite gives all parties 24/7 access to schedules and documents needed to execute. As schedules flex, our team is able to adjust to keep the project expectations in check.

With more than 60 dedicated customer care coordinators, our trusted advisors are rigorously trained professionals. To optimize mutual success, we are intentional in the way we hire and train team members to ensure we acquire and develop people who are critical thinkers and enjoy helping people find solutions. This ongoing commitment to dedicated care assures you receive personalized support for your furniture order and overall interior design project.
Full-Scale Customization: Infinity and Beyond
As we engage with you to propose design solutions, our team will inquire about your space. We take the time to learn about your unique vision, furniture use cases, budgets, and other criteria established by stakeholders.
From there, we'll collaborate on a proposal for the best furniture recommendations for your requirements. However, we know that every customer is unique and what may work for one may not work for another. While our broad portfolio offers diverse solutions for many use cases, we also offer modified and co-created furniture designs through our Infinity From KI program.
A modified product design alters an existing furniture model to create a more original solution to satisfy a unique need, whether for function, aesthetics, footprint, cost, and the like. A co-created product is a completely new design created in full collaboration with our Infinity team. We've integrated this process so deeply into our service and value proposition that approximately 25% of our total furniture sales utilize some level of non-standard product design.
Many of these designs are so successful and well-received by our clients that they become inspirations for new product introductions. Northwestern Mutual, for example, wanted their employees to have user control over their space, granting them the freedom to move the furniture to fit their individual working styles. Our engineers and trusted advisors designed freestanding screens, height-adjustable tables, and mobile storage that adapted to the personal preferences of employees. This project inspired us to introduce our flexible Tattoo Collection.
Another successful solution that originated as a tailored design is our curved MyPlace Shelving. Specially designed to be paired with our inside-curved low-back MyPlace lounge seating, these compact shelving units offer an attractive, playful aesthetic for K-12 learning spaces such as libraries and media centers. Now available as a standard product, these shelving units offer a stylish and unique way to divide spaces in multifunctional environments.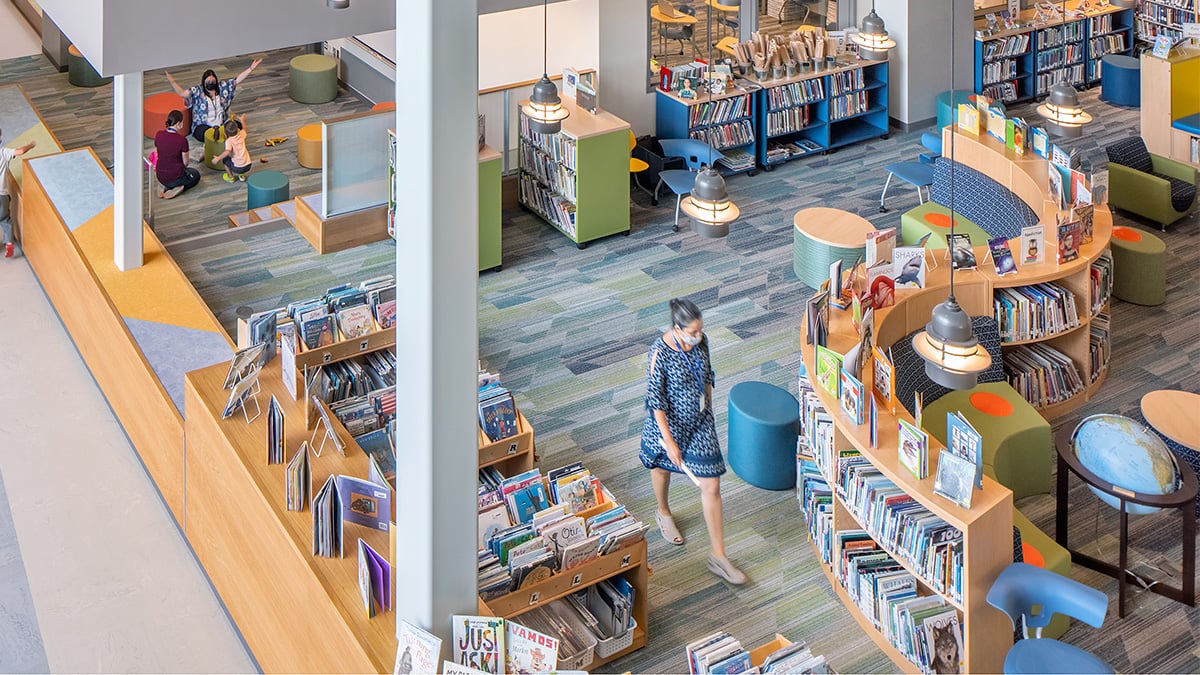 Our Total Value: Your Added Benefit
At KI, we place great value in your trust. That's why we not only stand behind our durable and innovative products but work diligently to build real, lasting relationships with our clients.
As part of our brand promise, our team provides a level of service and commitment above and beyond the value of our products. We offer higher returns for your investment through total cost of ownership; project success with direct communication from project conception through product life management; dedicated care and personalized support from trusted experts; and full-scale furniture customization through our Infinity From KI program.
In next week's blog post, I'm excited to share more about our Excellence Experience initiative at KI. In the meantime, I'd love to hear from you with any questions or comments regarding our unique added value and service commitment. Send me a message at mike.hogan@ki.com.
Subscribe
Stay up to date with the latest trends and more.