Four Reasons Why Schools May Need Custom Design Solutions
March 2, 2023
K-12 Education
Higher Education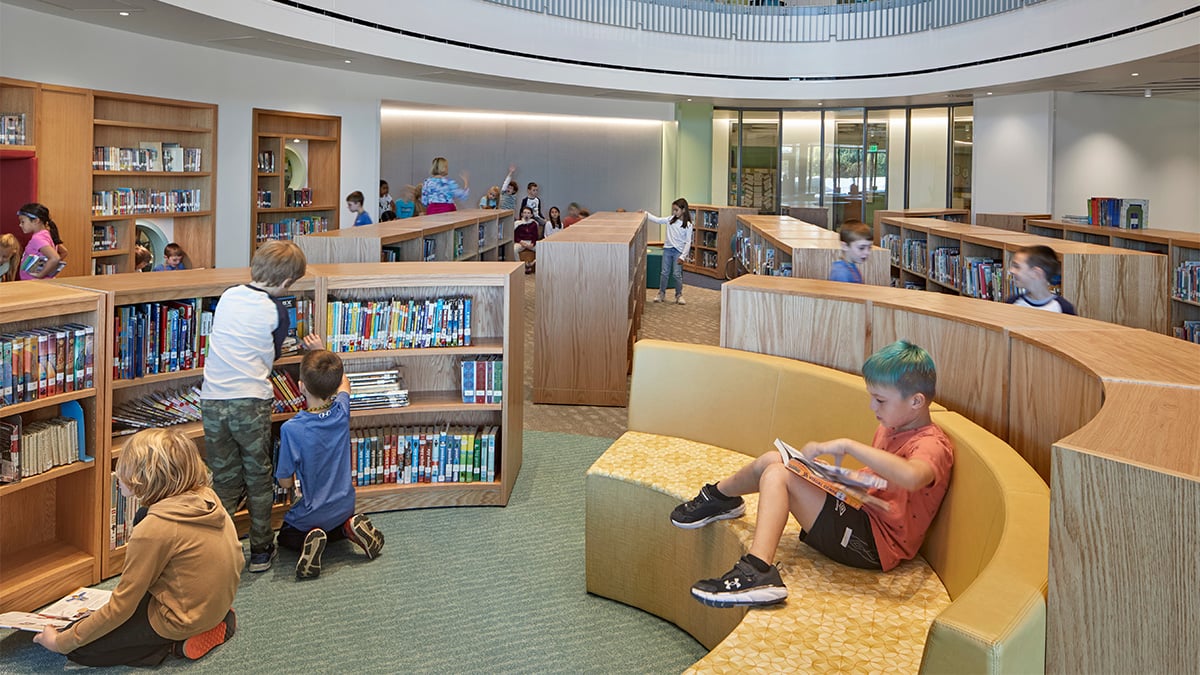 Discover the transformative power of custom design solutions in educational spaces from K-12 to college and uncover why your school may need them, too.

---

From pre-k to college, the way an environment looks and functions plays a key role in how well it supports the unique needs of students and educators.
At KI, we know that designing educational spaces isn't a one-size-fits-all approach. Whether we're modifying the size of a student desk to complement a high school's specific technology or tailoring a seating aesthetic to blend seamlessly with a university's historic architecture, we can adapt our furniture designs to make solutions that work best for you.
In fact, our Infinity From KI process offers a team of specialists who are singularly dedicated to making custom product modifications or creating new designs from scratch to work perfectly for your specific aesthetical, functional or spatial needs.
Let's take a look at four reasons why K-12 schools, colleges and universities may need custom-made design solutions and opportunities for you to partner with KI on exclusive furniture designs.


1. Learners & Teachers Are On the Move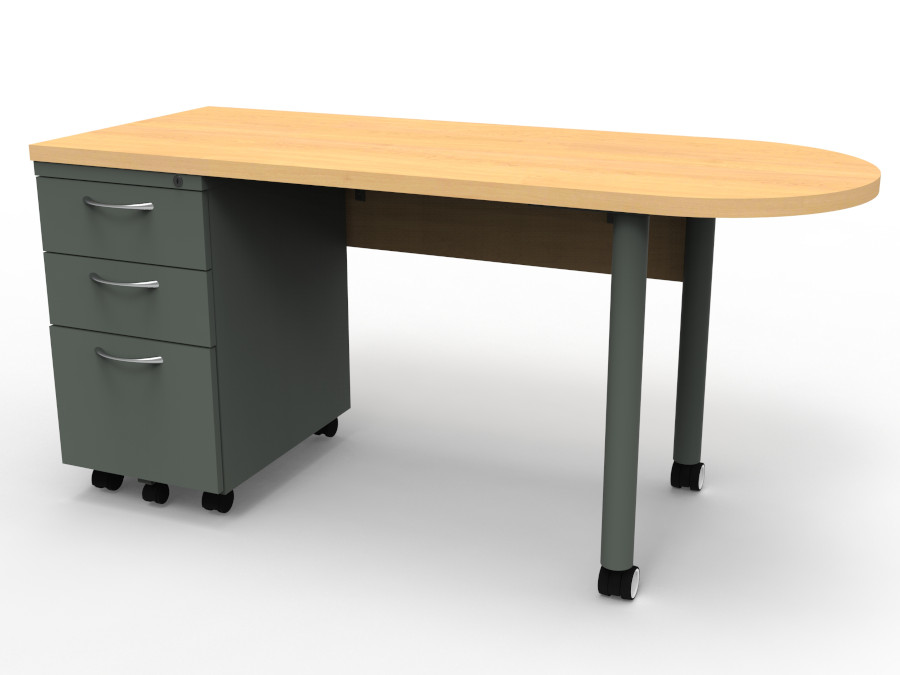 As teaching styles evolve over time, there's less of a desire for traditional, stationary teacher desks with enough storage to replicate a filing cabinet. We often hear from K-12 schools that they desire spacious, mobile desks with limited storage. Teachers want to move around to engage with students or simply get their desk out of the way, depending on what the day's lesson demands.
Our modified Instruct mobile pedestal desk and Pillar D-shaped pedestal desk offer ample surface space with streamlined storage, all on casters. We've also modified countless other furniture products for mobility, like our 700 Series desks (shown below).
2. Spaces Need to Serve Multiple Purposes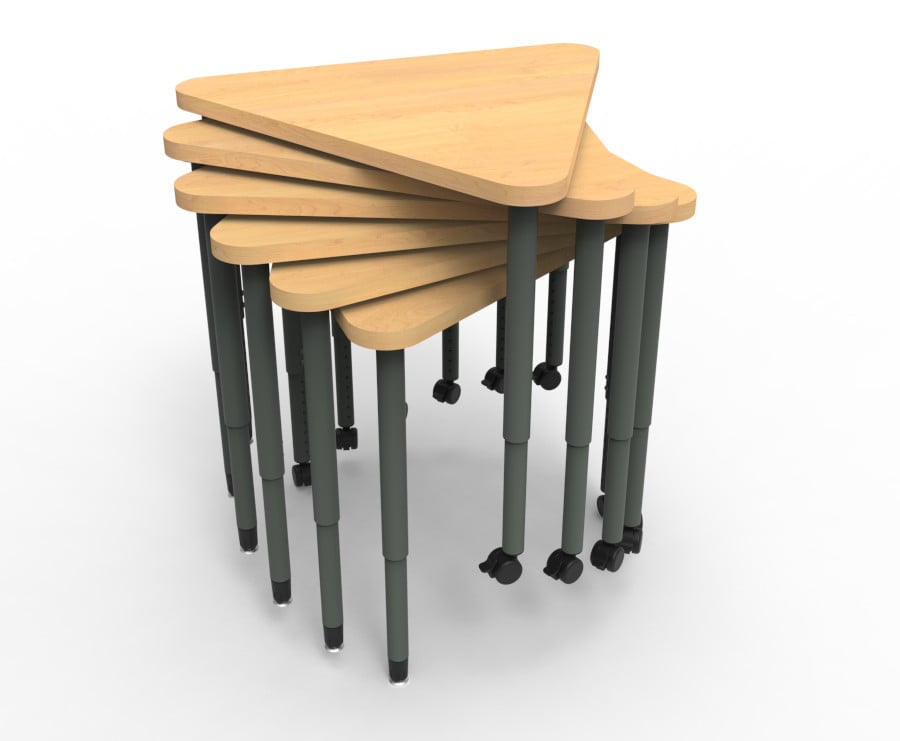 In K-12 schools and colleges alike, classrooms are home to a considerable variety of activities depending on the circumstance. One day, a college professor may host a guest speaker. The next, they might play a film screening. A high school classroom by day may turn into a photography studio by evening.
In addition to mobility changes, we often modify furniture so it can flip, stack or nest to give clients space-saving designs. Examples include our Ruckus triangle stack desks, high-density stack desks and height-adjustable nesting desks.
We're also adept in modifications that help educators accommodate for testing, such as removable worksurface screens and flexible bracket holders. These solutions allow teachers to affix dividers to desks when students need visual privacy for exams or individual focus work and remove them as needed for group or collaborative work.
3. Fixed Specifications Require Product Modification
Education clients frequently ask us to work around oddly shaped rooms or architectural obstacles. Auditoriums and lecture halls on college campuses often require modified auditorium seating and fixed seminar-style tables. We engineer the dimensions and curvature of our solutions to fit the particular room and maximize the number of students who can join a class.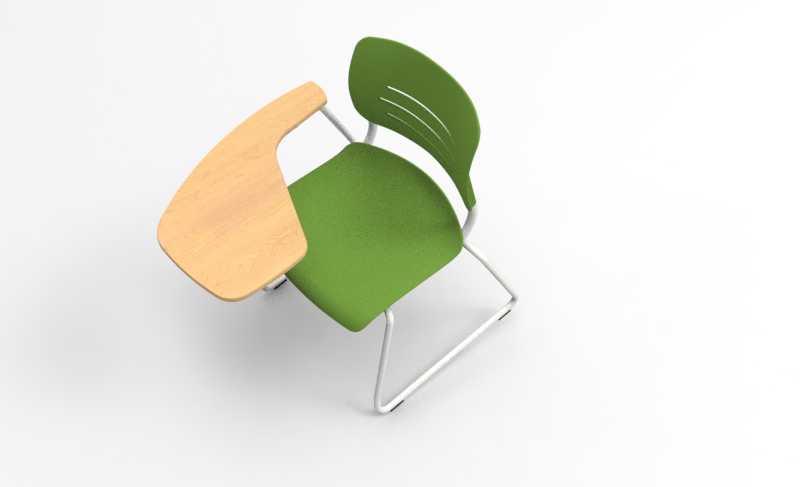 Sometimes, our customers' needs aren't related to the dimensions of their space, but rather their learning tools. For a New Jersey school district, we enlarged a tablet arm on student desks so it could comfortably hold a school-issued laptop and a notebook side by side. But once we started performance testing on the modified tablet arm, we found the desk was too top-heavy. (We test products whenever our change pushes the product outside of the original design – especially in terms of size, weight or materiality.) To balance out the weight distribution, we added a ballast on the back of the chair. After that, the performance was on point.
Modifications aren't always as simple as adding or subtracting one element of a product. They often involve a combination of design solutions or even a complete re-engineering of a product. Our design and development team excels at these challenges.
4. Intentional Aesthetics Drive Design Customization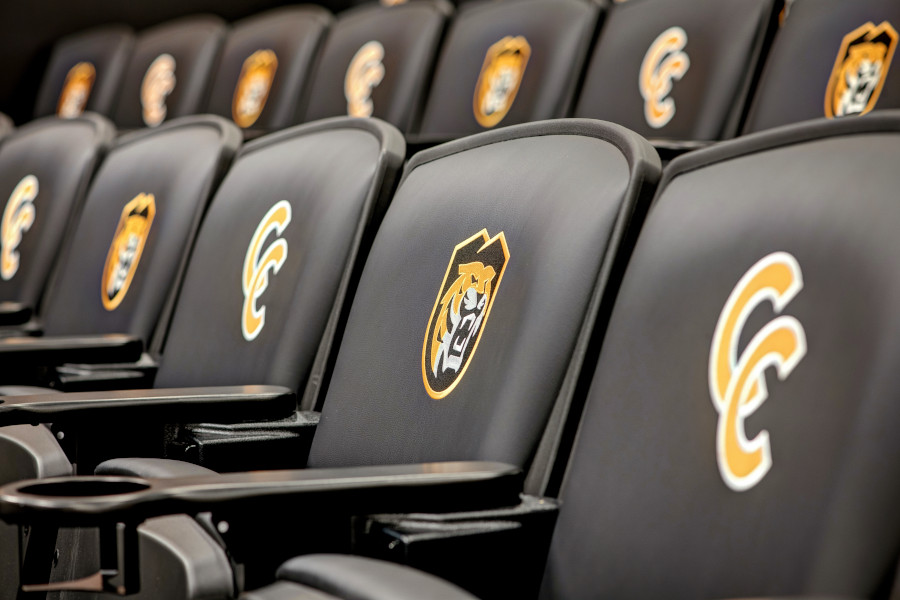 From K-12 to higher education, among our most common customization requests is to change a product's color or finish. Aesthetic changes accomplish a number of design goals, including giving learners a lively and vibrant environment; ensuring furniture complements a building's existing architecture; and visually representing a school's brand and culture.
At Colorado College, we stitched the Prowler mascot in signature school colors onto Lancaster auditorium seating for the athletes' film room. At Guilford Technical Community College, we went a step further to modify the shape of MyPlace lounge furniture to give it a softer, more rounded profile. And at Douglas & Gates Elementary School, we built custom curved shelving (shown at top of page) for a unique library concept to reflect the personality and character of the school.
The possibilities of intentional aesthetics are endless!
A Unique Solution for Every Unique Problem
Infinity From KI is a core part of our business. We devote the manpower and resources to every single customization project, from design and engineering to project management and installation, providing personalized attention and service from start to finish.
The process always starts by listening. After understanding your needs, we examine our standard product lines to determine if there is a similar solution. Then, we work together to craft a strategic modification or create a new design entirely.
But the collaboration doesn't stop there. From asking you for feedback on prototypical renderings to test-driving a sample product in person, you are with us every step of the way.
With Infinity From KI, we look forward to every design challenge as an opportunity to provide you with unique design solutions that suit the individual needs of your school, your teachers and your students.
Be inspired by our gallery of featured modified products. Sign up to receive an email notification when new products are added to this gallery by subscribing to our modified products newsletter below.
Subscribe
Stay up to date with the latest trends and more.