How to Design the Workplace for Social Distancing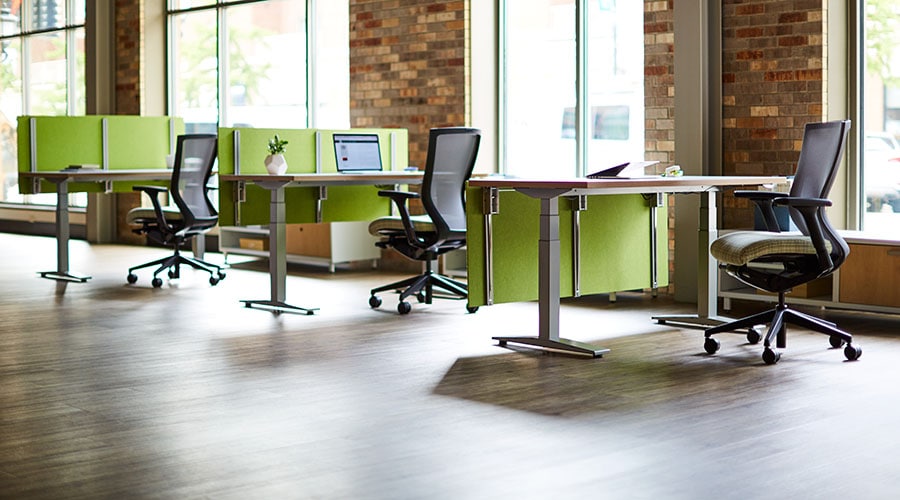 There's long been diversity of opinion about open offices. Some people find them distracting; others like how they encourage face-to-face interaction.

The coronavirus pandemic has ratcheted up concerns about open-plan workspaces. Many people will be anxious about working in close proximity to their colleagues after we return to the office.

Over the next few weeks, we'll share some design ideas to help employers think through how they might change their workplaces post-pandemic. We'll offer solutions that prioritize employee wellness and are easy to incorporate into an existing space -- on a variety of budgets.

This week, we'll focus on redesigning the workplace for social distancing.
Physical Barriers for Personal Space
Employers need not overhaul their open-plan offices or install an array of cubicles to keep their employees from bumping into one another. Several of our furniture solutions can make social distancing easy:
Workstation dividers: Our Connection Zone dividers are tall and easy to clean. They can be retrofitted to Connection Zone benching to create a framework for personal space on an otherwise open work surface.
On-demand privacy screens: Our Universal Height-Adjustable Screens allow employees to create privacy at their workstations with a moment's notice. Screens raise or lower with a simple pull-push motion. Employers can add these lightweight screens to the back or sides of a work surface or wrap them around multiple sides. A clamp-on version can be a quick fix.
Add some height: Employers can install Unite or Tattoo toppers onto the respective workstation. The toppers act as an extended barrier for errant coughs and sneezes – particularly helpful in an office where employees often stand at their desks. Unite's frameless glass option allows organizations to leverage daylighting.
Simple Storage Changes
Employers may also consider investing in new forms of workplace storage to promote office hygiene.

Organizations with shared workstations may want to consider locker banks. Each employee can store his or her personal items in an assigned locker and then select a workstation that is a safe distance from colleagues. Lockers or file banks can provide natural aisle ways within large open spaces to direct foot traffic toward or away from specific work areas. Our Collection Zone storage solutions include lockers with various levels of security.
Touch-free storage can be a good idea for shared workstations. Open caddies underneath desks can offer employees easy access to stored personal belongings. No longer will people have to worry about picking up someone else's germs from a drawer handle.
Employers with individual workstations may consider adding credenzas or wardrobe units. These simultaneously delineate the space owned by each employee and give them somewhere to store their personal belongings. Adding simple drawers to a workstation can protect an employee's keyboard and mouse when they're not using them.
Prioritize Cleanable Materials
Post-pandemic, organizations will have to be meticulous about cleaning and disinfecting their workspaces. Furniture that's easy to clean can make that task more manageable.

Employers who rely on upholstered workstation dividers and panels may consider switching to hard surfaces that can be regularly wiped down with disinfectant. Our Unite panels come in glass and steel markerboard options. The Unite frame and tile system allows employers to change the materials without impacting the electrical power running through the workstations.
Keep Flexibility Top of Mind
It's not yet clear what a post-pandemic workplace will look like. But it is clear that employers will have to make employee wellness an even bigger priority. We hope these design solutions will offer some ideas for how your team can return to work safely.
Click to learn more about KI's products for returning to the office.
Subscribe
Stay up to date with the latest trends and more.