Flexible Workplaces During a Pandemic and Beyond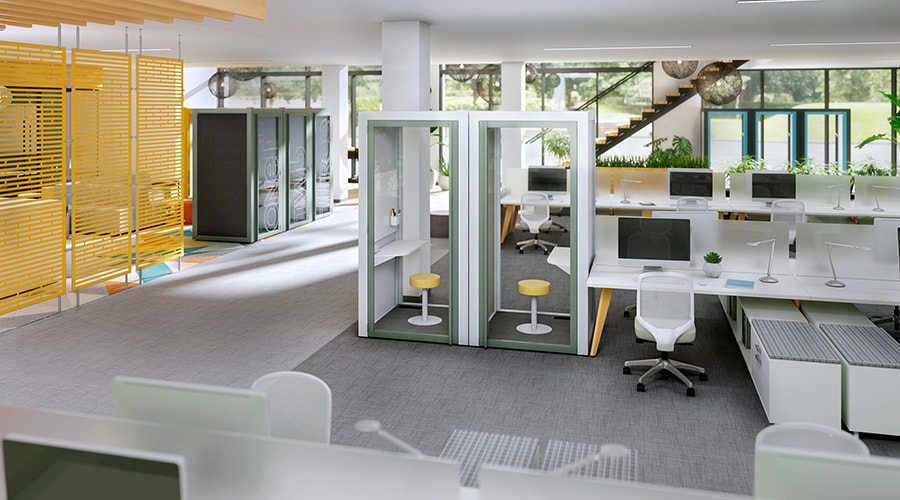 No one knows how long the coronavirus will be with us. Consequently, employers have largely been flexible with their return-to-work plans.

That's the right call. It makes little sense to renovate an office for our current era of social distancing, only to remake the space again after the pandemic passes. Flexible design strategies, in contrast, are nimble enough to accommodate the health and safety concerns of today -- and the more collaborative, denser space to which we'll eventually return, in all likelihood.

Below are some ideas for short-term and long-term workplace layouts that prioritize both safety and flexibility.
Keep the Sense of Community
Gathering spaces like cafés and conference rooms foster socialization among employees and help create a sense of community at work. There's no doubt that these spaces look very different in the midst of the pandemic. Employees may need to sign in and out of meeting spaces or eat lunch in shifts in order to keep capacity under control.

In the company café, employers can pair high-back seating and Tattoo Flex Screens with 12-inch toppers to create separate booths for individual or one-on-one lunches. KI's movable Architectural Walls can divide larger café spaces into smaller lunch rooms, while the glass panels maintain an open and inviting environment.
As the workplace evolves, employers can reconfigure mobile seating and lightweight screens to create lunch booths that accommodate larger groups. They might move the architectural walls to welcome people back to one open space or use the walls to cordon off sections of the café for team meetings, birthday celebrations or client lunches.

Pre-pandemic, conference rooms served as important gathering places for face-to-face conversations with colleagues and clients. While employers can't host large meetings around a conference table now, they can pair mobile Pirouette Tables and Connection Zone Screens to set up safely distanced smaller meeting areas.
In the long term, employees can roll the tables together to recreate a long conference table. The screens can double as whiteboards for a team meeting or display a company calendar of events.

Socializing often happens organically at employees' workstations as well. In the short term, our clamp-on Universal Height-Adjustable Screens provide a needed safety barrier between employees in an open office. In the long term, employees can use them to control their level of privacy and engage in collaborative work on their own terms.
Multipurpose Furniture is Key
Multipurpose furniture is becoming increasingly important in common areas, where employers have to take extra safety precautions.

In the short term, employers may set up check-in stations in lobbies and reception areas. They can use Tattoo Flex Screens with a magnetic core to hold hand sanitizer or cleaning supplies for visitors to use as they enter or exit the lobby. Tattoo Screens with a markerboard surface allow employers to display guidelines for social distancing or mask-wearing. Employers can use tall banks of personal storage lockers to direct foot traffic and provide a physical barrier to separate the check-in area from the lobby seating.
In the long term, employers can repurpose each aspect of a check-in station. They might move the banks of lockers to the edge of a room. The lockers would no longer direct traffic but instead offer employees a place to store their bag or laptop while they meet with a colleague in the lobby or lounge. Tattoo Screens might display announcements about company happy hours and hold containers of freebies for visitors, like pens or mints.
Unique Needs, Unique Solutions
Even with maximum layout flexibility, some organizations may find they need customized design solutions to meet their unique needs. To adjust tables, screens, lockers or entire furniture collections to an existing environment's dimensions or aesthetic, our Infinity from KI specialists can modify or co-create products that adapt to any space. For instance, one company may seek dividers tailored to the exact size of its workstations. The KI team can modify dividers to the right size -- and even match them to the exact color of the company's logos.
What will your office look like when you return? At KI, we expect each layout will differ, depending on the organization's size, needs and company culture. No matter your workspace needs, flexible design strategies can help ensure your workplace transitions smoothly from socially-distanced to shared spaces.
Click to learn more about KI's solutions for safely returning to the workplace.
Subscribe
Stay up to date with the latest trends and more.