Five Design Tips for School Libraries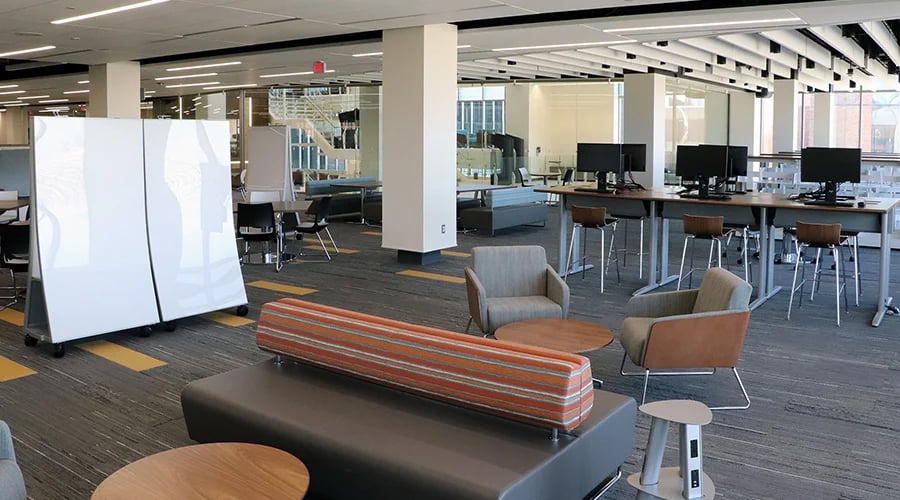 At school libraries, silence is no longer golden. Today, they're centers of discovery and communication, where students socialize, collaborate and engage in group learning.
As school libraries gear up to reopen, educators will need to ensure the health and safety of students while keeping their facilities welcoming. At the American Library Association's recent annual conference, which was held virtually this year, many of the librarians in attendance said their top priority was finding ways to allow for safe social interaction.
Below are some of our favorite design strategies for creating inviting and productive libraries, including advice for designing libraries in the wake of the pandemic.
1. Plan for Variety and Safety
Students employ a variety of work styles. Some prefer distraction-free zones where they can focus, while others need shared spaces to brainstorm with peers. Consequently, libraries must accommodate a host of activities, from study breaks and quiet time to meetings and socializing.
To maintain these zones safely, librarians can use dividers and screens to delineate space. KI's Universal Height-Adjustable Screens are available in a clamp-on version to transform desks. Mobile Connection Zone Screens with markerboard surfaces can separate lounge areas and other shared spaces, so pairs of students can work together with appropriate barriers from others.
2. Enhance Agency
Librarians will need to plan layouts for the immediate return to school, with clear physical divisions and strict social distancing. But by using flexible design solutions, they can also prepare spaces for future scenarios when they'll be welcoming greater numbers of students within an area.
Flexible library designs can support not just social distancing but project-based learning, where students work to solve real-world problems with lessons they pick up in class. Project-based learning teaches agency; giving students control over their physical environment enhances that process.
Together, KI's Ruckus Collection and MyPlace Lounge Furniture offer virtually everything libraries might need, including chairs, stools, desks, booths, lecterns and storage. Each element is available on casters, so students and librarians can rearrange the physical environment, whether for curricular or community health needs.
3. Integrate Technology
Pre-pandemic, libraries routinely hosted students for distance-learning and other technologically-enabled instruction like computer simulations of real-world events or educational video games.
Remote learning will continue to be with us, even after schools reopen. For example, students may participate virtually in class from their school library, to allow for appropriate social distancing. Perhaps they'll use their libraries to engage with teachers working from home to minimize their own risk of getting sick -- or with prominent lecturers offering specialized lessons from miles away.
All that will require libraries to support technology that facilitates virtual learning. KI's InTandem Table System, for instance, is equipped with integrated power and offers privacy screens in three heights to maintain safe space divisions.
4. Be Inviting
At their best, libraries are welcoming spaces where students want to spend time. Today, that means giving them peace of mind when it comes to cleanliness. KI's Ruckus and MyPlace Collections offer desks and seating in plastic, laminate and acrylic finishes that are easy to wipe down. Connection Zone Screens and Lightline movable walls provide acrylic finishes and glass surfaces, respectively.
5. Include Daylighting
Students in learning environments with natural light tend to have better work habits, report fewer sick days, experience less fatigue and perform better on assessments.
Scheduling a complex, long-term renovation to install tall windows into exterior walls isn't the only way to boost daylighting. At Illinois-based Harper College, designers transformed the campus library by replacing opaque interior walls with glass architectural walls to allow a flood of natural light into the building from existing windows.
As campuses reopen, glass architectural walls like KI's Lightline can serve two important purposes: creating an open, well-lit study space and cordoning off smaller areas within a larger room to support social distancing.
The Evolution of Libraries
As schools reopen, administrators can use flexible design strategies so that libraries can play their pivotal social and educational roles even as they protect students' safety and health.
Click to learn more about KI's furniture solutions for returning safely to school.
Subscribe
Stay up to date with the latest trends and more.