Communicating Trust to Your Employees During the Pandemic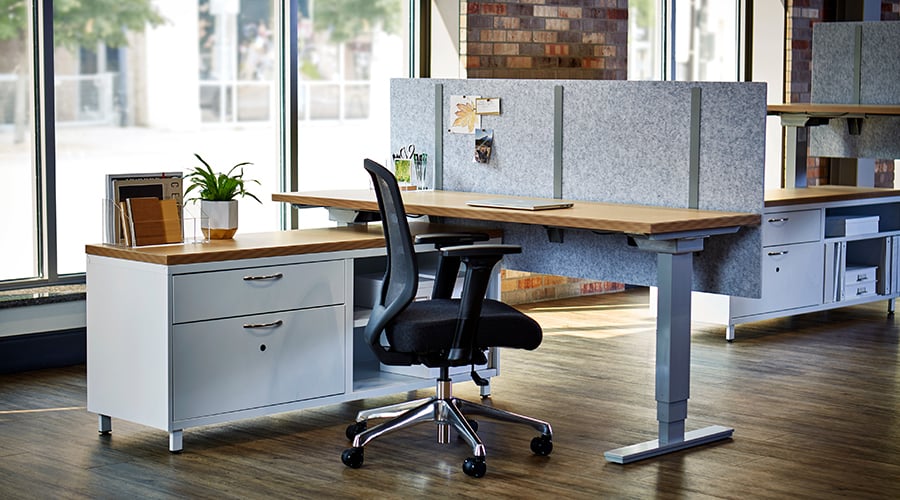 Research shows that organizations with high levels of trust between employers and employees perform better. But trust can be hard to maintain in the midst of a pandemic.
How can employees be sure their workplaces are being adequately sanitized against the virus? And on the flip side, how can employers be sure their workers are masking up and social distancing when they're outside the office
Intentional design strategies can help employers and employees build trust at work. Here are a few tips for doing so.
Flexibility is Fundamental
Employees crave autonomy. Seventy-nine percent of autonomous employees are more engaged in their work compared to those who lack autonomy. They also report higher levels of job satisfaction, creativity and overall well-being.
Flexible furniture:
Mobile furniture can give employees the ability to control their workspace. Our Tattoo Collection features lightweight seating, storage, tables and screens that workers can easily move to meet changing needs throughout the day. For example, Tattoo Flex Screens can arranged to create areas for focus -- or be repositioned to create larger, impromptu spaces for socially distanced collaboration.
Flexible policies:
This spring, many employers saw a surprising increase in productivity when their employees were forced to work from home. Most people hope that they'll have the option to continue to telework even after their offices reopen, according to our recent Return to Work Survey.
Our survey also found that employers and employees alike are concerned about presenteeism -- when people come to the office even when they're sick. Allowing employees to work from home if they have been traveling, feel slightly under the weather, or feel unsafe coming to the office can communicate to employees that their employers trust their judgment.
Give Employees Some Privacy
While open offices can be collaborative, social and fun, some employees struggle to focus and stay motivated in open layouts. At KI, we've conducted research that's found that employees are much more productive and satisfied when their employers allow them to engage with a variety of work styles and work environments.
Employers can exhibit trust in their employees by giving them private spaces in which to work. That doesn't mean everyone needs an individual office. Employers can create private spaces using KI's WiggleRoom -- a pod modeled after an old-fashioned phone booth that blocks out noise.
Employees who like to move between collaborative and focused work can raise and lower Universal Height-Adjustable Screens on their workstations to control their level of privacy.
Fostering Trust, Even in a Pandemic
In a pandemic, trust can be in short supply. But it's important for employers and employees alike to trust one another for the good of workers and the organization. By giving employees some level of control over their workspace and options for working privately, employers can show they have confidence in their workers to get the job done.
Subscribe
Stay up to date with the latest trends and more.