Classrooms, Prepare for Launch! Five Tips for Back-to-School Time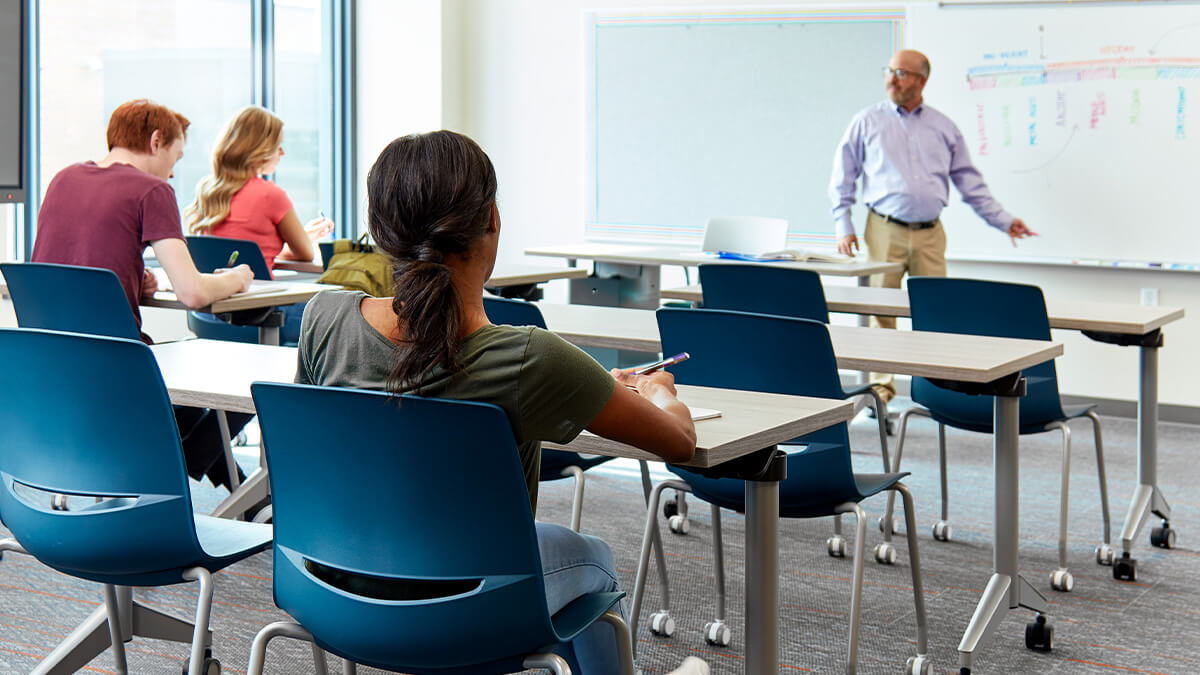 August is upon us and while some schools still have a month to prepare for the back-to-school season, others have geared up for students to return—already welcoming fresh faces into new spaces.
This makes it the perfect time of year to reflect on a popular school of thought in early education known as the Reggio Emilia philosophy. Originating in Italy following World War II, this philosophy puts an emphasis on mutual respect and responsibility and views young students as strong, capable and full of potential. Students in a Reggio Emilia classroom learn and develop skills through self-guided exploration and collaboration with peers and teachers, often through project-based learning.
Reggio Emilia states there are three teachers in a classroom: the student, the teacher and the environment itself. Below, we share tips for preparing your third teacher, also known as your classroom, ahead of the first day of school.
1. Plan Your Classroom Layout
Teachers have a lot to do in the weeks ahead of the first day of class, even though their classrooms might not be accessible until a few days before students return.
Even with just the rough dimensions of a classroom, you can use our Classroom Planner to design your space online ahead of time. With existing furniture models and a 3D viewing option, you can design the best classroom for circulation, transitions and the student experience.
You may make some changes when you're in the actual space, but having a plan is a great way to brainstorm ideas and discover any opportunities in your design ahead of time. By planning, newer teachers can also vet their floor plans with their peers and leadership in advance of entering the space.
2. Take Inventory of Curriculum & Supplies
Put yourself back in those final days of last school year: the warm sun, the lengthening days, the vacation plans, the curriculum you put into storage.
While that last one might not be as memorable as the others, now is a good time to take inventory of your curriculum alongside your class rosters to ensure you have sufficient books, materials and equipment for every student.
In your classrooms and workspaces, make sure that writing and coloring instruments are fresh or barely used and that there's a good stock of consumable goods. While these supplies mysteriously seem to evaporate over the summer, some materials literally do! Art instructors should check that paint and clay hasn't hardened or cured, and science teams will want to check that their materials are still effective and safe.
New equipment and school supplies can be expensive or have a long lead time in late summer, so it's best to get ahead. If living on summer time caught up with you and you're running behind, we're here to help with our Quick Ship furniture for schools.
3. Update Teaching & Learning Technologies
Nothing can make a morning of learning come to a screeching halt like a required software update. Some operating systems may even require a critical security update after taking a summer hiatus.
Don't forget to check hardware as well. Printers may need new ink, interactive panels may need to be calibrated and light fixtures may need new bulbs. Testing all of your technology and checking for updates can ensure a first day free of technical difficulties.
Create a checklist now with your IT department. This joint effort will help classes run smoothly and can help IT manage their workload and emergency calls.
4. Use Safety & Comfort Checklists
Everyone wants students to be safe and comfortable in all accessible spaces in your school. An easy checklist for teachers and staff to follow at the start and end of the day is a resource that builds good habits to catch any issues that could disrupt the learning day.
Start the day by turning on lights, checking door locks, inspecting furniture, powering on technology and setting the thermostat. End the day by turning off the lights, setting electronics to sleep and locking doors. These practices will keep school spaces in optimal learning conditions and allow your operations or custodial staff to identify and track issues before they can impact students.
5. Meet With Your Facilities Team
Once you've completed your inventory and developed your safety and comfort checklists, set up a meeting with your custodial or facilities team. Use this time to preview the upcoming year and present your plans for a safe and healthy school environment.
Upon returning to your learning spaces, you may find things that have gotten loose, fallen, peeled, bubbled, or cracked. Meeting with your custodial or facilities team will allow you to address these issues and strategically prioritize repairs or improvements for the coming year.
The 'Third Teacher' Is Your Helper
I know firsthand how the physical environment can enhance, or detract from, the learning experience. Preparing your classroom in advance of the first day of class will help you, your colleagues, and your students start the year off with ease and excitement.
So, let's get started! Try these tips and send me a direct message to share how they helped. If you have questions on how we can help support your back-to-school efforts, give me a shout or contact your dedicated KI education specialist.
Subscribe
Stay up to date with the latest trends and more.