Building Classroom Community and Culture During the Pandemic
September 7, 2020
K-12 Education
Higher Education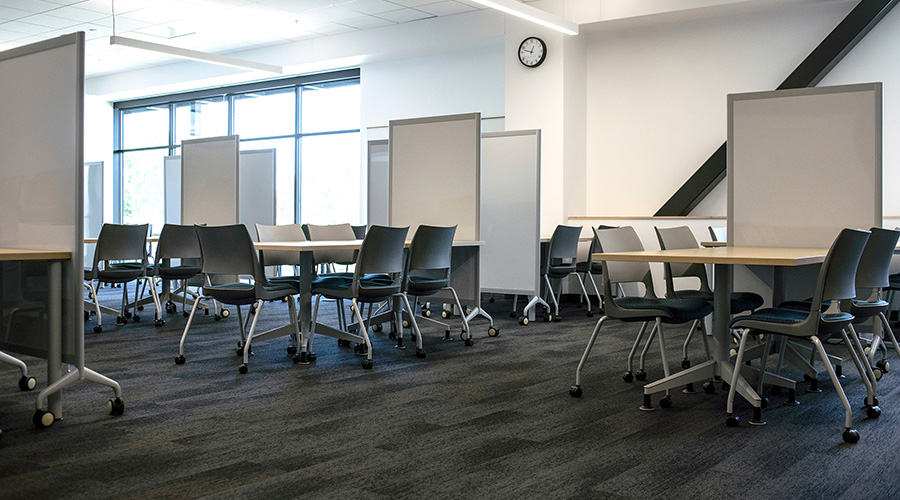 Every year, high schoolers and college students experience events that define their school's culture: homecoming games, late-night library sessions, opening night for a theater performance, senior week. The list goes on.

This year, some institutions are opening in-person with social distancing, while others are operating remotely. Some have adopted a combination of the two approaches. Regardless of what model their schools choose, students will miss out on some of the social factors that define their scholastic experience.

That will be tough. When our team at KI interviewed students about the transition to virtual learning this spring, we heard time and again that kids missed in-person interactions the most.

Classrooms and common areas will look different when schools return to in-person learning. But changes in capacity and the need for more flexible spaces don't have to jeopardize a school's longstanding culture.
Community Spaces are Here to Stay
Collaborative spaces, like libraries, cafeterias and dining halls, often serve as the beating heart of a college or high school campus. These environments can retain that status, even when social distancing is the norm.

For example, administrators can rearrange library furniture to facilitate six feet of distance among students and limit capacity. Facilities managers can add Universal Height-Adjustable Screens to open-office-like stations in computer labs. Students can lower the screens and chat at a distance when rooms are relatively empty -- and raise them to block the spread of germs when rooms fill up.
Task Chairs with an optional ChangeUp Tablet Arm arm make it easy to social distance in classrooms, meeting rooms or other collaborative spaces. The tablet arm offers a generous surface for students to work yet the overall chair has a small footprint for a more effective use of space. The caster-based chair allows students to roll from rows into groups all while keeping personal items with them.
Cafeterias and dining halls need furniture solutions that can prevent people from bumping into one another. Connection Zone Screens and Tattoo Flex Screens can control lunch lines and traffic flow -- and serve as additional barriers between booth seating.
Repurposing Classrooms
A decline in classroom capacity may actually serve as a blessing. Our survey research has revealed that students miss one-on-one instruction that builds connections between teachers and students. One tenth-grader told us, "There's nothing that compares to the school environment. During the school day you have more time [than with distance education] to connect with your teachers in person."

It stands to reason that fewer students in class will give teachers more time to work with kids individually. Ruckus Chairs for students and Ruckus Lecterns for teachers can facilitate one-on-one instruction. Both feature casters that enable movement to keep an appropriate distance and include book bag racks for safe storage of belongings.
Some schools are experimenting with outdoor spaces, gyms or even rented tents as classrooms that can allow larger groups to convene with appropriate social distancing. Modified Connection Zone Storage units can serve as lockers in these big, multipurpose spaces. The storage units and Tattoo Flex Screens can also serve as dividers, creating rooms within rooms for small-group instruction.
Trust Builds Community
The pandemic has ushered in more than its fair share of disappointment for students. "I'm most upset that my lacrosse season got cancelled," one ninth grader told us. "Seniors have it the worst. I can't imagine missing my last high school season because of this."

Public health and safety rightly remain school leaders' top priority. But stories like these have compelled schools to think creatively about how they can offer some level of in-person interaction to students. By designing spaces for flexibility and insisting on strict adherence to safety protocols, schools can help maintain many of the cultural elements that make school special for students, even in these unprecedented times.
Click to view additional ideas for returning safely to school.
Subscribe
Stay up to date with the latest trends and more.