View Approved Fabrics & Finishes
Select a style to view available options
Product Story
Designed for a range of gathering areas – from small touchdown nooks to large lobbies – MyPlace lounge furniture offers dynamic options for creative configuration within any footprint.
With a robust variety of shapes, sizes and table options, MyPlace lounge furniture offers a functional space and enables an exceptional range of formations. Its lightweight ottoman construction makes it easy to pull up a round, crescent, hex or square and join a conversation, or to completely rearrange pieces in the space. Individual square or round tables provide quick touchdown spots, while in-line tables integrate seamlessly within modular seating elements and provide the convenience of dual-sided storage.
Make MyPlace uniquely yours with design elements such as contrasting fabrics, nearly 50 standard laminates and five base styles. Use 48" or 60" high-back seating for space delineation, sophisticated corporate cafés or to incorporate private areas within an open space. The high-back style supports power, including a unique multi-unit solution that allows up to eight power modules to function from just one 3-prong infeed (no hardwiring). Designed for heavy traffic areas, MyPlace is also extremely durable with a 400-pound weight rating.
Add functionality to lounge spaces with Pillar curved tables and Athens booth tables which were designed to work seamlessly with the MyPlace product line. These products work together to created unique tiered-seating and boothing solutions, perfect for collaborative areas, cafes, or anywhere productivity is needed.
Designer Profile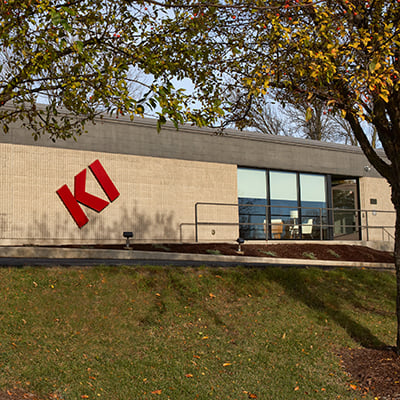 DESIGNER
KI Design Team
The MyPlace Lounge Collection was designed by KI's award-winning design team. The team set out to create a fully-upholstered product that was durable and mobile; that could be flexible and offered in a variety of sizes and shapes. The team wanted to design a product that could be reconfigured in countless ways - to create specific spaces.