What Task Chair Is Right For You?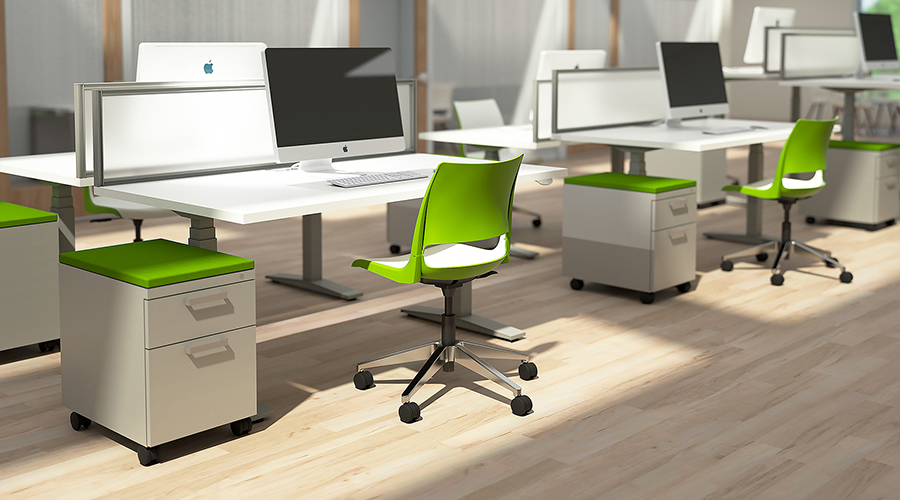 The average American adult spends more than six hours per day sitting. So, it's incredibly important to have a chair with the right combination of comfort and functionality.
There are so many task chairs on the market that it can be difficult to know which one is the right fit. Below, we provide an overview of our simple function task chairs. These easy-to-use, ergonomic offerings can fit within virtually any workplace or learning environment.
Simple, Elegant, Versatile
We offer simple function task chairs that can suit just about anyone's aesthetic interest or budget. No matter the design, our simple function task chairs provide subtle and stable support.
Across all models, key features include:
Two easy-to-use controls -- pneumatic seat height and swivel.
A small scale that lends itself to collaborative and touchdown spaces.
15-year warranty.
400-pound weight rating.
Torsion Air: Breathable Backrest
The Torsion Air task chair maximizes breathability, comfort and flexibility.
Key features include:
A patented torsion flex mechanism with 12 degrees of articulation, which provides back-flexing comfort, encourages movement and enhances circulation.
A mesh backrest, available in black or grey, which allows light to travel through and brighten up the room.
Superior comfort, thanks to the mesh backrest and an extra-thick padded seat cushion.
Torsion Air provides a comfortable, lightweight seating option for high-energy bullpen offices or classrooms where students often rearrange for group work.
Grazie: Perfect Pivot
Comfort is paramount with the Grazie task chair. Designed by the renowned Giancarlo Piretti, Grazie provides a unique pivot so the user can flex the chair front to back and side to side simultaneously.
Key features include:
Perfect Pivot, a patented and frictionless mechanism that mirrors the user's hip movement and offers 15 degrees of articulation for long-term comfort.
A contoured back that flexes sideways and twists when the user twists, even when leaning back.
Multiple color options, including a popular translucent poly for a lightweight appearance.
Grazie is ideal for learning centers, collaborative settings, touch-down spaces and more.
Doni: Colorful Comfort
For a spontaneous, colorful option, consider the Doni task chair.
Key features include:
A variety of solid and two-tone color options to represent the colors of a school, university or particular brand, whether on an all-poly model or a poly chair with an upholstered seat and/or back.
Body-conforming curves built into the polypropylene shell to maximize comfort.
Doni provides 17 degrees of articulation for maximum comfort.
Choose Doni for spaces meant to spark creativity, like open-plan offices, touchdown spaces, media centers and technology labs -- any space that would benefit from a pop of color.
Strive: Budget-Friendly Favorite
The Strive task chair is available at a price point that can suit any budget -- and doesn't require sacrificing comfort and color options.
Key features include:
A variety of color combinations for all-poly models, poly back and upholstered seat models and upholstered back and seat models.
Optional Comfort Tilt, which provides 11 degrees of forward and backward movement.
A flex back that encourages movement and relaxation and enhances circulation.
Strive is a great choice for spaces that need a refresh on a budget, from workstations and meeting rooms to school libraries and lecture halls.
Flexible and Functional
No matter what space you're working in, there's a simple function task chair that's the perfect fit. To learn more about our task chair offerings, check them out on our website.
Subscribe
Stay up to date with the latest trends and more.