Inspiring Communities by Design at NeoCon 2019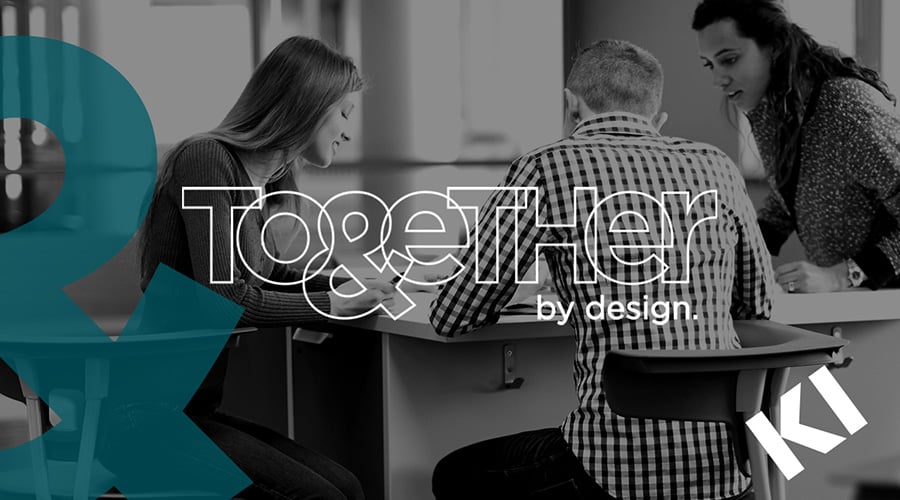 In an age when communities are popping online, people still want physical spaces where they can connect with others and the environment around them. The need for physical interaction and a sense of belonging remains vital to both the human soul and modern space design.
Community creates a sense of excitement and inclusion and influences how spaces are crafted. KI understands it's not just interior spaces that are being created but places where people collaborate, build relationships and spark ideas.
Together By Design, KI's 2019 NeoCon showroom philosophy, explores our shared experiences and the remarkable spaces created to forge a sense of fellowship. It emphasizes places where people can listen and be heard and where inspiration and action take place.
The showroom features new and expanded solutions tailored to environments where people learn, work and heal.
Highlights include:
Designed to form connections and host spontaneous meetings, the highly configurable MyPlace Lounge Collection introduces new shapes at NeoCon, including tables, ottomans and a single-seat lounge chair.
The Hiatus Sleeper Bench intuitively transforms from a sitting surface to a twin bed, offering a hospital room sleepover solution for loved ones visiting a patient. It's also designed for easy mobility.
The Ruckus Collection is expanding. New storage solutions provide educators a place to keep hands-on learning tools and the ability to change classroom configurations on the fly.
A 2018 Best of NeoCon winner, the Tattoo Collection returns with a fresh look at work configurations. The adaptable system encourages users to easily change collective and individual work styles and layouts without the needs for tools or involvement of facilities.
No matter how distinctive we are as individuals, communities bridge differences, unify and accentuate what we have in common.
We'd love for you to spend time with us at NeoCon 2019 and experience what it's like to be Together By Design.
Be part of the KI community at NeoCon 2019 from June 10-12. The showroom is located on the 11th floor of theMart in showroom #1181.
Subscribe
Stay up to date with the latest trends and more.