Five Education Trends to Watch in 2023
December 20, 2022
K-12 Education
Higher Education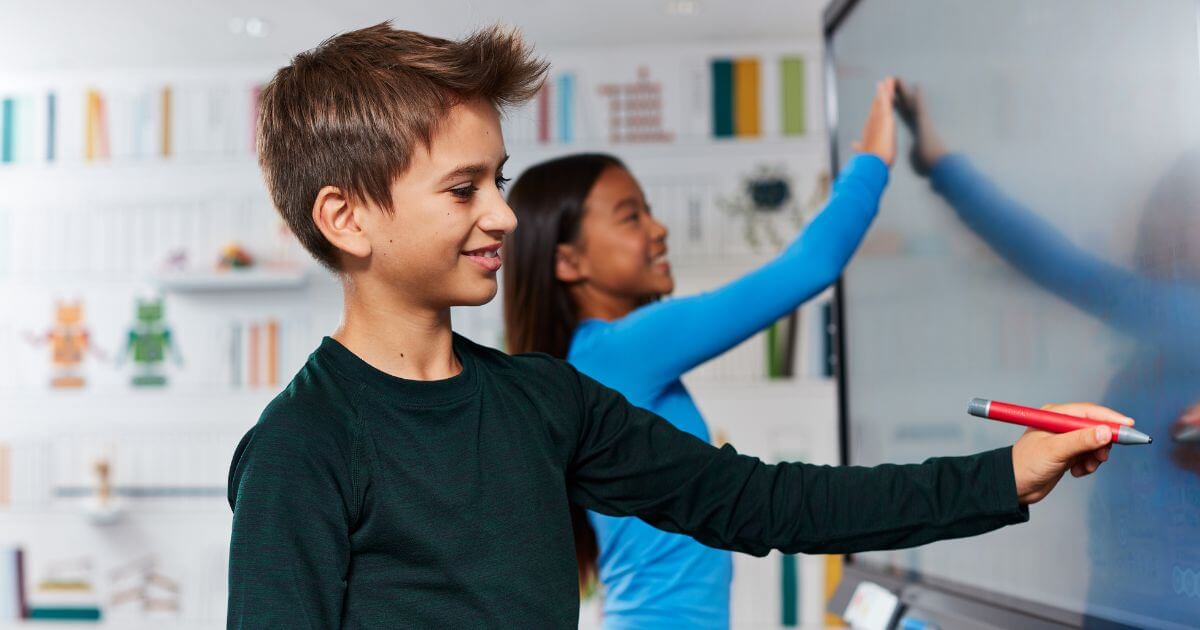 From evolving hybrid learning to prioritizing mental well-being, these top five trends will critically shape the future of K-12 and higher education in 2023 and beyond.
This year, we explored a number of education topics from classroom culture walks and project-based learning to alternative career paths and university branding.
As we look ahead, we're expecting 2023 to bring even more thought-provoking ideas, challenges and growth to learning communities everywhere.
From our observations and research, we've noticed five specific trends in education that we believe will impact K-12 and higher ed environments in the coming year.


1. Hybrid Learning Models Will Evolve
When classrooms moved online in 2020, the shift happened so abruptly that many students missed out on learning opportunities, and school teachers and college professors were left scrambling. Since then, we've learned that when online learning is implemented thoughtfully, it can be very beneficial for students and educators alike.
Next year, we expect some schools will continue to adapt hybrid learning models, where some students will learn in-person while others join the classroom virtually. Without the pressure of an overnight shift, administrators can ensure students and teachers have the technological infrastructure and adapted lesson plans necessary to foster a successful hybrid classroom.
That's especially true of higher education, where hybrid and online learning models already have a long history predating the pandemic, from LinkedIn Learning to Coursera. We can expect colleges and universities to find ways to implement online and remote learning into curriculums, as the flexibility of this model can better accommodate a student population diverse in age and location and meet college students' preferences for flexibility even when they live on campus.
When done properly, hybrid learning allows students to self-pace their learning and monitor their progress, while providing both instructors and students with more flexibility.
And if a few students have colds but feel well enough to join class virtually, they're less likely to fall behind with hybrid learning.
2. "Power Skills" Will Resurge in the Classroom
More than 90% of hiring managers believe soft skills—like problem solving, collaboration and leadership—are just as important or more important for the workforce than hard skills.
But these skills aren't always prioritized in education.
Shockingly, only 3% of high school students believe leadership is a necessary skill. According to a survey from the National Associate of Colleges and Employers, the professional organization for career services staff, graduating college students believe they're far more competent in skills like teamwork and communication than their employers think they are.
To bridge this gap and set up students for success, we see schools and colleges considering how to integrate these skills into their curricula. In the United Kingdom, part of that effort includes redefining soft skills as power skills to assign them the value they deserve.
One way educators are integrating these skills is by employing project-based learning. This teaching model engages students to solve problems through hands-on undertakings, like middle school students designing their own city or reenacting a courtroom.
Projects may vary in style and be scalable in complexity for higher education. They allow students to be more independent, learn through trial and error, and strengthen skills like interpersonal communication, decision-making and creative thinking, no matter whether students are just beginning their learning journey or are nearly career-ready graduates.
3. Educators Will Use E-Games to Engage Students
More than 95% of kids in the United States play video games recreationally. The rise of online learning and increased technology in schools have brought the fascination with electronic games into the classroom.
Digital or physical games can help students experience lesson concepts in new or different ways. There are a number of benefits to gamification, from creating a student-centered learning process to supporting students' different learning styles simultaneously.
One survey identified that 87% of K-12 teachers found their students to be more engaged when lessons incorporated purposeful play. Additional research shows that adults who play online games report higher levels of adaptability, communication and resourcefulness and may even have better career prospects.
Games will take many forms. In K-12 classrooms, students might use Minecraft to explore the Roman Colosseum, or teachers might design a Jeopardy! game to teach trivia for any topic – and math for those Daily Doubles! In higher education, students might apply game elements and techniques to big-picture business and social impact challenges, like in a gamification course offered by the University of Pennsylvania's Wharton School.
4. Schools Will Prepare Students for All Futures (Not Just 4-Year College)
About 27% of high school students will graduate from a four-year college within six years. That leaves 73% of high school students who potentially miss out on post-graduation support, especially if a school prioritizes the application process for four-year universities.
As such, we expect there will be more celebration of students across all levels of educational attainment and with all varieties of skills our economy needs. Schools will continue to adopt programming that supports sizable groups of students who may be a better fit for non-traditional post-graduation paths.
Career and technical education offerings might include high school courses that teach students diverse skills from welding and cosmetology to UX design and engineering, which go hand-in-hand with STEAM classes.
Companies may seek partnerships to offer internships or job shadowing opportunities to students from all kinds of schools, including technical schools, career readiness programs and two-year vocational colleges. These different educational institutions will help support the regional workforce in the process.
5. Well-Being of Educators & Students Will Be Top Priority
K-12 educators have the highest burnout rate of any profession in the United States. More than half of all higher education staff and faculty members plan to leave their jobs in the next year. Simultaneously, children and teens are experiencing higher rates of stress, anxiety and suicidal thoughts, and nearly half of all college students report feelings of anxiety or depression.
The American Academy of Pediatrics has declared a national emergency in youth mental health. To support staff and students alike, schools will need to ensure they offer robust mental health programs and opportunities.
For example, K-12 teachers might benefit from "guest teaching" periods where an administrator engages with a class while a teacher gets a break to decompress. For students, schools may go beyond adding more mental health counselors to embracing creative ways to support student well-being, including morning emotional check-ins, self-regulation kits with stress balls, reset rooms and breathing techniques.
In higher education, leaders are working to establish, or reestablish, a feeling of community on campus to combat faculty demoralization and student isolation. According to higher education researcher Dr. Vincent Tinto, people who feel like they belong and matter are more likely to stay committed to their education and their institution.
What Education Trends Are You Seeing?
The landscape of education continues to evolve in meaningful ways. As modern technologies and methods of learning change with the times, education administrators have the unique challenge of finding ways to adapt their approach to teaching while engaging students in the best means possible.
It's no small feat. At KI, we're here to support educators and students in their learning journey. We're excited to keep a keen eye on these critical advancements in education and provide ongoing insights for how to achieve ideal outcomes in education design.
Do you have specific predictions in education design for the year ahead? What are you seeing in your classroom or your child's school? We'd love to hear from you. Share your thoughts with us on Twitter @KItweets!
Subscribe
Stay up to date with the latest trends and more.