Behind Their Designs: Meet KI's Classroom Giveaway Winners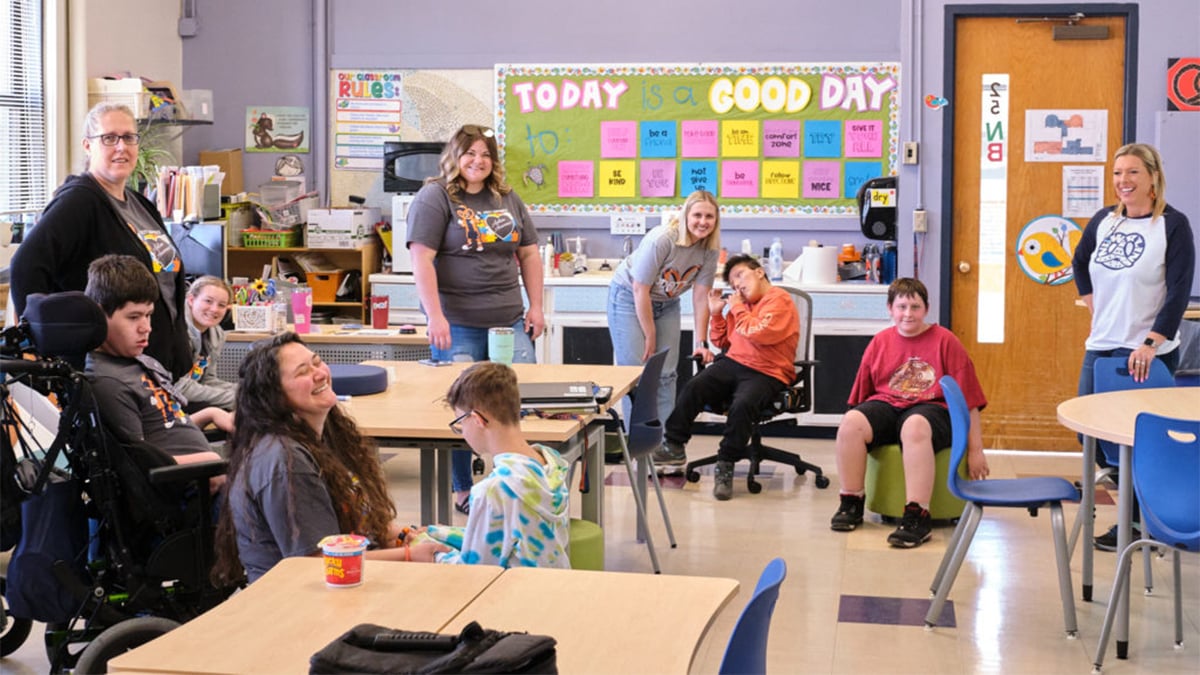 When educators and students get to shape their learning spaces, it makes an impact. Learn how three teachers brought their dream classrooms to reality with our classroom furniture giveaway.
---

At the beginning of this year, we invited teachers to enter our inaugural design competition for a chance to win $40,000 worth of KI furniture for their classrooms. Nearly 500 teachers from across the country submitted their dream classroom rendering in hopes of bringing their vision to life.
Three winning educators were selected out of nine finalists through a public vote, with nearly 20,000 votes cast nationwide. This month, we had the privilege of delivering the furniture and meeting the winning teachers as they revealed their new classrooms to their students.
The cover image featured in this blog is courtesy of WMAY-AM Online.

Fostering Connection for Florida Fifth Graders
Dylan Zuccarello is a first-year math and science teacher for fifth graders at Lawton Chiles Elementary School in Tampa, Florida. Mr. Z knew he wanted his classroom design to make students excited to come to school and foster connection and interaction among students -- something he told us he wished he had experienced when he was in school.
His design focused on creating different "zones" to ensure his students would be comfortable no matter their communication or learning style. He also wanted to be able to easily reconfigure the classroom to best suit each lesson, reflecting his exuberant and lively teaching style.
"I think my students will discover that no matter where in my classroom they are, they're able to find something for them. For them, whether it is in the middle for group discussions, comfortable seating to get work done, or a corner that is silent where they can work independently," Mr. Z said in an interview with the Tampa Beacon on the day of the classroom reveal.
His students' excitement was palpable."It was boring before," added a student named Olivia. "The desks are really cool and the chairs are really comfortable. It's really different from the classroom we had."

Supporting Student Independence at an Illinois High School
In central Illinois, principal Hattie Llewellyn of New Berlin High School submitted a design for her school's special education and structured life skills classroom, which serves students ages 15 to 22. For Mrs. Llewellyn, it was of utmost importance that her design support students with diverse cognitive and physical abilities through instruction, group activities, and training for self-care, cooking, and household skills.
At 496 square feet, the classroom regularly welcomes a teacher, four paraprofessionals, and eight students, two of whom use wheelchairs. It was important to Mrs. Llewellyn that the limited footprint worked for everyone, so she couldn't pass up the chance to redesign the space to better accommodate different activities for students.
"Our school's culture and instruction methodology promotes inclusivity for all students, and our classroom redesign reflects this core belief," said Mrs. Llewellyn in an interview with local radio station WMAY-AM. "The goal of the structured program is to equip students with the life and academic skills necessary to support their lives beyond high school. Our flexible furniture layout will support a gradual establishment of responsibility, with the long-term objective being that each student feels confident in their skills and demonstrates independence and success."
One student named Cashton took pictures of the classroom before and after the installation and loves how it turned out. He told us he's eager to try out every new chair in the classroom.

Color and Creativity in a California Classroom
On the West Coast, Marisa Rinkel teaches a gifted and talented class of fourth graders at Norco Elementary School in Southern California. When it came to designing her own classroom, Mrs. Rinkel wanted to spark passion in her students the same way a teacher did for her own child. She designed a vibrant, colorful space that prioritized giving students a choice in how and where they learn and allowing them to move around easily, helping them stay more engaged.
"I wanted to provide an environment that would make the kids love being at school and where they feel inspired to learn," said Mrs. Rinkel in an interview with local radio station KNX News. "My design is focused on safety -- having chairs that don't tip and actual storage that can make the classroom more functional -- and, of course, a beautiful, innovative design because the environment that kids spend time in shapes the architecture of their brain."
The passion was already evident in the students' reactions. One student, Leland, volunteered, "I like it because it's very colorful and very comfortable. Especially the Ruckus chairs. You can sit in the chairs any way you want."
Students are already using their mobile furniture to create Rube Goldberg machines to learn about chain reactions.

The Power of Student-Centered Design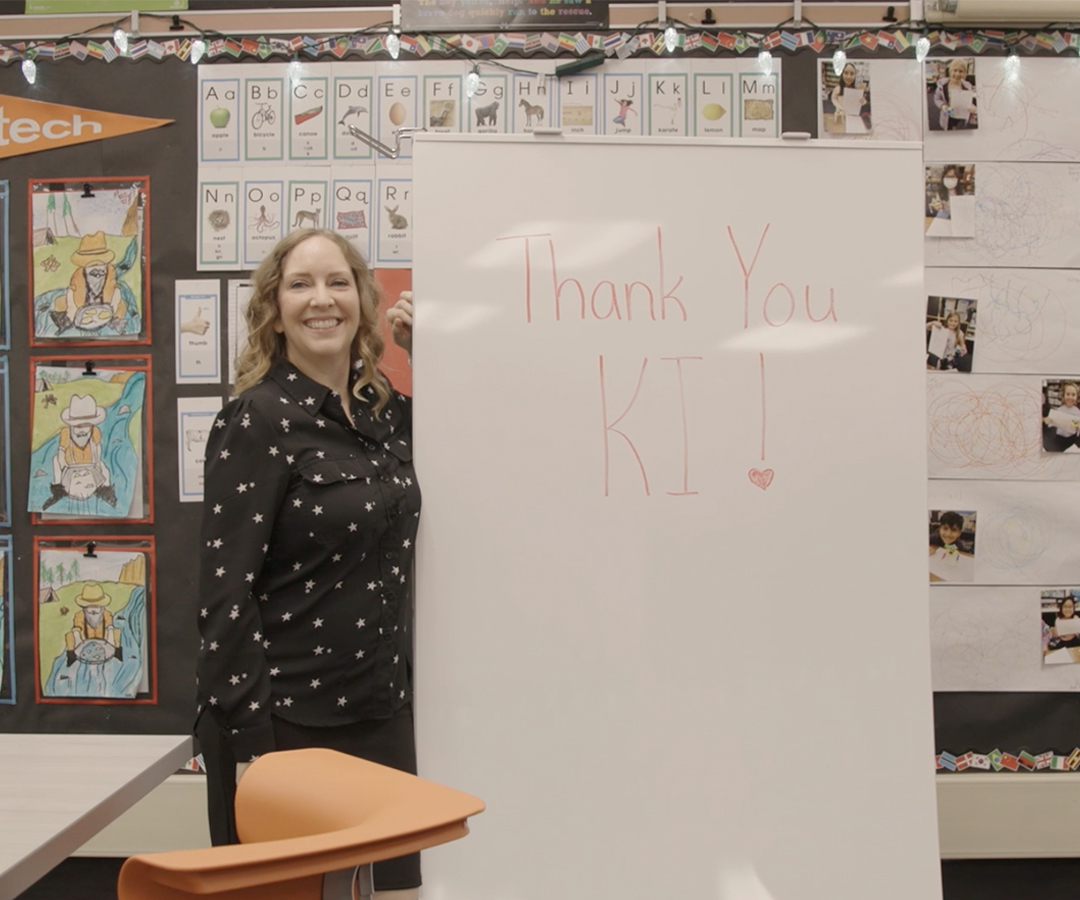 At KI, we know how impactful it can be when teachers and students lead the charge in shaping their learning environments. We're honored to be a part of these transformations for these deserving teachers and students.
This competition brought out the best from teachers all over the country. In its inaugural year, we were impressed by hundreds of unique and creative designs. We're already looking forward to seeing what you come up with next year!
Can't wait until then? Start designing your dream classroom with our free Classroom Planner tool today. Subscribe for updates on future editions of our classroom furniture giveaway below!
Subscribe
Stay up to date with the latest trends and more.