24 | 33 | 65
March 5, 2018
K-12 Education
Higher Education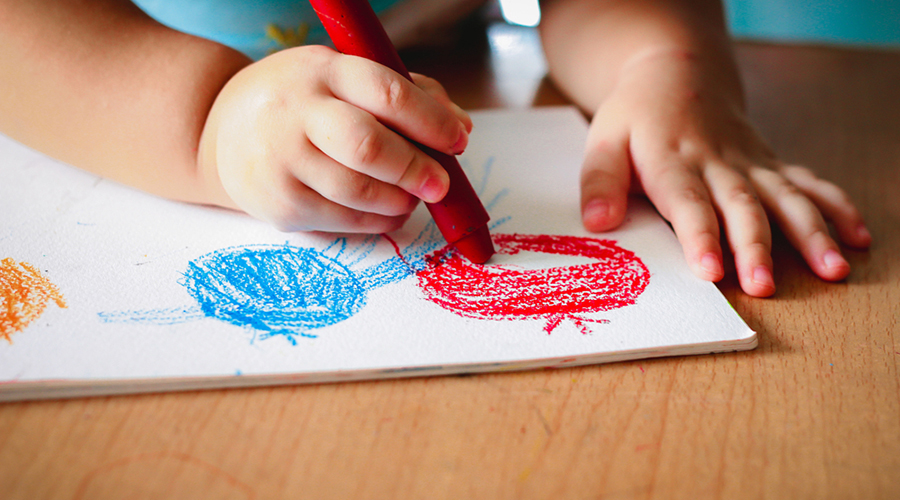 It was 2011, and I was about to embark upon an expedition that many in this world can empathize with…Taking your oldest child to school for the first time, ever.
She was three years old. Her backpack, bigger than her body, walked away from my wife and me, with enthusiasm. Every square inch of that preschool environment had experiences waiting for her, and most, if not all, aligned with her own curiosities. While everything in the world tends to be "new" at the tender age of three, this environment was familiar. The toy kitchen looked like hers at home. The blocks looked like those used to build with on our kitchen floor. The rug, while numbered and far more colorful than what you'd put in an 1890 Victorian, was where we read books. The experience and the space met her where she was.
So, where am I headed with this story? It kicks off a telling tale of how we in the U.S. disrupt the natural progression of learning. At some point within the learner's journey (usually around 3rd grade) we begin, by design, to violate the safety of the experience that our earliest learners so innately enjoy. We start to get in the way with institutionalized notions of education.
You see, those early education environments, along with our home environments, tend to foster, incubate, and accelerate self-expressed curiosity, wonder and inquiry. Then orthodoxies and practices intercede, leaving us with environments that support transmission-based models. Rote-based instruction and standardized tests both require orthogonal rows and fixed furniture resulting in spaces exactly the opposite of what our world has shifted to. From a physical manifestation perspective, it's normality, disinterest and ignorance. We're guilty of sustaining this model, reinforced by a physical environment, during high school, with the great hope that higher education will begin to restore the skills that our kiddos once naturally owned.
Those early years organically foster the development of agency, also known as confidence. The years following higher education demand it.
What's the impact on the future? Well, without agency, there's really no way to sugar coat this --we become exactly what we've schooled towards -- normal, disinterested ignorance.
Agency is not just confidence, but creative confidence. It is not just knowing where you fit in within the world, but having the curiosity, wonder and inquiry to express yourself within a certain field and to give yourself fully to the freelance pursuit of what you love.
Our schools' primary models of instruction currently lack agency and freelance pursuit and without these, we are not preparing our students for the future that awaits. When the moniker "21st century learning" gets attached to a school mission, we make generalizations about specific behaviors necessary within environments. Let's flip that and allow students to explore, creating experiences that are agency dense and that foster freelance curiosity.
This freelance movement has begun and the trend line that we speak of is 24, 33, 65.
24 - % of the U.S. population that are considered millennials (born between 1982 and 2004). The significance of this lies in that millennials presently contribute to the global economy and are telling us something interesting.
33 - % of millennials that are self-employed. One-third of millennials have chosen, through expressed agency, to freelance or rather to pursue their professional passion, which tells us something interesting about the future.
65 - % of future jobs that don't yet exist for current K-5 aged kids.
So, if one-third of one-fourth of the U.S. population is already doing what they want to do, by choice and two-thirds of the future jobs for the next generation don't exist, take a guess as to what those future jobs MIGHT be? This designer, for one, believes it'll be jobs that they create for themselves out of the LOVE for what they LOVE.
As this trend line accelerates, and it will, the question really lies in how we prepare for a future of Freelance?
Models of Freelance instruction are tied heavily to the adoption of maker-centered and project-based learning. The physical environment must align with the process drivers of freelance-rich pedagogies. The simplicity, but intentionality, of flexible furniture in learning environments facilitates the exploration of self-directed passions while adaptive lounge solutions mirror home environments providing comfort and spaces for reflection and connection.
In order for that naturally curious three-year-old in all of us to thrive, experiences and spaces within our schools need to create learning cultures that let our kids navigate personal pursuits and passions.
If you'd like to learn more about KI's solutions for education, click here.
Subscribe
Stay up to date with the latest trends and more.