The Impact of Furniture within Learning Spaces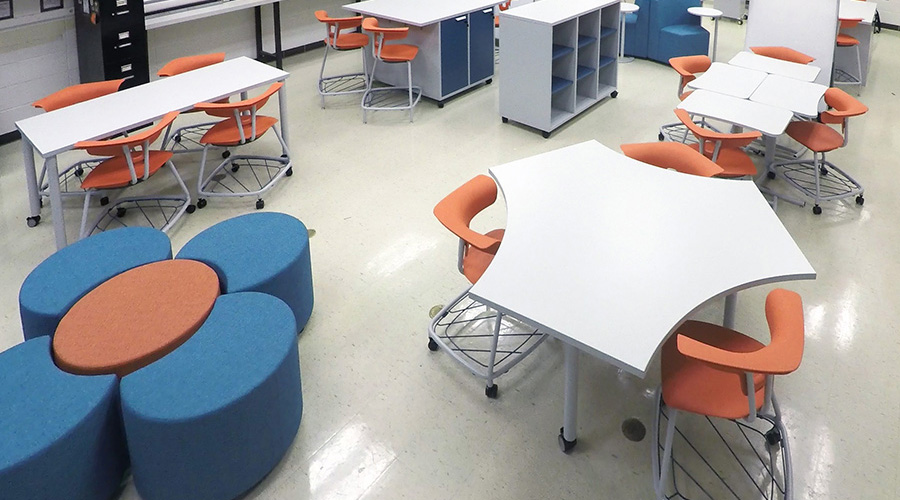 THE IDEA
In 2017, KI set out to answer a question. What is the impact of furniture within learning spaces? As manufacturers, we spend our time developing and recommending products for our customers that not only create but enhance learning environments. But, we did not yet have the data to back up the true affects on students, teachers and learning.
In the past, research has been done on the effects of the environment on learning. However, for these studies, the complete environments were altered (curriculum, walls, teaching styles, as well as furniture) so results were generalized to the full environment. This approach was too broad for us. We wanted to understand the impact of furniture alone on student learning and teacher facilitation within the classroom.
And so, the Ruckus Grant Program was conceived. We decided to conduct un-biased, data-driven research to isolate furniture's impact.
THE PROCESS
We reached out to education leaders, schools and universities across the country asking for participants in a controlled research project to determine the impact of furniture on learning spaces. Our goal was to partner with schools that had a curriculum and belief in the values of collaborative work.
From a pool of 200 applicants, nine facilities were selected; three K-5, three 6-12, and three Higher Education. Participants agreed to freeze their "control" environment - no changes to anything; not flooring, wall color, lighting, technology, etc. They also completed initial surveys to establish a baseline measure of overall effectiveness of the furniture within the environment.
KI then swapped the existing classroom furniture with a kit of new furniture that included our Ruckus Collection, MyWay Lounge, Instruct and Connection Zone screens. Furniture was used for a semester at which point the initial survey was repeated. The survey touched on topics like student participation and dynamic engagement, retention, comfort and levels of collaboration experienced. Below are before and after photos of participant Buffalo Grove High School. Each facility received a similar layout.
| | |
| --- | --- |
| BEFORE | AFTER |
| | |
THE RESULTS
So, what did we learn? The findings were telling! Results show that adaptable furniture solutions provide a positive increase in all areas KI surveyed participants about. While we noted a positive impact across all ages, the younger the grade, the more pronounced the impact. What was the top driver in all age levels? The freedom to move.
The furniture helps increase student participation and dynamic engagement. AGREEMENT INCREASED 32%
The furniture helps retention of learning and adds to student enjoyment. AGREEMENT INCREASED 32%
The furniture supports technology and lets students work comfortably with it. AGREEMENT INCREASED 36%
The furniture lets students move however they want. AGREEMENT INCREASED 61%
The furniture helps students work in groups of varied size. AGREEMENT INCREASED 34%
The results reinforced what we as education experts already believed, that furniture is a crucial element when providing enriching and dynamic learning environments for students and educators.
Click here for a more in-depth look at the Ruckus Research Program results. You'll find video testimonials, locations of participating schools, before and after pics, student feedback and much more!
Subscribe
Stay up to date with the latest trends and more.