Ruckus Worktables: Supporting STEM, Makerspaces and More
March 22, 2021
K-12 Education
Higher Education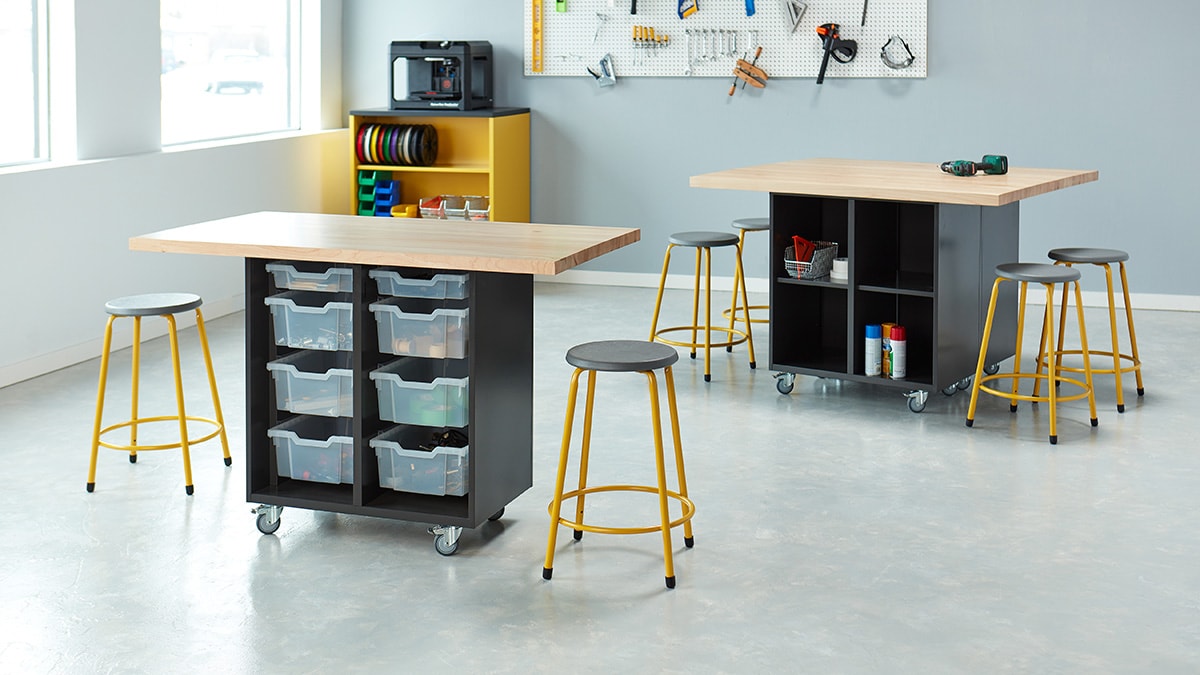 At KI, we believe flexible and functional classroom furniture provides the foundation for an active, playful learning space.
That's the ethos of the Ruckus Collection. Our first Ruckus furniture solution was based on a simple insight: kids never sit still. In real-world classrooms, we saw teachers deploy everything from sofa cushions to the lids of storage bins to keep students engaged and learning.
Our Ruckus chair helped harness kids' natural restlessness. They could perch on the backrest or balance a tablet or book upon it -- easily, comfortably and safely.
Over the years, we've expanded the Ruckus Collection to include desks, activity tables, stools, storage and teacher lecterns. The line has proved a great fit for K-12 schools and colleges building out active learning environments like makerspaces and prioritizing STEM education.
We're excited to announce the latest addition to the collection, the Ruckus worktable -- a flexible, mobile and durable solution for labs and classrooms.
Mobile Makerspaces
Science class can be exciting. Students have the chance to discover things on their own, perform experiments and learn by doing rather than simply listening and observing.
Traditional science classrooms can be surprisingly immobile. Labs of old were filled with bulky, resin-topped wood tables that seemed to be anchored to the ground.
The Ruckus worktable is different. Its features are true to the collection's focus on flexibility and movement:
Mobility: Three-inch industrial-grade casters and toolless removable tops make the Ruckus worktable easy to move through tight doorways and between classrooms.
Flexibility: The worktable comes in three sizes (30x54, 48x54 and 60x54) to enable flexible space planning for groups of various sizes.
Functionality: The table's worksurface can be laminate, butcher block wood or chemical-resistant phenolic resin. Other functional options include storage cubbies or totes with or without doors, power outlets, bag hooks and removable shelves.
Durability: The Ruckus worktable is tough as nails with an all-steel frame that supports 2,000-pound static weight loads and offers a 15-year warranty.
Easy installation: Worktables ship nearly assembled -- just add the casters and place the top.
The myriad worksurface and storage options make for endless customization. Younger students can cover the table in building blocks or spill paint without damaging the surface or making clean-up difficult. Older students can perform chemistry experiments while built-in storage keeps their belongings safe. When class is over, cabinets, cubbies or pull-out drawers can provide a repository for all the materials a creative space demands.
The Ruckus worktable is an ideal fit for any experiential learning space, including:
Classrooms
Makerspaces
Fab labs
Science and chemistry labs
STEM spaces
Art studios
Woodworking shops
Robotics classrooms
Media centers
Culinary arts facilities
Cosmetology classrooms
Bring Hands-On Learning to New Heights
The pandemic has closed many of the hands-on learning spaces that students and teachers love so well. But as schools and universities begin to re-open more fully, we expect that the movement toward active and experiential learning will accelerate. And research shows that active learning can improve outcomes in students of all ages.
Our new Ruckus worktable is the perfect fit for hands-on classrooms, from science and engineering labs to makerspaces and more. If active learning is in your pedagogical plans, we encourage you to check it out.
Subscribe
Stay up to date with the latest trends and more.