Learning to Adapt to Virtual Middle School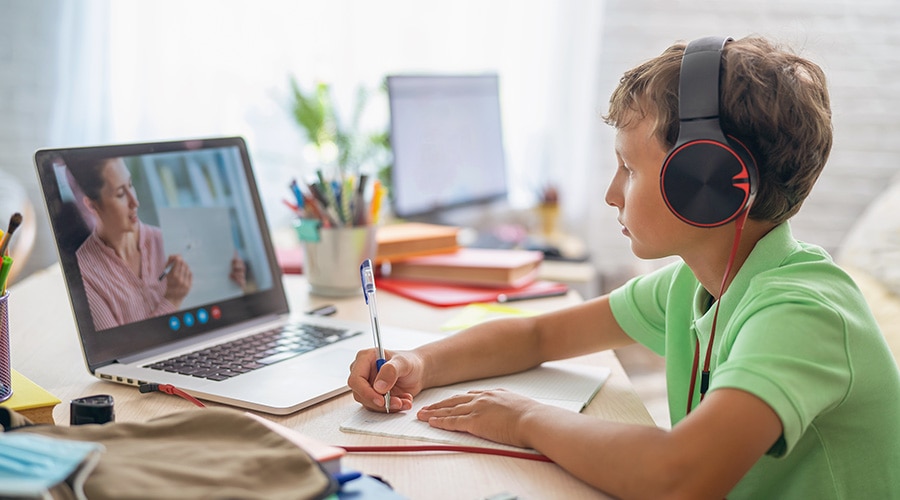 Six months ago, we conducted a series of interviews with elementary, high school and college students who shared their experiences as they were navigating the shift to distance learning.
Now, we're checking back in with those students for a glimpse of how remote learning has evolved and how students and teachers are faring. A few weeks ago, we interviewed two college students and shared their stories.
This week, we spoke with a 14-year-old eighth-grader about the ups and downs of virtual middle school. He shared how he was approaching his classes, which include academic career planning, coding, math, social studies, science, English language arts and gym. He also touches on friendships and extracurriculars in the age of a pandemic. This conversation has been lightly edited for clarity.
KI: How did your school approach this semester? Has it been all distance-based learning or a mix of in-person and virtual learning?
Eighth-grader: It was a mix of in-person and virtual learning at first. Now, we're all virtual.
KI: What have you liked about distance-based learning this semester?
Eighth-grader: I like being able to go at my own pace and be at home. I'm able to do certain assignments when I want to do them and can finish them at different times of day. I don't have to be in class and try to crunch them out during that time.
KI: Is that the same or different from your experience in the spring?
Eighth-grader: Virtual learning this fall has felt a lot less temporary than it did in the spring because the schools have more permanent, long-lasting programs.
KI: What do you wish had been different about distance-based learning this semester?
Eighth-grader: I don't have anything I would propose that could be different about it. I like how it's set up. We have the same start times for the school day and each class that we would if we were there in-person. We usually have 15 to 20 minutes to do our class work between each class, which is nice. Usually, we get to see our teacher but not our classmates during this time.
KI: Is that the same or different from your experience in the spring?
Eighth-grader: Pretty different. In the spring, we only did one or two Google Meets the entire time. We mostly used Google Docs and Slides to work on assignments and didn't meet virtually with anybody.
KI: Can you tell us about a project or assignment you had fun with this semester? What did you like about it?
Eighth-grader: In my coding class, we coded an app for magic tricks. Just getting to explore coding was a lot of fun; it's a new thing to me.
KI: How has your experience been using technology for distance learning? Do you like it? Have you had any technical difficulties?
Eighth-grader: It's been good, but there have been some technical difficulties. I like using the technology. I mostly use my Chromebook and check my Gmail account on my phone. Sometimes the software can be slow, but other than that, it's good. We had to upgrade to faster internet at my house because everybody is working from home together.
KI: Was there anything new about your distance-based learning experience this semester? Have your teachers been doing anything differently?
Eighth-grader: It's definitely new learning about Google Meets and getting more in-depth with other new programs like Ingenuity, which tracks your progress in a particular class. Our teachers are trying to get more involved with Google Meets and Google Classroom.
KI: Do you like distance-based learning more, less or the same than you did in the spring?
Eighth-grader: I definitely think it's a lot better than it was in the spring because we have a more solid way of going about it. We have different class times, whereas in the spring, teachers just posted everything online that you had to get done in a day. Then, we weren't really learning anything. It was kind of like, why were we there?
So, I like it more. We have less freedom with our days now, but it's a lot easier to learn in the environment that we've been given this fall.
KI: What's your favorite class or subject so far this year? Is that different than last year?
Eighth-grader: I like science because I really like learning about the periodic table. At the very beginning of the year, when I was learning in-person, we got to see some elements in real life and do a lot of interactive science. It was a lot of fun. Last year, we were just learning about astronomy, which was okay.
KI: Are you doing any extracurricular activities or sports? Which ones?
Eighth-grader: I'm playing tennis and doing a little bit of basketball, football and baseball on my own. I actually go to the tennis place in-person, and the rest of them are aiming to open in the spring.
KI: What do you miss most about going to school in-person?
Eighth-grader: I miss getting to see my friends. Learning in-person was a lot better than learning virtually.
KI: Are you staying in touch with your friends? Has the way you communicate changed at all?
Eighth-grader: Yeah, I am. We use our digital ways of communication a lot more now -- through text messages or Xbox.
KI: When schools return to in-person learning, would you want to continue some amount of distance learning?
Eighth-grader: Yeah, some amount of distance learning could be good for after school or for continuing projects where you meet out of school.
Making the Most of It
Through our interviews, we've learned that virtual school can be challenging for students of all ages -- and that it's hardly anyone's first choice.
This eighth-grader provides us with a valuable perspective grounded in honesty and optimism. He appreciates the positives, like being able to work at his own pace. But he also misses face-to-face interaction and hands-on learning.
Do you have friends or family who are navigating the new normal of online schooling? Share your thoughts with us in the comments section below and on social media using the hashtag #distancebasedUX.
Subscribe
Stay up to date with the latest trends and more.