How We're Continually Raising the Bar: The Excellence Experience at KI
We believe every KI employee has the power to create a stellar experience for our customers. Learn how we're continually improving our processes to consistently provide excellent service.
---

With hundreds of school and office furniture manufacturers within the industry, we know there are plenty of options for furniture partners. So, why do people choose KI? I believe it comes down to how we treat people.
In last week's blog post, I shared several ways KI adds value for our customers, from higher returns on your investment through industry-leading warranties to complete product customization.
This week, let's dive into how we consistently provide that level of dedicated, personalized customer care and support. It's what we call the KI Excellence Experience at work.
What Is the Excellence Experience?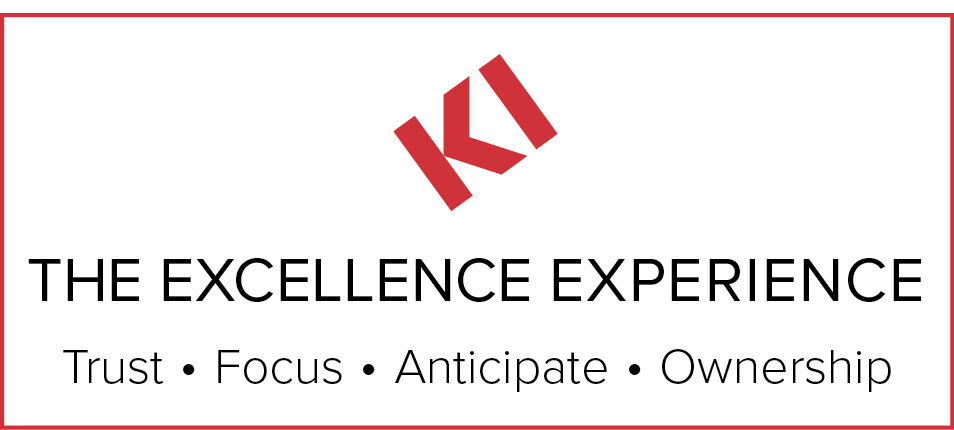 The Excellence Experience is an ethos that every KI employee, no matter their role in the company, has the power to create a stellar experience for all customers – whether they be external clients or internal team members.
Our end goal is to give customers such a great experience that they not only enjoyed working with KI on their furniture project but want to work with us again and tell people about their positive experience with our company.
To provide the best possible customer experience, we use the following principles to guide our actions through every internal and external customer interaction or customer-based decision, at every point in the process and no matter how small the interaction:
Trust: We develop relationships. We're alert to tension, calm in chaos, and aware of the opportunities that can arise from resolving a challenge.
Anticipate: We fulfill each customer's needs and anticipate the unexpected.
Focus: We focus on understanding, capturing, and communicating expectations.
Ownership: We furnish knowledge to create solutions. We excel in our roles and envision the end user of our work. We positively impact the growth and reputation of our company.

Continued Excellence Through Project Labs
To ensure individual commitment to excellence throughout KI, we have a dedicated team to put the Excellence Experience mission into practice on a systemic level. Made up of a cross-functional group of employees recommended by company leadership, the Excellence Experience Team provides a roadmap for all KI employees and partners to achieve specific goals designed to improve our customer experience.
We do that by conducting Excellence Experience project labs, where we explore ideas that employees have brought to our attention from client feedback to help KI provide consistently excellent customer experiences. Employees are encouraged to submit an idea for a project lab through our dedicated Excellence Experience Portal or by emailing excellence@ki.com.
The Excellence Experience Team reviews all submissions and assesses ideas based on several criteria, including the benefit to the customer, strategic and financial benefits, resources required, duration needed, and the level of risk associated with the project. The Excellence Council then finalizes its review and discusses feedback and direction with the team.
If the team determines the idea should be pursued, it then transitions to a formal project lab, in which four to six employees are selected from across the company—depending if they have subject matter expertise relevant to the lab or if they're directly involved in the process affected by the lab—to evaluate the new idea and develop a plan for how to implement and improve KI's service. Throughout the process, a member of the council acts as a mentor for the project lab and keeps it on track.

Project Lab Plans in Action
Through these Excellence Experience project labs, we've turned ideas from our employees into tangible changes and enhancements. Several projects we've accomplished are as follows:
Voice of the Customer
Capturing feedback from our clients is extremely important to us as we seek to develop a best-in-class customer experience. However, we realized the usual ways in which we capture, review, and act on this feedback needed to be more consistent to maximize effectiveness and efficiency.
After the project lab team reviewed and researched how to best capture and synthesize the voice of our customers, they recommended two focused approaches.
One is a simplified survey sent at the completion of a customer case. While detailed feedback is important to us, we realized that by sending multiple, longer surveys, we were actually hindering results. Our new 3-question survey offers a quick way for customers to provide effective feedback while offering space to add comments.
The second method enacted to retrieve consistent feedback is through a dedicated record of customer conversations. Oftentimes, customers voice opportunities to us during ad hoc conversations. We are always grateful for this feedback but had no consistent way of saving these remarks. Going forward, these dedicated conversations will allow us to quickly capture and record ad hoc comments, save them to a collective database, and analyze them at scheduled intervals to take action as we seek to enhance our service.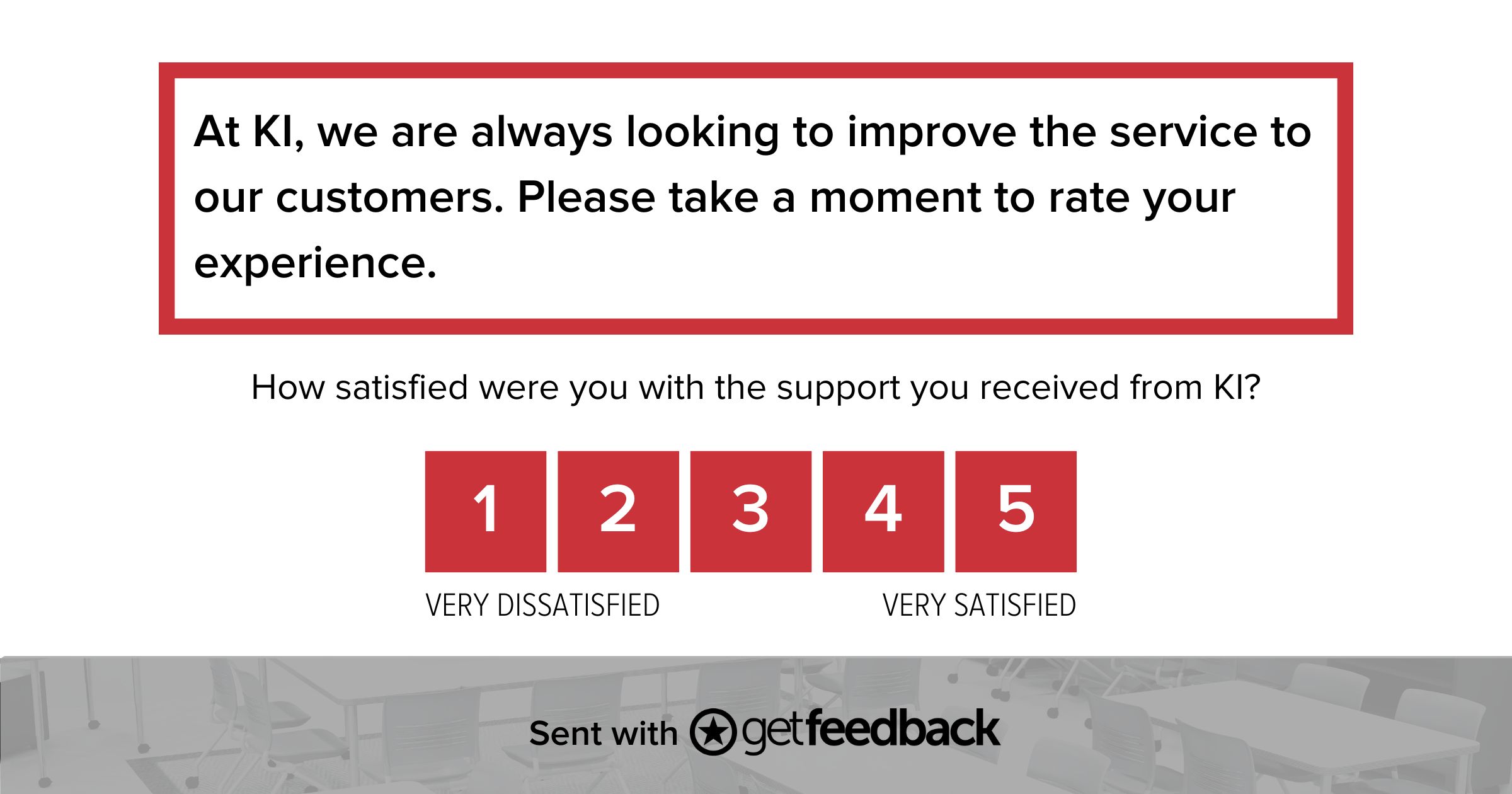 Personalized Thank You Notes
As we discussed last week, we know how important the genuine, human touch is for our customers' experience. To share with our customers how much we value them, we implemented a system to ensure we consistently provide a personalized "thank you" message.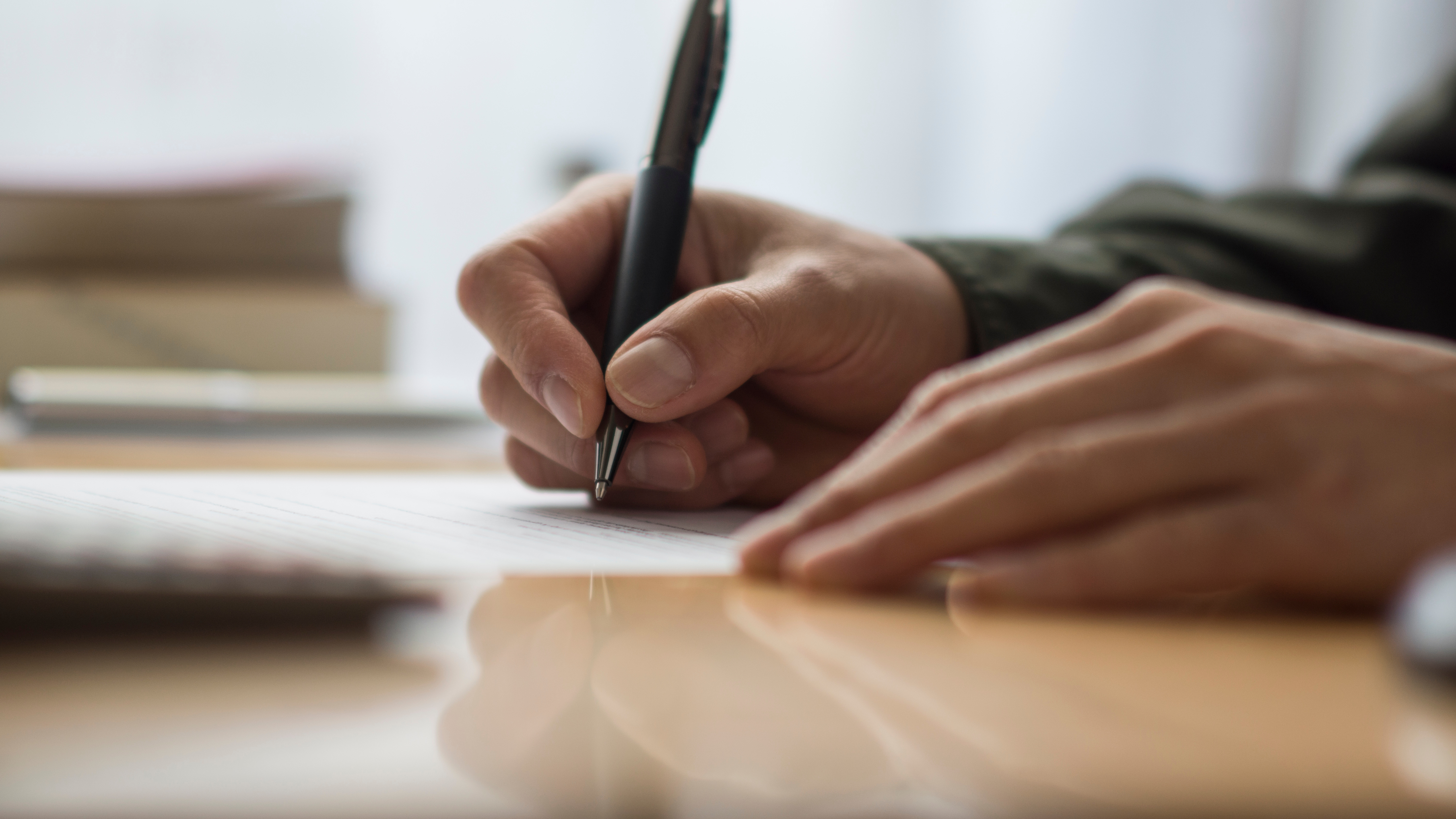 When a customer places an order of any size, our sales representatives can partner with a member of the KI leadership team to write a "thank you" note to our client's key decision maker. The sales specialist and KI leader connect on project details, and together they craft a handwritten note to express our genuine gratitude.
We've received incredible feedback on this system. Recently, the owner of a small, two-person dealership called me to share this positive experience with KI. He couldn't believe that a vice president at a major manufacturer would take time out of his day to handwrite a "thank you" note. This goes to show how thoughtful communication can make our customers feel as special as they are to us, so we're pleased to now have a formalized process in place.

Featured Fabrics and Finishes
Design thinking is at the core of everything we do. We strive to make our products and services as intuitive as possible. Often, customers will see a photo in a product brochure or on our website and point out, "I love that color. What finish is that?" or ask, "What's the fabric on this chair?" To seamlessly serve those answers to our customers and increase their ability to self-help, we devised a solution.
With new or refreshed collateral moving forward, our product brochures will include hyperlinked images that click through to a dedicated webpage explicating the featured materials in that image. Brochures will also include a separate QR code that leads to a full webpage featuring all of the images from the brochure with hotspots showing the fabrics and finishes. Try it out for yourself with our Signia task chair, WiggleRoom Super Structure, Stout tables, or Imaginasium collection.

In addition, when viewing product images in an Image Gallery on our website, you can now hover over or click on an image to view a caption with specific fabrics or finishes shown on the main product(s). View the examples from Signia task chair, Stout tables, and Imaginasium blocks.



Product Lead Time Communication
We understand that product lead times are critical for customers to understand when planning for myriad spaces within learning and working environments. To make it easy for clients to view current lead times for product families, this project lab team developed a new way to bring this information to our website.
Via a dedicated webpage under our Design Resources section, clients can now filter and find the general lead time for all our product families. The lead times shown represent the number of weeks it will take between the receipt of a furniture purchase order and the final shipment from our given manufacturing facility. While the exact lead time for particular product models will be confirmed once the purchase order is processed, these general lead times offer a fair approximation of time for planning purposes.
This information is kept up to date as notified by our manufacturing centers. Through a concerted effort, we are committed to offering our customers real-time data to help them make informed decisions for their furniture acquisition and design projects.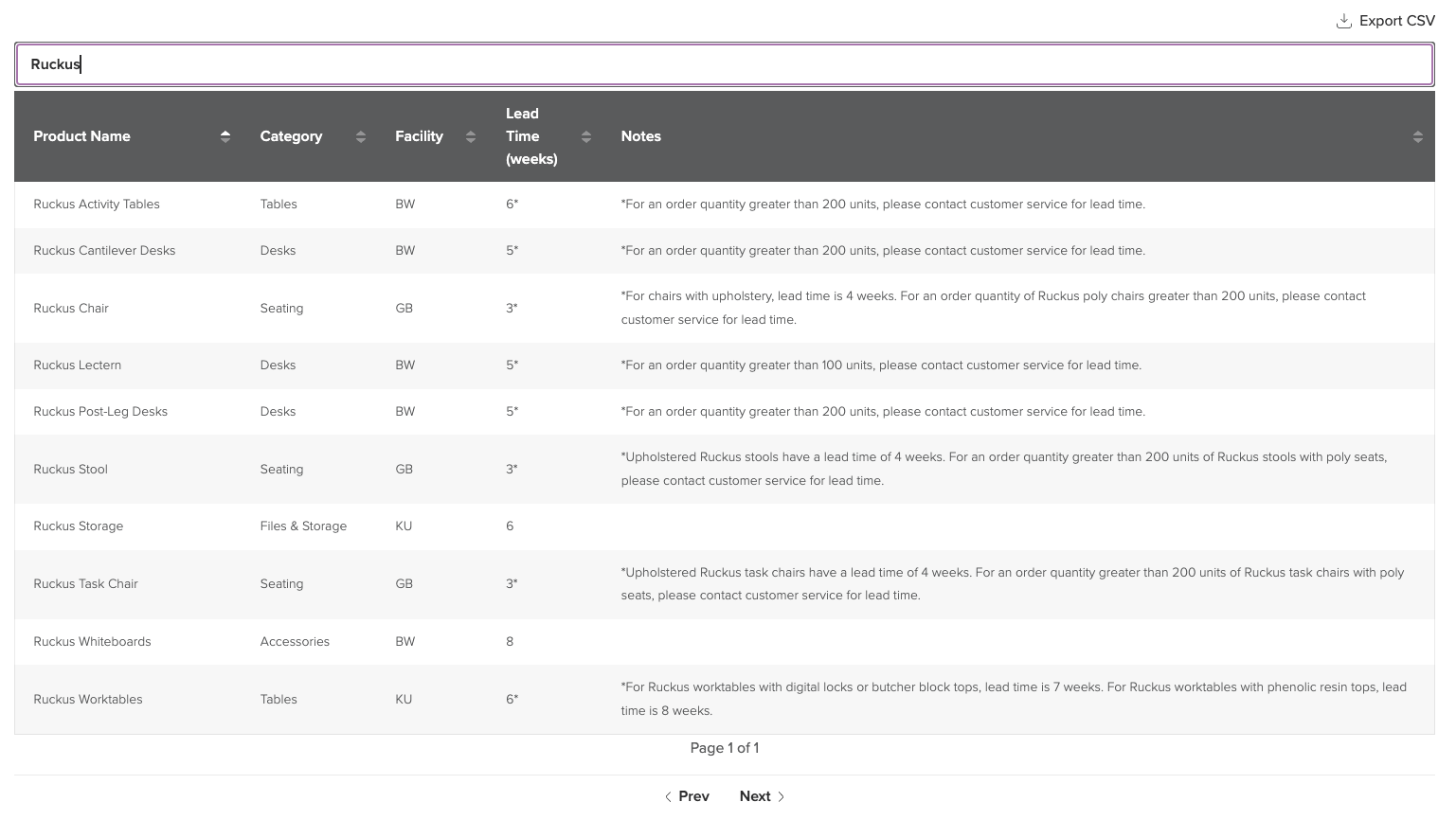 Product Label QR Codes
When a customer has a question about their product, we want to provide an easy way for them to access information on their order, the product, and how to service that piece of furniture.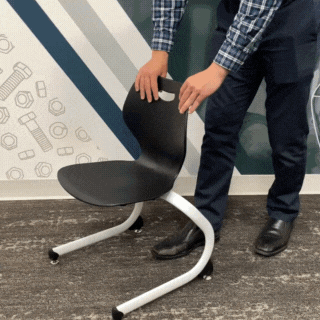 Effective late last year, products shipped from a KI manufacturing facility will have a label with a QR code. Scanning the QR code leads to a custom webpage that contains order-specific information, product details, care and maintenance, operating instructions as applicable, and warranty terms. There is even an option to send an email to our customer service team regarding that exact product.
This new feature eliminates the time-consuming task of trying to track down that information and scrambling to find how to contact us. Within seconds, customers can simply scan the code, view product details, and request the support they need.
Many other Excellence Experience project labs are on the docket or currently in work, including a focus on partner relationship excellence, response time enhancement, and integrated flexibility in order rescheduling.
With the greatest value to our customers in mind, we prioritize projects that will not only simplify the complex and make it easy to do business with KI but will also make us a leader in the industry and set us apart with the hallmark of our Excellence Experience.

The Impact in Our Customers' Own Words
When we review the voice of the customer from the surveys mentioned above, we take all feedback to heart. Whether a customer placed a new order or requested service on their existing furniture, we make sure to survey their experience with us.
For a new furniture order, we ask the customer to rate how likely they are to recommend KI to their peers on a scale of 1 to 10 (10 being the most likely). We're averaging 7.5 on that. For furniture service, customers rate us on a scale of 1 to 5 (5 being the best) to measure their satisfaction with the outcome. We're currently averaging 4.7.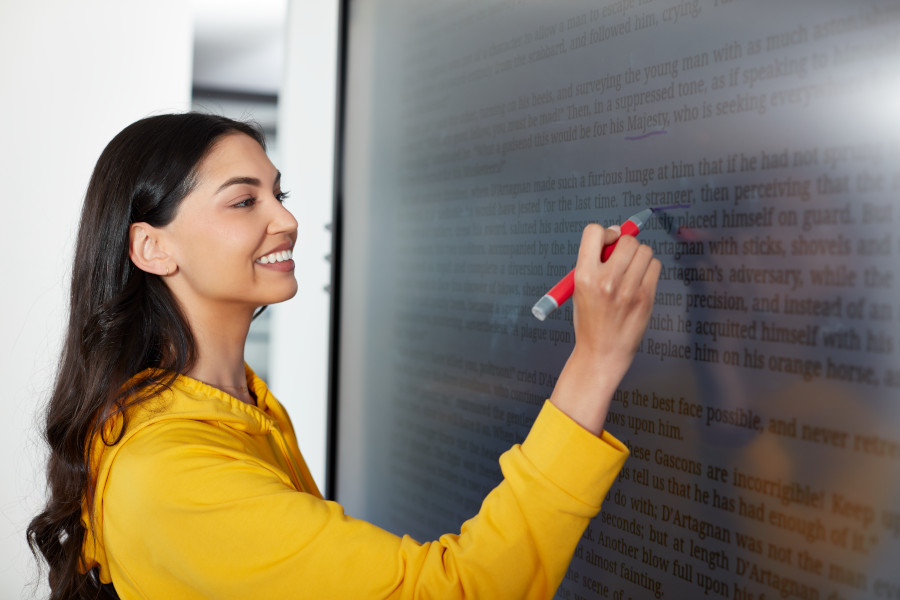 We're pleased to share these results in full transparency. Given industry benchmarks, we believe these scores are high measures of an Excellence Experience. These results also help us ensure we are trending toward improvement and taking special care and attention when variances arise.
When we receive open-ended comments, we're quick to share them with our team as well. Here are just a few of our favorite survey comments and testimonials received recently:
"All your customer service people are so nice, knowledgeable, and responsive! They're all excellent."
"I never give a perfect score [but I just did]!"
"You go above and beyond to get us what we need."
"KI is extremely professional and helpful at all stages of ordering. Stellar customer satisfaction on all fronts."
"KI stands behind its warranty."
"I received a quick response and resolution to the problem."
"All issues are handled quickly."
"You have taken the time to know our community and culture and are great partners with us as we update our classrooms and school spaces. We are incredibly thankful for your expertise."

The Sum of All These Parts
From reaching out to a sales rep to communicating with customer service, we strive to put the KI Excellence Experience at the forefront of everything we do. We know this is the number-one way to impact whether a customer decides to work with us again and again.
We're always looking for more feedback to continually enhance our customer satisfaction. Have you had an exceptional experience with a company that has left you eager for more like that? I'd love to hear about it. Send me a message anytime at mike.hogan@ki.com.
Subscribe
Stay up to date with the latest trends and more.