How to Design with Students in Mind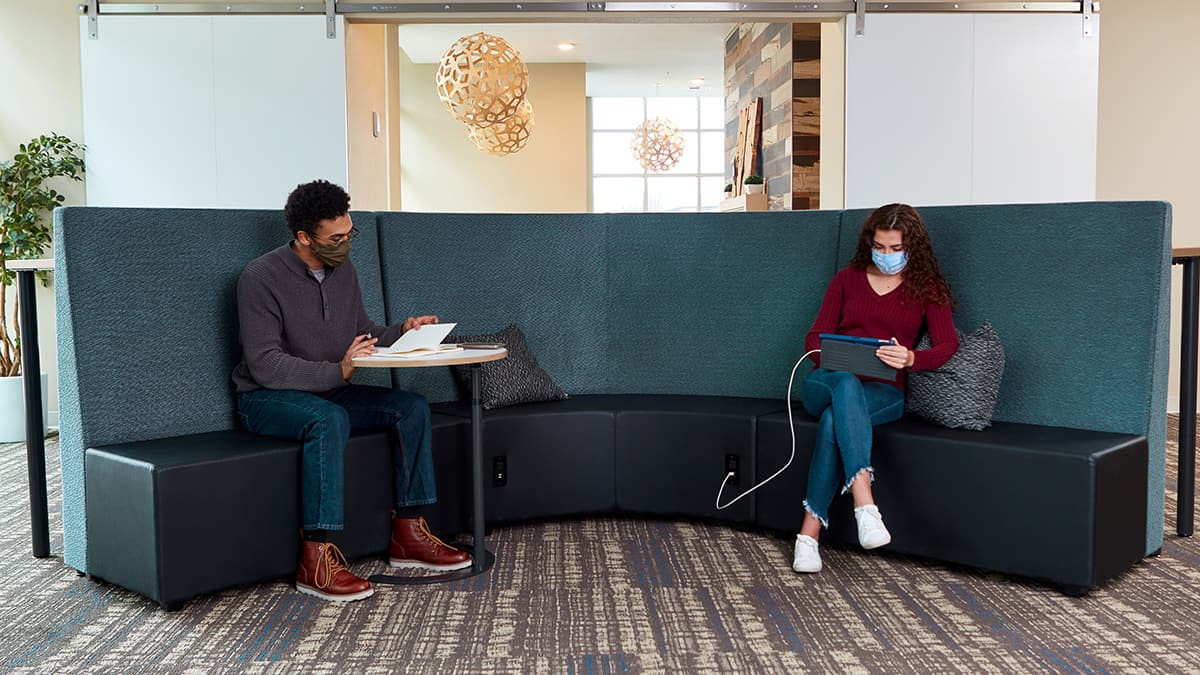 College students typically spend hours studying in libraries, cafés and other common spaces. We might assume they'd prioritize comfort for those long days of studying -- choosing a plush lounge chair or sofa over a traditional wooden table and chair.
At KI, we put that assumption to the test -- and did some research into how students actually work on campus.
We partnered with the University of Wisconsin-Green Bay, the University of Wisconsin-Madison, Northeast Wisconsin Technical College and Fox Valley Technical College to observe students in libraries, student unions, lounges and common areas. Our goal was to identify and understand what worked well with furniture design for students within these environments -- and what didn't.
Compromising Comfort
One of the most surprising things we found was that students frequently choose large study tables over comfortable lounge chairs. They are ultimately willing to sacrifice spaces that are comfortable for spaces that help them stay productive.
Students tend to have a lot of "stuff," and they like to spread it out when they study. Most of the time, the small worktables attached to lounge seating just aren't big enough. When students do choose lounge seating, they typically push multiple small tables together to form one large worksurface.
Another key finding was that the small side tables that generally accompany lounge seating aren't tall enough for the students using them. We regularly spotted students slouching over the tables, putting undue stress on their bodies.
The Best of Both Worlds
At KI, we believe that our customers shouldn't have to sacrifice comfort for function. After completing our observational research, we set out to design an ergonomically optimized side table that can support all of a student's belongings -- from laptops and books to a phone and water bottle -- while meshing perfectly with comfortable lounge seating.
After multiple sketches, renderings and prototypes, our design process culminated in the C-Table Max.
Design highlights:
C-Table Max offers a large worksurface that can support a variety of personal items and is easy to pair with lounge seating. The ultimate goal is increased productivity and convenience,

while also providing a high level of comfort for students.

The cantilevered, c-shaped base slides easily under most lounge seating and the table is available in fixed or adjustable heights. That allows students to draw the table closer to their bodies and sit up straight for ergonomic support.
C-Table Max is lightweight and easy to move around.
It's available in various shapes and sizes:

Angular shapes, such as the triangle and OddQuad surfaces, are designed to piece together to form instant collaboration.
C-Table Max is also available with round, square and rectangular worksurfaces.
Round and rectangular shapes are available with a comfort curve option, allowing students to pull them in for an extra close, personalized fit.

The C-Table Max can add another dimension to a lounge area or third space, complementing the more decorative occasional table. A substantial worksurface makes the C-Table Max a perfect place to spread out sheets of data for a lab project or colorful markers for a poster presentation.
Stop Making Sacrifices
Students shouldn't have to make sacrifices when they study. The C-Table Max gives students the best in both comfort and function.
Learn more about the C-Table Max here.
Subscribe
Stay up to date with the latest trends and more.